Do Your Wrists Hurt In Yoga? Here's How to Modify 5 Common Yoga Poses for Wrist Pain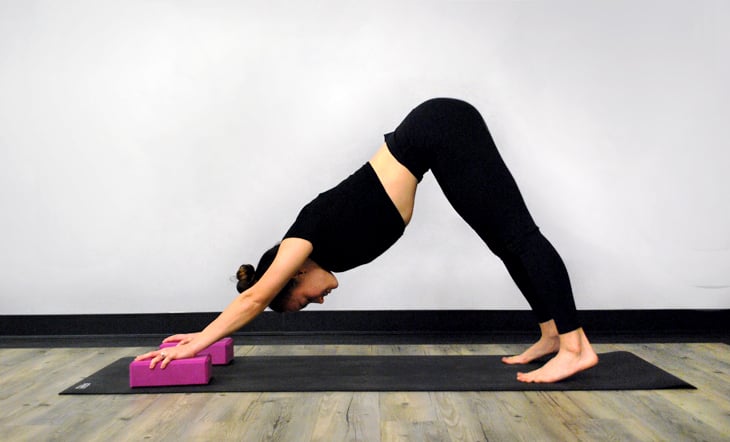 If your wrists hurt during yoga, you're not alone. In fact, wrist pain from yoga might be one of the biggest complaints out there. And you don't have to be a rocket scientist to see why.
Over time, practicing yoga poses without sufficient support can make your wrists hurt during yoga. Or sometimes, if your wrists (and their supporting muscles) aren't strong enough when you begin practicing, weight-bearing in the arms can lead to wrist pain or even injury.
Thankfully, there is something that we can do about this and it can be as simple as modifying postures to support our joints within the weight-bearing shapes.

Learn How Yoga Props Can Support Your Practice and Alleviate Wrist Pain With This Online Yoga Class!
Yoga Class
With Samy Mattei
Yoga props are your friend! They help with proper alignment, support, safety, and even increase strength and stability. This class from YA Classes by YouAligned.com teaches you how to incorporate props throughout your practice.


Here's How to Modify 5 Common Yoga Poses When Your Wrists Hurt During Yoga:
In traditional yoga practices, we spend a lot of time on our wrists! Popular styles like Vinyasa Flow, Ashtanga, and Hatha dedicate a lot of time to weight-bearing postures like Down Dog, Chaturanga, and Plank Pose.
The following is just a select few common postures that you can modify with yoga props and support to alleviate wrist pain, but these same principles can apply to many different weight-bearing poses.
Wrist Pain? Practice These 10 Stretches to Reduce Pain and Prevent Injury


1. Tabletop
A standard quadruped position comes up frequently in a yoga practice. We use this Tabletop position on hands and knees to move into postures like Cat/Cow, Tiger Pose, and more.
But if your wrists hurt during yoga, then this shape likely isn't your favorite.
Ways to Modify:
Roll up your yoga mat and place it underneath the heels of your hands so that your fingers land on the floor in front of your mat. This little bit of cushioning may be enough to support your wrists and decrease the angle in your wrists enough to relieve any discomfort

Use a wrist wedge (an awesome yoga prop that decreases the angle at your wrist joint to alleviate discomfort from the sharp angle of extension in your wrists)
Make fists with your hands and rest your weight onto your knuckles, rather than your palms. This completely decreases the angle in your wrists and strongly activates the muscles of your forearms to support your weight

Practice on your forearms to remove all pressure from your wrists. You may wish to place blocks underneath your forearms so that you're still able to elongate your spine
Looking for more yoga tutorials and yoga tips? Check out our full library of Yoga articles here

2. Downward Facing Dog
This ubiquitous yoga pose can be the source of wrist pain for many yoga practitioners. But it's actually surprisingly easy to support the wrists in this shape, with very little change to the rest of the pose.
Ways to Modify:
Place yoga blocks underneath your hands. This simple and accessible trick maintains the exact same body positioning as Down Dog but moves your body weight back toward your legs. By doing so, it'll take a lot of pressure off of your wrists

Practice with your arms on a chair or wall. Similar to placing blocks under your hands, this variation will lift your upper body higher to move more of your weight back toward your heels, which will take most of the pressure off of your wrists

Rise up to your fingertips by creating "spider fingers." This extra lift will take all the pressure out of your wrists and move it into your forearm muscles and finger pads. Fair warning: this will burn so good!

Practice on your forearms in Dolphin Pose (which is an extra bonus shoulder and core strengthener!)

Do your shoulders also bother you during practice? Here's How to Modify 4 Common Yoga Poses for Shoulder Injuries

3. Plank
This powerful weight-bearing pose is excellent for strengthening, but not so great if your wrists hurt during yoga.
Ways to Modify:
Place yoga blocks at the top of your mat and lower the back of your forearms onto them. Turn your palms to face up to allow your chest to broaden and activate your typical Plank shape. In Forearm Plank, you get extra bonus core strengthening!

Hold onto hand weights so that your knuckles graze just above the floor and you remove any sharp angles from your wrists

Not sure if you're aligned in Plank? Here are 4 Common Mistakes In Plank Pose + How to Fix Them

4. Wheel
This full-body yoga pose demands a lot of the wrists and many practitioners complain that this is one of the poses that make their wrists hurt during yoga the most.
Working your way up to Wheel? Here's Your Intelligent 7-Step Guide to Access Wheel Pose (Urdhva Dhanurasana) Safely
Ways to Modify:
Place two yoga blocks on an angle against the bottom molding of a wall so that they stick in place and won't slide. Rest your head between the blocks and set up for Wheel Pose.

Place your hands on the blocks so your palms are on the center of the block and your fingers wrap around toward the sides. Press firmly into the blocks to lift up into Wheel. The blocks will decrease the angle in your wrists to take a lot of the pressure out of them

Ask for an assist! Ask your teacher or a yoga friend to help support your Wheel Pose. Have them stand behind your head in a steady Mountain Pose and place your hands around their ankles.

Draw down toward the floor with your hands as you lift up into Wheel. This change in direction in your wrists will usually alleviate all discomfort in this shape
5. Reverse Plank
Another yoga pose that asks a lot of the wrists, Reverse Plank can create a lot of wrist issues.
Ways to Modify:
Change up your alignment by not following "traditional" cues. Instead, find an orientation of your hands that feels comfortable for your wrists. Your fingers can point toward your toes, toward the sides of your mat, straight back behind you, or anywhere in between
Reduce the load on your wrists by bending your knees and shortening the lever of the force vector in your pose. Try Reverse Tabletop and see if it helps to alleviate some of the pressure on your wrists


We created a full video of wrist stretches and techniques to avoid pain. Watch: Learn How to Ease Wrist Pain and Prevent Injury In Your Yoga Practice (Video)


If Your Wrists Hurt During Yoga, Don't Suffer Through the Pain . . . Instead, Modify!
Many yoga poses demand a lot of the wrists, which can lead to aches, pains, and sometimes even injury.
But luckily many of these modifications can be used interchangeably between different poses. You can practice your whole class with your hands on a yoga wedge or holding onto dumbbells.
Find modifications and variations that work best for your unique body so that you don't have to deal with wrist pain in yoga.
Ultimately, if your wrists hurt during yoga, then the poses aren't working in your favor. So don't ever push through pain.
Instead, modify the practice so that it works for you. This way, it will not only be more enjoyable but will also allow you to continue practicing for many years to come.
This article has been read 8K+ times. Feelin' the love!