Here's How to Avoid Lawsuits as a Yoga Teacher, Yoginfluencer, and Yogipreneur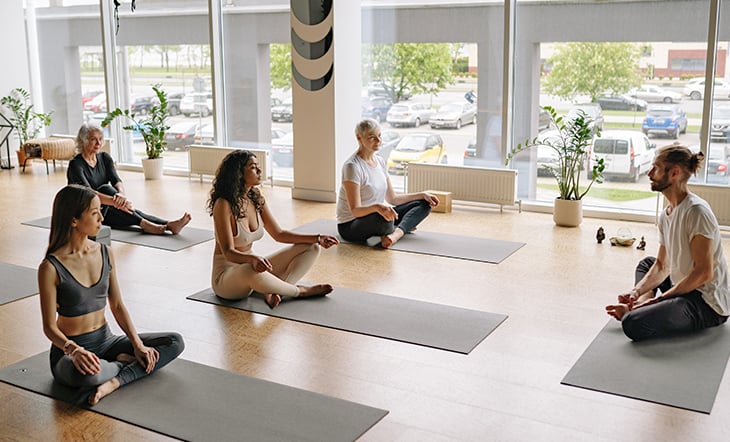 Yoga teacher liability insurance. If you're a yoga instructor or training to become one, odds are you've heard of it and maybe even considered getting covered. There are many beneficial reasons for coverage that stem beyond the inherent risks of teaching.
This article aims to inform you about the risks that come with teaching yoga publicly, along with why yoga liability insurance is the smartest move you can make to protect yourself.
When you become a leader in the yoga community, it's because of the passion you have for the craft of teaching, your desire to share your work, and the love of your business.
Likely, the very last thing on your mind is the potential complications that could come from teaching unsafe or even dangerous yoga and the legal battles, litigation, and finances required to recover from such an occurrence. And while we typically think about these risks for yoga teachers specifically, if you are any sort of "yoginfluencer" or "yogipreneur" then this applies to you too!
No matter how long you've been teaching, creating a business plan that incorporates preventative measures is just as important as all of the fun stuff like themed playlists and accessible sequencing.
Some familiar ways to offer and teach safe yoga include: requiring liability waivers, social media disclaimers, and having comprehensive yoga teacher liability insurance.


3 Common Legal Risks of Teaching and How Yoga Teacher Liability Insurance Can Help:
Yoga teachers want to help share love and healing through yoga. But the reality is that instructing a class is not always easy or straightforward.
The yoga practice that heals is truly dynamic and unique – it's a physical, mental, and emotional practice. And the legal complications a teacher may face are one-of-a-kind as well. Let's dive into some of the risks and how to prevent issues.
For a limited time, beYogi is offering YouAligned.com readers $30 off your annual premium, dropping the annual cost to $149. Learn more here.

1. Injury
It's important to note that accidental injuries and events don't happen frequently, but it is important to invest in your professional security. Every year, hundreds of Americans are admitted to the hospital due to injuries reportedly from their yoga practice.
According to a study done by BMC Complementary and Alternative Medicine, "The most commonly reported yoga practices that were associated with acute adverse effects were hand-, shoulder- and head stands…and with yoga self-study without supervision."
And unreported incidents show even higher numbers of strains and sprains that go untreated or are treated by home remediation.
Yoga may be a low-risk activity when taught by trained yoga teachers, however unforeseen accidents do happen and you want to be confident in your coverage if it does.

2. Identity Theft
With the positives that have come from the internet such as bringing online yoga to the mainstream and creating yogiprenuers and yoga influencers, it has also opened the door to a unique legal risk: identity theft.
Regardless of whether you're teaching your students in-studio or online, you likely utilize the internet in some way, shape, or form as a way to communicate and promote your classes.
The steps to regain control after identity theft can be frustrating and time-consuming. Loss of personal information is a difficult issue to recover from, often involving expensive, draining legal efforts to resolve.
The most compassionate yoga teacher insurance companies provide safeguards against this exact risk. Our friends at beYogi offer an automatic $25,000 of coverage against stolen identity, allowing you to operate your online business without fear or stress. When they say comprehensive yoga teacher liability insurance, they mean it!
This is why we recommend beYogi for liability insurance – their coverage is extensive and well-rounded, and while there are many insurance companies and coverage plans to choose from, we have found that beYogi provides the best all-around coverage. For more information on that, you can read this article that compares and contrasts top yoga teacher insurance options.


3. Student Accusations
The nature of an eight-limbed yoga practice means that yoga teachers are frequently talking about life on and off the mat. We offer opinions, experiences, and coping mechanisms that students may take with them off of their mat.
Even our physical yoga practice instruction carries assumptions about what the practitioner's body can do, or how it feels.
5 Things That Yoga Teachers Tend to Neglect (Don't Let This Be You!)
Even when teaching safe yoga, a student may take a message from your class and create a wildly different, possibly even harmful, meaning from it. Accusations are difficult and costly to refute when you don't have a plan.
Specialty yoga teacher insurance can cover you, no matter what modality or healing practice you offer to your students and clients.
Yoga Teachers: You Might Want to Re-Evaluate These 6 Yoga Cues


What Is Specialty Yoga Teacher Insurance?
You don't simply "teach yoga." You train with different modalities such as meditation, yoga therapy, Ashtanga, Kundalini, Yin – the list goes on. Depending on your small (or large) business, you may also offer various kinds of massage, mindfulness practice, and specialty breath work.
A regular one-size-fits-all insurance provider may misunderstand what kind of coverage your business needs. This is where specialty yoga teacher insurance comes into play.
Working with an insurance company that understands the intricacies of the practice and the delicate history can make you feel protected and safe. Additionally, they will provide you with the right tools to feel confident in your teaching and to go above and beyond for your students.


Invest In Comprehensive Yoga Teacher Liability Insurance
According to a 2019 survey, "One in five adult yoga users reported at least one acute adverse effect in their yoga practice, and one in ten reported at least one chronic adverse effect, mainly musculoskeletal effects."
Providing life-changing services like yoga may come with legal risks. Yoga teachers accept these risks because the benefits of watching our students grow and heal are much more powerful.
Strong, comprehensive yoga teacher insurance isn't just a helpful part of a happy yoginfluencer life; it's a necessary one.
By choosing comprehensive yoga liability insurance, you're investing in so much more than simple "slip, trip, and fall" coverage. You're investing in your business, in your practice, and in yourself.
For a limited time, beYogi is offering YouAligned.com readers $30 off your annual premium, dropping the annual cost to $149. Learn more here.
This article has been read 278 times. Share it and spread the love!