Get to Know a Yogi: An Interview With Twee Merrigan
I first came across a video of Twee Merrigan teaching a workshop called "840,000 Posture-bilities" at a Wanderlust Festival.
I was so intrigued by her teaching, her creativity, and how her asanas flowed from one to another like a dance. As I followed along, I realized why Twee has grown such a loyal following for her teachings.
She travels all over the world with her family spreading the light of yoga, inspiring her students as well as her kids to follow their inner compass and live to their most authentic fullness.
I've enjoyed getting to know Twee and seeing through her perspective on life, family, yoga, and this human experience. I hope you do too!


1. (YA) You have a strong and incredible community of followers in this yoga world. For those of our readers who are just now learning who Twee is, tell us a little about you, your journey, and who Twee was before yoga.

(Twee) Who am I? Huh! I ask that of myself almost every day! I'm a wife. A mother of two little girls. A friend to many around the world….who I might see maybe once or twice a year. And when we do spend time together it's deep and heart felt. There's no filters. We just go deep, truthful, and it's as if no time has come between us. I'm a yoga teacher. I'm a traveller. I love the open road for all its potential, mystery, and magic…the people, food, culture, stories shared, and paradigm shifts! Once I think I have a belief, Universe shows me another possibility and my belief shifts back to "I know nothing." That's what keeps me free.
I was introduced to yoga through an ex boyfriend. He taught me from a book in his very tiny heated apartment on the Upper East Side in Manhattan. At the time I was selling health club memberships in the city. I wore heels and suits almost every day. I commuted to work on the subways of NYC "like everyone else" and lived for happy hours during the week and the weekends! I was super social and always including people in my plans. Lots of people. I could never just have one plan a night with one person. It always seemed like everyone who wanted to be included was. Or at least I tried.
Once I found yoga through years of exploring different styles of yoga in NYC's numerous studios and at yoga conferences, I magically appeared in Shiva Rea's class in Estes Park, CO and that's when I knew I found my teacher. It was the beginning of what continues to be a teacher/student/assistant/friend relationship.
I started assisting Shiva as often as I could, traveling throughout the country almost once a month to be by her side learning and serving. I met so many friends from all over the world that way. It became my tribe of family and friends that continue up until now where our children play together even though they speak different languages.
And then my life took a new direction. I embarked on a one year tour living and teaching on the road. I crossed the planet accepting invitations from yoga studio owners whom I had met through assisting Shiva for the past five years. One year turned into two. Then three. After three years of living out of a suitcase and traveling to a different country almost every ten days, I knew it was time to pursue another dream: family. Of my own.
So I prayed to Universe to help that dream come true. It was the best prayer ever answered. I returned home to NYC after my 40th birthday and met my husband, instantly knowing that we were each other's other. He was the one I was "waiting" for. And I was his "one." Soon after, Hana came along. A wedding a year later. And our second daughter Tesla the year after that.
Hana accompanied me to Mexico when she was four months. Tesla came with me to Bali at six months. I have lost track of all the countries these little girls have been to with me when I was teaching – Korea, China, Mexico, Indonesia – yet I am clear as to why. So they can know the unlimited possibilities that life has to offer each and every one of us, and it's up to us to make choices to help make our dreams come true.


2. How does being a mom help you as a teacher and vice versa – how does being a teacher help you as a mom?

Being a mom shows me clearly what I still want to "work" on. Just when I thought I had turned in my "being in control of everything" membership card, I had children and realized three things about control:
1. There's no such thing as being in control.
2. Even though I know this, I'm still trying to control.
3. No matter how much I think I am in control, the girls let me know that I have nothing in control. Nothing. Back to point #1.
Bottom line: they help me know those qualities within me with potentiality for more balance, peace, and surrendering.
Like my 86-year-old Iyengar teacher said to me…."we yoga teachers need yoga the most. Why do you think we teach? So we can hear ourselves and maybe one day learn and live the lessons!" So the more I teach, the more I experience myself and them.
We yoga teachers need yoga the most. Why do you think we teach? So we can hear ourselves and maybe one day learn and live the lessons!
And the best classes I experience these days are my daughter Hana's classes when we start our morning off together on the mat and she guides Tesla and I. It's precious and priceless to hear her teach in her own way with echoes of me mixed in. It keeps me humble and also heightened in my awareness that kids mimic us. Knowing this, I need to be on my game more and more so I can help to guide her towards her potential and keep my "stuff" out of her way so she can blossom into her own fullness. With Tesla I have a two year head start, but I also know it's all so different and so new with each child. I'm truly blessed to have not just one, but three mirrors to help guide me. Hana. Tesla. And Jason, my husband.




3. Tell us about Prana Vinyasa and what it is about it that you gravitated to as a teacher? I watched a Youtube video on it – and it made me want to do yoga and dance at the same time!

Funny about the YouTube video. I don't even know what videos are out there at this point and I'm glad the one you watched inspired you to dance. Right on! Prana Vinyasa is a style of vinyasa flow yoga created by my teacher Shiva Rea. If I had to explain it in one short sentence, I would say it reflects Nature in all its glory. It can reflect tranquility and rejuvenation within a soma practice. Change, transitions, and courage in a solar practice. Romance and sensuality in a sringara practice. Humility, receptivity, and contemplation in a lunar practice.
We have different asanas, breathing techniques, mudras, mantras, meditations, music, and language that we infuse together to co-create with Universe in order to offer the students a transformational experience. It's not a set sequence that is memorized and taught. Life is not set. It's always changing. So are we. And so our style reflects all that is possible, including celebrating and dance! We might organically start (or end) with dance to inspire joy in any and all its forms…on a yoga mat, a dance floor, or in a field!!



4. Your schedule is fully booked and dotted all over the map. How do you stay rooted during your travels? What keeps you sane on the road?

My schedule has had its twists, turns, and long pauses. Just prior to this June 2015, I was pretty settled with my family at home just an hour north of NYC with travels abroad only 2-3 times a year. I wanted to travel to teach only if I could bring my family. The entire tribe. So we would go to Europe. Or China. Korea. Indonesia/Bali.
And now we are back on the road again as a family. We put our house on the market. We bought an RV. We are traveling for one year exploring our country and all its beauty. And perhaps after a year, we will settle into our next home where we are surrounded by a conscious awakened community who reflect the same values as we do: home birthing, no vaccines, home schooling, vegan lifestyle, little to no technology, home cooking, growing our own food, yoga, surfing, hiking, being, living, and playing outdoors as much as we can, and living courageously in our truth and inspiring others to live in their truth by following their hearts and dreams.
What keeps me sane on the road? My husband. My dog. My children. My au pair who helps us with the girls. Although they keep me insane too!
Also my oils for my body and feet. My sleep. My chef husband's vegan cooking! And his home-made chai! Staying off technology and being with my family and our sacred super tight connection with each other. My supplements. My vegan life choices.
And definitely my prayer. Meditation. And yoga (even if it's three full belly breaths as my entire practice for that day). It all helps. Every little bit counts.


5. What is your advice for yoga teachers who want to turn their yoga teaching job into a full-time sustainable and thriving career?

Pray to someone. Something. And ask "Is this what's meant for me right now? If I am meant to teach yoga for a living, then Universe (God/Jesus/Allah/….) please show me the way and I will follow."
As my prenatal teacher, Gurmukh shared with us, "teaching yoga is not a career, it's just what I do. What I'm called to do."
Her teacher told her she must teach. My inner teacher tells me the same. And sometimes my inner guide says, "raise your children." And when I hear that, I pause from teaching and traveling, and I explore living yoga in these other forms…as a mother, wife, sister, daughter, neighbor, friend, mentor. And my oh my, my life is so abundant with opportunities to live my yoga in these roles. This to me IS the true yoga. The daily living of yoga.


6. What advice would you have given yourself if you could talk to yourself years ago?

Surrender more to my inner voice. Listen to it with deep reverence and respect. That voice is the voice of God in me as me.
In fact I still give myself that advice daily. And thank Goddess, it's been sinking in. Not completely. There's more work and fun to be had!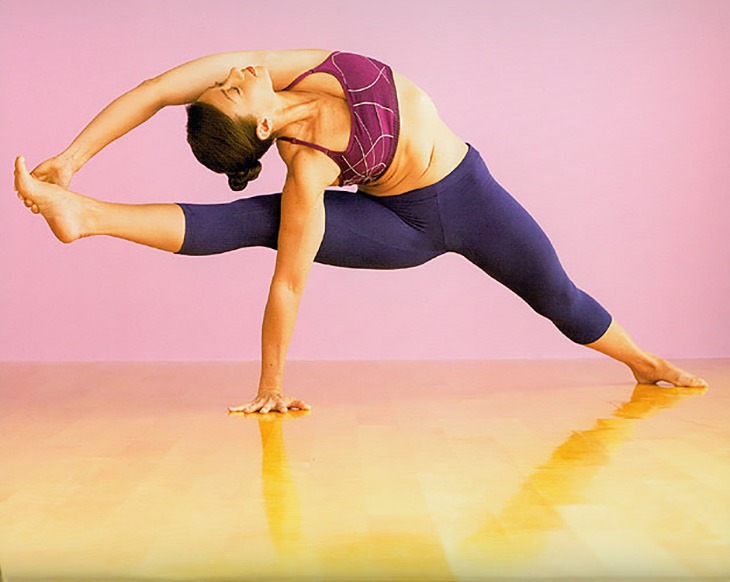 7. We love keeping up with you and your journey. What are you excited about in the next coming months? What's next for Twee?
Currently we are on our way back across the country in our motor home. We took six weeks to come from NYC to Seattle. And now we have only four weeks to get back to Virginia where I'm teaching at the YogaJam in Floyd, VA over Labor Day weekend. Then we're making our way north to arrive at the Hamptons Yoga Fest in NY two weeks later! We're excited to stop into Salt Lake City, UT and Boulder, CO to reconnect with our extended heart family of friends before getting back East. And after that, we return to our home for a month in Sep/Oct before taking the family to Sanya, China for the 2nd Annual Women's Conference followed by three weeks combined in Barcelona and several cities in Germany!
I won't bore you with our plans to travel back across the USA via the southern routes, our documentary we are making (In Search of the Best Place To Live in America), global eco villages around the world, teaching immersions globally (instead of teacher trainings), and taking a year on the open road to solidify my answer when asked "What's the Meaning of Life?"…


We hope Twee's life experiences and insight inspires you to follow your own path. Remember her advice: "Surrender more to your inner voice. Listen to it with deep reverence and respect."
See more of Twee on her Instagram: @twee.yoga #thejourneyisthedestinationtour, her Facebook and her website www.tweeyoga.com
This article has been read 1K+ times. Feelin' the love!