This Yoga Mat Is Made of Out Football-Grade Leather – Here's Why It's "Baller"
We think it's safe to say that you're officially a baller when your yoga mat costs $1,500. No, that's not a typo . . . that's the selling price of BallerYoga's one hundred percent pebble-grain football leather yoga mats.

Why would someone pay so much for a yoga mat?

Quality, that's why. Made from the same material as footballs, these mats are as grippy as they come. But that grip is extra special because it's just like the grip on a professional football.

Designed to last a lifetime, you might actually be getting a bargain when investing in one of these forever – rather than ten or more lower-quality mats over the course of your life.


How BallerYoga Came To Be
BallerYoga founder, Cedric Yau, realized that American Football answered the question of what to use for a non-sticky, yet grippy material decades ago.

On a luxury retreat on the beautiful beaches of Bali, Cedric faced a dilemma. Everything was perfect – the location, the accommodation, the food, the yoga – everything except the yoga mat.

So, after sitting for hours in meditation and innovative contemplation, the idea came to him. He "saw an opportunity to revolutionize the traditional mat in to something both eye-catching and beneficial to the practice."


"Football Yoga"
During a professional game, a football can accelerate from zero to sixty miles per hour and spin at 600 revolutions per minute before it's caught a second later 30 yards away.

That's some serious speed and movement. So, inevitably, you need some serious grip and control to catch it.

That's where the magical grip of leather comes in.


The Benefit of BallerYoga's Leather Material
Using Horween "Tanned in Tack®" football-grade leather, BallerYoga mats are made from the highest quality material and, just in case that's not enough, they are one hundred percent made and manufactured in the United States.

Every yogi knows that synthetic mats can smell. Childs Pose becomes slightly uncomfortable on your brand new synthetic mat as you inhale a few unwanted fumes. But BallerYoga mats boast natural leather smells to "bring you back to the days of Pop Warner."

Maybe best of all, just like all leather products, BallerYoga mats simply get better with age. The more "broken in" your mat becomes, the more it adjusts to your needs.

Because leather is obviously an organic product, it is naturally porous and resistant to moisture and sweat too (just like a football is).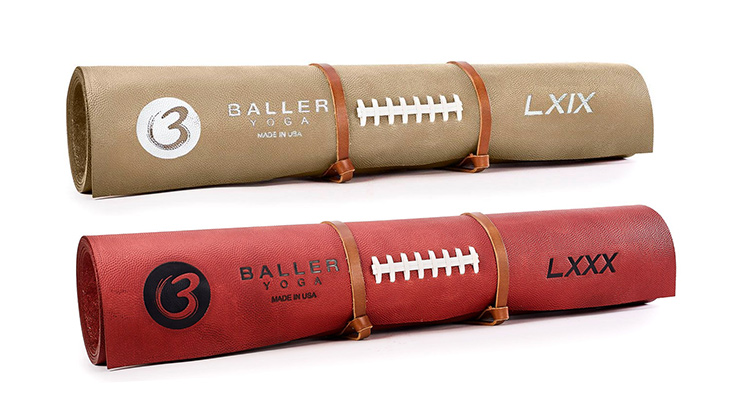 For the Baller Yogis "Tackling" Yoga
So exactly who are BallerYoga mats for? For the elite yogis and the ballers who are now "tackling" yoga. For those that are looking for a luxurious grip and are willing to pay a luxurious price tag.

With football teams and other professional sports teams now requiring their athletes to practice yoga as part of their training regimens, BallerYoga fits in perfectly with a growing market.

Winning the accolade of both the media and professional sports athletes, BallerYoga's high-performance, primal mats appeal to both the everyday yogi as well as 5-star retreat businesses.


Are you an athlete thinking about trying yoga? Check out these 4 Foundational Yoga Poses for Athletes.

But What About Ahimsa?
Ahimsa, or the practice of nonviolence, is one of the major tenets of the yoga practice.

We have to give BallerYoga some serious credit here. Right smack on their website under frequently asked questions, is maybe one of the most gripping questions surrounding this product: "'I AM A VEGAN YOGI . . . WHAT THE F*#K WERE YOU THINKING?"

Their answer is simple and honest. They believe in unifying the great traditions of yoga and athletics. Their leather and lace are both responsibly sourced and the leather they use is a by-product of the meat industry (meaning it would otherwise be wasted).

They state: "We, as yoga lovers like many of you, have the utmost respect and appreciation for the practice. Our commitment is to exploring the enhancement of the experience for advanced yogis and newcomers, alike."


#BallerAF
With such luxury price points, it's no wonder BallerYoga's branded hashtag is #BallerAF. BallerYoga offers several different mat colors and types to choose from, with prices starting at $495 and going up to $1,500. Ready to be a baller? Shop the Baller Yoga Mat here.

Whether you're a yoga purist or you love the idea of blending yoga and athletics, we'd love to hear what you think about these football yoga mats in the comments below!
This article has been read 1K+ times. Feelin' the love!