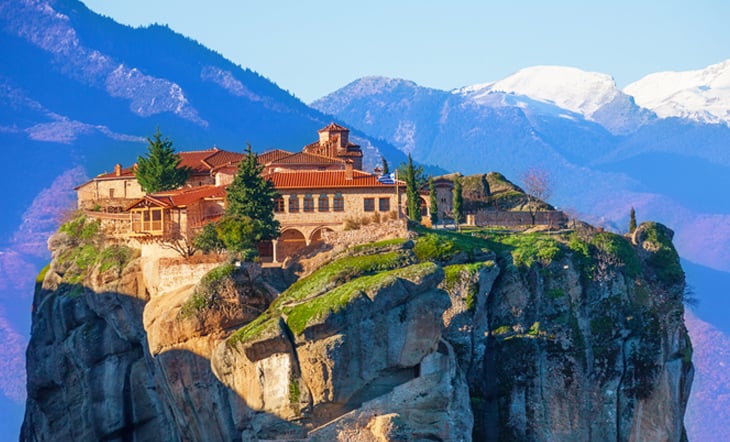 4 Must-Visit Energy Vortexes in Greece to Add to Your Bucket List
If you've been to Sedona, Arizona or Crater Lake, Oregon, you probably experienced the power of an "energy vortex". For the uninitiated, these are locations where powerful energy emanates, leaving people feeling inspired, recharged, healed or refreshed.
9 Natural Wonders of North America You Simply Must Visit
While anecdotally, energy vortexes, located throughout the world, are places where people experience deep meditation, flashes of insight, clarity of thought and a general sense of wellness, the scientific explanation is more technical.
When studied, these sites often show geological conditions that create specific magnetic frequencies.

Energy vortexes are places where people experience deep meditation, flashes of insight, clarity of thought and a general sense of wellness.

People who are in tune enough with their bodies can feel the magnetic flow. If you can feel it, it feels good in a deeply cellular way, but if you can't feel it, you still win because, more often than not, these energy hot spots are set in geographically gorgeous places.
Greece, with its ancient history, provocative mythology, and stunning natural beauty, offers you many of these sacred sites. If you are planning a visit to the home of the Olympian gods, here are four energy vortex sites you don't want to miss.


Here Are 4 Energy Vortexes in Greece to Visit:
1. Delphi
Located about 113 miles (180 kilometers) from Athens, ancient Greeks considered
Delphi
to be the center of the world and home to one of the most powerful women of the time, the
Pythia
, also known as the Oracle of Delphi.
The village of Delphi is located on the slopes of Mount Parnassus, and driving into the town, you'll feel the electricity of this magical place.
The ancient ruins include the Athena Pronaia, a temple dedicated to the goddess Athena, and the main archaeological site, with the Temple of Apollo where the Oracle did her readings. You could spend several hours walking around to see all the structures and ruins.
If you are a hiker, consider taking the Ancient Path, a 14-kilometer trail that leads from Delphi to Kirra, the port in ancient Greece where people sailed to when making the pilgrimage to Delphi.
The entire area surrounding Delphi is magical, and the energy has a paradoxical mix of feeling highly alive and perfectly still. For energy vortex seekers, Delphi is definitely worth a visit.

2. Meteora
Meteora
is another must-visit energy vortex stop during your trip to Greece. Located about 223 miles (360 kilometers) from Athens, you'll have the option to take a train, drive by car or go as part of an organized group.
Your first sight of the ancient monasteries hanging dramatically from the sheer cliffs is an unforgettable experience, and this location is both visually stunning and energetically powerful.
Meaning "lofty" or "elevated," some of the monasteries of Meteora sit as high as 1,800 feet (550 meters) above sea level, offering visitors a vigorous hike to see the picturesque structures.
Of the six active monasteries, the Holy Monastery of St. Stephen and the Holy Monastery of Rousanou are ran by nuns, while monks run the other four.
Beyond these religious sites, Meteora offers beautiful nature hikes for all levels of fitness. Most paths have a gentle incline of 650 to 1,640 feet (approximately 200-500 meters), and you can spend hours deep in nature forest bathing and taking in the energy and surroundings.
Energy vortex enthusiasts rejoice: many organized tours offer combined travel packages to Meteora and Delphi.


3. Delos
The island of
Delos
, with a permanent population of zero, is right next to world-famous Mykonos and is said to be the birthplace of Apollo, the god of light and his sister Artemis, the goddess of the hunt.
Energetically powerful and historically significant, this energy vortex is a dedicated archaeological site that offers visitors a glimpse of the remains of a sanctuary dedicated to Apollo and Artemis and the city that developed around it.
In ancient times, the energy of this island was thought to be so powerful, Delos became the center of the Cyclades island complex and inspired the name. The word "cyclades" translates to "those which encircle".
Starting about 1,000 B.C, this tiny island with a total landmass of under 2.5 square miles (4 square kilometers) became a religious destination and later a bustling port.
Your visit to Delos can include the opportunity to walk around the ancient ruins, including the Agora of Hermaists, the Temple of Delia, the Temple of Hera, the Minoa Fountain, the Avenue of the Lions, the Theater and more.
The only way to get to this energy vortex is by boat, so make sure to book your return ticket for the same day as there are no accommodations.
This is a popular tourist destination, so don't expect to visit in solitude. The crowds can be something to contend with, but the site is large enough to allow you to find privacy to connect with the ancient energy of this sacred place.

4. Sounion and the Temple of Poseidon
If you want to feel powerful energy but don't have time to leave the Athens area, head over to Cape Sounion and the
Temple of Poseidon
.
Located about 43 miles (70 kilometers) from Athens, the Temple of Poseidon sits on a hill jutting into the sea, giving the site sheer cliffs, inspiring views and gorgeous sunsets.
The temple, built from 444-440 BC, was dedicated to Poseidon, the god of the sea. In ancient times, it was the last thing voyagers saw when sailing away from Athens, and the first thing they saw when returning home.
This energy vortex site makes an attractive half-day trip from Athens and gives you the opportunity to walk through the ancient ruins, take in the scenery and stop for a local seaside taverna meal en route.
Sounion has a fresh, crisp energy; an ideal setting to gain a broader perspective or to reset your thinking.
Want to Explore Europe? Read: Travel Like a Local – Your Guide to 4 Gorgeous Coastal European Destinations


Experience the Energy Vortexes in Greece
These are just four of the many energy hot spots you'll find in Greece.

Greece, with its ancient history and provocative mythology offers much amongst their energy vortexes.

There are dozens more, including the Parthenon itself, Mount Athos, Mount Olympus and beyond, but rather than read about them, book your ticket, pack your bags and come and visit for yourself!
This article has been read 4K+ times. Feelin' the love!