This 25-Minute High-Energy Online Yoga Flow Will Increase Your Agility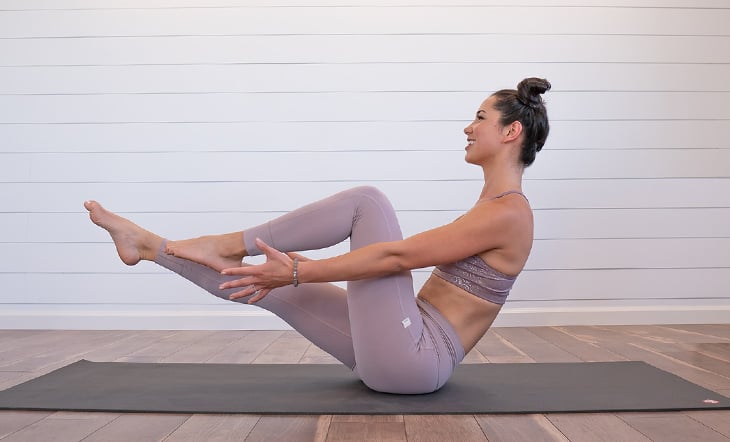 Agility, or the ability to move quickly and easily, isn't common in our mostly disembodied world. But when you see a dancer, athlete, or yogi effortlessly flow through movement, it is a beautiful sight to behold.
Yoga Agility on YA Classes is a quick 25-minute practice designed to challenge and improve your agility for better coordination, grace, and fluidity in movement.

Led by the upbeat, motivational, and playful Katie Kasten, this class is sure to become your new favorite express workout.

This sweaty and fun practice is accompanied by an energetic playlist – created by the teacher, Katie Kasten – to motivate you to keep going strong throughout the challenging workout. You'll stretch and strengthen parts of your body that you likely didn't even know existed with this super creative blended athletic yoga practice.
Here Are 5 Ways Yoga Can Meet All of Your Fitness Goals


Get Ready to Sweat, Flow, and Laugh With This Upbeat 25-Minute Yoga Agility Class
Yoga Class
With Katie Kasten
Want a brief glimpse into what to expect during this online yoga class for agility?
This quick and sweaty cardio workout is set to fun, upbeat music that'll get your heart pumping and blood flowing.
This high-energy practice starts off with a simple warm-up to target all parts of your body to prepare you to flow. You'll then move on to athletic movements interspersed between traditional yoga sequences and dance-like choreography to build agility in your body.




There are lots of sequences that build and reinforce neural pathways to improve your hand/eye coordination and plenty of techniques and movements to challenge your dexterity, nimbleness, and of course, agility.
Once you've powered through the dance, yoga, and athletic-inspired core of the practice, you'll cool down with some unique feel-good poses.
Led by the upbeat, motivational, and playful Katie Kasten, this class is sure to become your new favorite express workout.
What to Expect In Your First Yoga-Dance Fusion Class


Why Should You Increase Your Agility?
Agility can help your body in countless ways. Agility training improves flexibility, balance, control, cognitive ability, speed, explosive power, coordination, and ultimately, sports performance. Beyond all that, having clear body awareness and agility can even help to prevent injury.
Calling All Athletes! Yoga Can Increase Your Athletic Performance – Here's How
Yoga agility, specifically, improves alignment and postural control both on and off the mat and encourages your body to maintain healthy body placement.
Agility drills are challenging to both your body and your mind, but their benefits are immeasurable. So agility drills and techniques are absolutely something you want to be adding to your workout regimen.
Get inspired with Yoga Agility and notice how your body awareness, nimbleness, and agility is affected.
Have you tried YA Classes by YouAligned yet? Did you know that we plant a tree for every class our members complete? We've planted over 100,000 trees and counting!! Explore our vast selection of hundreds of online yoga, fitness, and meditation classes. We add new classes every week!
If you're already a YA Classes member, thank you for practicing with us! If you haven't tried us yet, you can start your free 14-day trial to see what makes our classes so special.
This article has been read 485 times. Share it and spread the love!