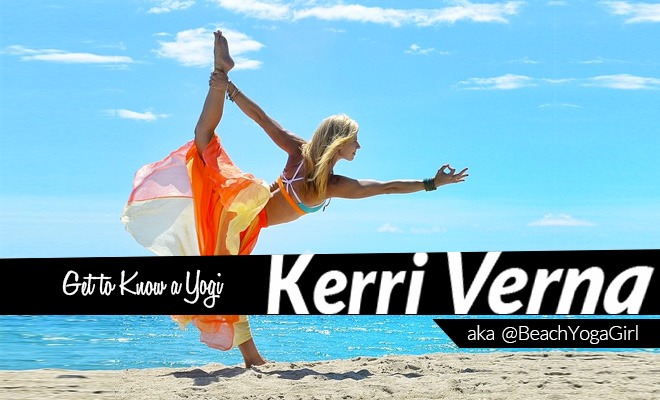 Get To Know a Yogi: Kerri Verna, aka Beach Yoga Girl
When it comes to inspiring yogis, our list can become quite extensive. Whether it is their story of transformation that we can relate to, their dedication to their practice, or the lessons they teach us about ourselves, these yogis definitely help expand our practice on and off the mat.
Kerri Verna is all of the above. Also known as "Beach Yoga Girl," Kerri continues to inspire over 800,000 yogis around the world with her Instagram account @beachyogagirl. Her photos are bright, sun-drenched, and will make you feel like digging your toes in the sand.
When she is not balancing on her head, she is found balancing life as a mom of two boys. She fully embodies the playfulness in her teachings as a yoga teacher in West Palm Beach, where she leads her widely popular class, Beach Yoga. We're excited to introduce Kerri, aka Beach Yoga Girl!

1. (YA) Yoga is such a transformative journey towards love and self-acceptance. Who was Kerri before yoga and how would you say the journey of yoga has transformed you?
(Kerri) I was first introduced to yoga through my local fitness club where I attended training for a program called Body Flow. I had never done any type of yoga before and found it to be extremely challenging while also giving me a great sense of peace. Before Yoga, I was lost and insecure. I didn't eat healthy, I didn't exercise and I didn't have much of a spiritual life. Yoga transformed my physical body first, then through the discipline of the practice and meditation I grew to have a deeper relationship with God.

2. (YA) What inspired your Instagram account and why do you think it has so many followers? What are your suggestions for fellow teachers trying to grow their following?
(Kerri) My love for the beach, desire to connect with other yogis, and my love for photography all inspired my Instagram. I think that people follow my account to be inspired, get yoga advice/help, and because they connect with personal stories that I share. I believe that if everyone stays true to who they are and what their message is to the world, then growing a following whether big or small will inevitably happen. Some teachers make an impact with only a few students in their life, but those students may go out and inspire thousands. It's not about quantity, but rather, it is about quality.



3. (YA) What does a typical day look like for you?
(Kerri) I get up, get my kids ready and off to school, then I come home and have my coffee, maybe eat something light if I don't have a class to teach, then answer emails, clean the house, do laundry, work on projects, and post to my social media accounts. Around 12pm, I usually practice and meditate. I record most all my practices for my own learning but sometimes I will share my practice that day with my social media platforms. Once the kids get home, I'm back to being a mom. Homework, dinner and then family time until we go to bed.


4. (YA) When you first started your journey to yoga, what inspired you to continue deepening your practice?
(Kerri) At first it was all physical. I love the transformation it did to my body. As I got older, I didn't care about that so much as I did just having a deeper spiritual practice. I found that discipline was the best way to deepen my experience.

5. (YA) What advice do you have for those curious but intimidated to start their own practice, or for the students who started a practice but feel discouraged?
(Kerri) Just start! Enjoy where you are no matter what you are feeling. Find those who inspire and influence you to come to your mat and enjoy your practice. My influences are Kino MacGregor and my trainer Eugene.

6. (YA) As much as we would love to practice with you beach-front, we're excited to be able to do it from anywhere through Cody App! What's next for beach yoga girl? Any fun new projects or collaborations we should look out for?
(Kerri) Lots of fun things happening in 2016!  I don't want to ruin the surprise, so you will just have to keep following to find out!


We hope you enjoyed getting to know Kerri on and off her mat. Allow her practice and her journey to inspire you to find balance on your head and in your life. Next time you find yourself on a beautiful beach, reflect on Kerri's inspirational words and dig your toes into the sand!

Find out more about Kerri at BeachYogaGirl.com and take classes from her at CodyApp.com. Follow her on Instagram @beachyogagirl
This article has been read 3K+ times. Feelin' the love!