Everyone Will Love This Drool Worthy BBQ Jackfruit Taco Recipe (GF & Vegan)
Jackfruit is becoming more and more popular for its versatility in the ways you can eat it, and also the variety of health benefits it offers for vegans and meat-eaters alike.
One of the best ways to eat jackfruit (in our humble opinion)? Jackfruit tacos of course! The texture of jackfruit mimics pulled pork, and its naturally mild flavor is a nice foundation for more robust flavors like BBQ sauce.
Enter: the BBQ jackfruit taco! Are you drooling yet?


But First: What Is Jackfruit?
You may or may not have heard the buzz around this odd-looking (and ridiculously huge – weighing up to 100 pounds each) tropical fruit. Jackfruit has a texture similar to pulled pork, with a surprisingly savory taste.




A vegan's dream, jackfruit is packed with good-for-you nutrients like magnesium, fiber, iron, antioxidants, and vitamins A and C.
This superfood can do amazing things for you – like strengthen your bones, improve your digestion, and give you glowing skin. Researchers have even declared jackfruit a "miracle" crop.
The best part? Jackfruit works for just about every diet – it is gluten-free, vegan, cholesterol-free and low in calories! And you can eat it like a veggie, fruit, or meat based on the recipe and your preferences.
Without further ado, let's make some delicious jackfruit tacos!


These Vegan, Gluten-Free BBQ Jackfruit Tacos Are Easy to Make and Oh-So-Delicious
These BBQ jackfruit tacos are served with crispy corn tortillas and topped with tangy pineapple salsa. When you prepare this recipe, make sure you're hungry because you might just have to go back for seconds (and thirds) . . .
Serves 4 people, with 2-3 tacos each

BBQ Jackfruit Taco Grocery List
Before you start cooking, here is a completely grocery list (you may already have some of these at home):
1 can young jackfruit in water
1 7 oz can chipotle peppers in adobo sauce
1 bottle sweet BBQ sauce
1 fresh pineapple
3 roma tomatoes
1 red onion
1 jalapeno
1 bunch cilantro
2 limes
1 12-pack corn or gluten-free tortillas
Vegan mayo
Dijon mustard
1 clove of garlic
1 whole red cabbage
Vinegar (your choice of rice vinegar, white vinegar, apple cider vinegar)
Olive oil

Now that you have your ingredients from the grocery, here's how to make BBQ jackfruit tacos!

How to Make Pickled Cabbage
1 cup vinegar
1 cup water
1 tablespoon sugar
1 teaspoon salt
2 cups red cabbage


Boil vinegar, water, sugar, and salt in a medium pot. Once boiling, add cabbage and turn on low heat to simmer for 5 minutes. Take off heat and let cool in a bowl for at least 20 minutes. To store leftovers, place cabbage (with the liquid) into an airtight jar and keep in the fridge for up to a month.
Not a fan of pickled veggies? Don't worry about it! Shred the red cabbage and add as a topping to your tacos. You might notice, however, the cabbage is a little bitter when eaten this way.

How to Make Pineapple Salsa
2 cups diced pineapple
3 roma tomatoes
½ red onion
1 lime
1 teaspoon salt
½ cup cilantro
1 whole jalapeno (remove seeds for less heat)


Dice pineapple, tomatoes, red onion, jalapeno, and cilantro – and put in a large mixing bowl. Add the juice of the lime and salt then mix. You can store up this for up to 1 week in a covered container in the fridge.

How to Make Garlic Aioli
¼ cup vegan mayo
¼ cup dijon mustard
4 cloves of garlic

Add all ingredients in a food processor and blend until smooth.

How to Make the Jackfruit Taco "Meat"
1 can young jackfruit in water
1 7oz can chipotle peppers in adobo sauce
1 cup sweet BBQ sauce
1 cup water
1 tablespoon olive oil
Dash of salt and pepper, to taste

For those who don't love the heat: only add half the can of chipotle peppers, or skip them entirely.
Drain and rinse jackfruit and dry on cutting board. Cut off the dense core of the fruit and add the meat to a large skillet on medium-high heat with just olive oil, salt, and pepper.
While the jackfruit is browning, add the BBQ sauce, chipotle peppers (use the whole can, don't drain), and water into a blender or food processor and blend until smooth. After the jackfruit has been on the skillet for 4-5 minutes, or when it's browned, add the BBQ chipotle sauce.
Let simmer on medium heat for 3 minutes and then use two forks in either hand to pull the jackfruit meat apart.

How to Assemble BBQ Jackfruit Tacos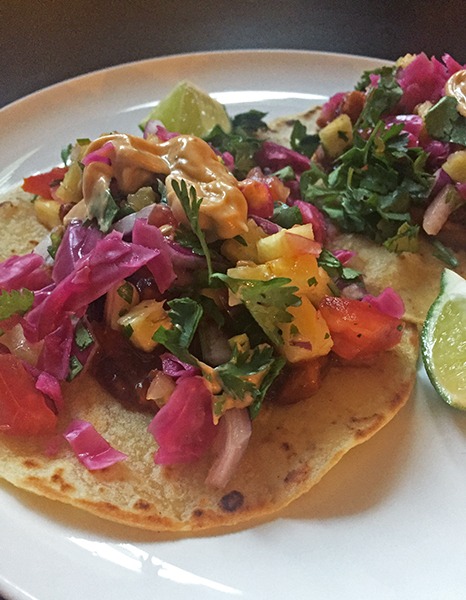 Now comes the fun part . . . you get to eat with your hands! Grab your tortillas and top with your shredded jackfruit, pineapple salsa, pickled cabbage, and aioli. Option to squeeze a little more lime juice on top.
Corn Tortilla Tip: Corn tortillas can be hard to work with sometimes. To toughen them up, throw a few in a frying pan in a single layer with a bit of oil on high heat until they are just a tad crispy. You still get the flex of a soft tortilla, but with the durability of a crunchy one!

Nutrition Facts on BBQ Jackfruit Tacos
This flavorful and colorful dish makes a perfect light lunch or dinner. For two tacos you're looking at approximately:
626 calories
111 carbs
8g fat
9g protein

Whether you're cooking these jackfruit tacos for your next meal or for a few of your favorite people, they're a dish that's sure to please any vegan or meat eater in the room! The best part? These savory, meaty tacos are healthy and completely vegan and gluten-free.
Enjoy!
This article has been read 193 times. Share it and spread the love!