BBQ Tempeh Rainbow Bowl (Gluten-Free, Vegan Recipe)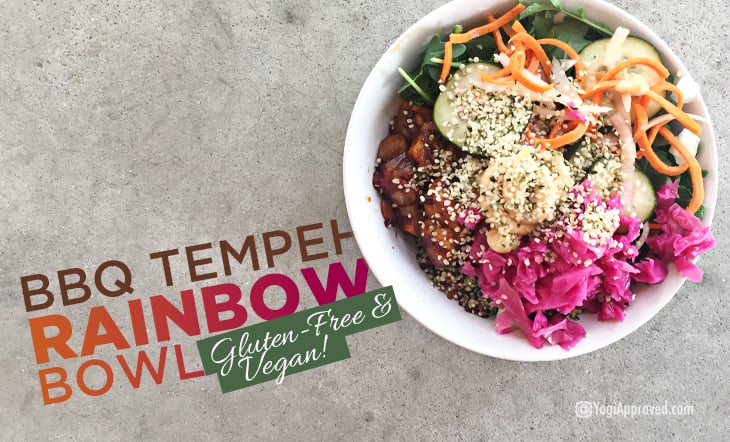 I don't know about you, but I'm not ready to let go of summer yet. I'm holding on to every sunny day and I'm still adding barbecue sauce to everything. This gluten-free, vegan BBQ tempeh bowl is no exception! It's packed with nutritious grains and veggies and will keep you full all summer long.

Studies show that plant-based sources of protein are more easily digested in the human body, and reduce the risk of major illnesses. The two plant-based protein powerhouses (say that five times fast!) in this recipe are quinoa and tempeh. Quinoa packs 11g of protein per cooked half cup and tempeh packs 8g of protein per ¼ cup.

Keep Summer Alive With This BBQ Tempeh Rainbow Bowl
This recipe takes some set-it-and-forget-it overnight prep for pickled veggies. But trust me, it makes assembling your bowl so much easier!

Did you try the Gluten-Free, Vegan BBQ Jackfruit Tacos to Spice Up Your Summer Recipe? If so, you can use some of your leftover pickles in this recipe!

Ingredients
Makes 1 serving. Difficulty: Moderate

For the Bowl
½ cup Quinoa
½ cup Arugula
¼ cup Tempeh, cubed
¼ cup BBQ Sauce (buy your favorite bottle or make your own)
1 Tbsp Just Chipotle Mayo
1 tsp Hemp Seeds
¼ Yellow Onion, chopped
For the Pickles
6 cups White Vinegar
1 small Cucumber, sliced
1 small Carrot, spiralized
¼ cup Red Cabbage, chopped
1 clove Garlic, minced
Preparation
The night before, mince garlic, thinly slice your cucumber, chop red cabbage, and spiralize your carrot. Place each veggie in its own mason jar, adding the garlic to the cucumbers, and cover with vinegar. Seal your jars – I like to give them a little shake to make sure the vinegar is distributed evenly – and place in the fridge. Your pickles will need to sit for at least 4 hours before they're ready, and the longer they sit the better they will be. Now set it and forget it!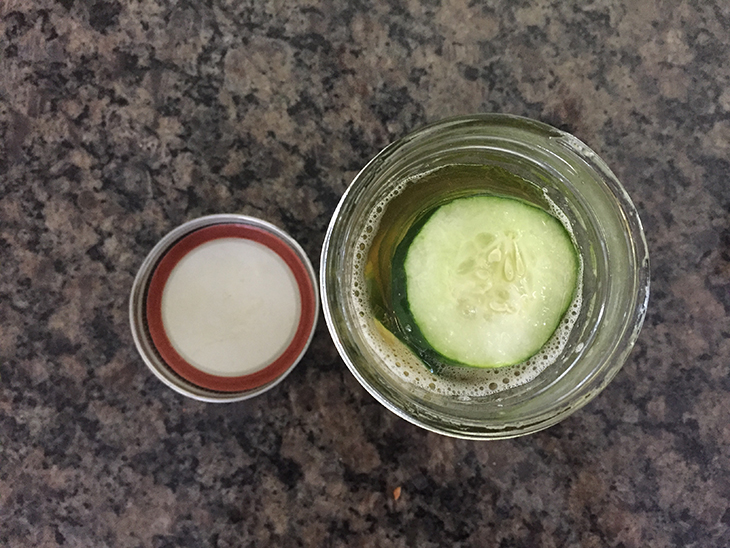 To prep your quinoa, add ½ cup quinoa and 1 cup of water to a small sauce pan. Bring to a boil and then reduce the heat down to medium. Let simmer, stirring until your quinoa has absorbed all the water.

Tempeh Trick! You need to boil your tempeh before you fry it. This softens the tempeh and helps it absorb flavors.




Cut your tempeh into small cubes and place in a sauce pan. Cover with water and bring to a boil for 5 minutes, then drain. While tempeh is draining, add a thin layer of olive oil to your sauce pan to prevent sticking as you fry the onion. As the onion becomes translucent, add your tempeh back to the pan and fry until golden. Add BBQ sauce and simmer for 3-5 minutes on low heat.

Assemble
In a medium bowl, add quinoa and arugula as your base. Top with tempeh and pickled veggies, and then add the Chipotle Mayo on top and sprinkle with hemp seeds.




Dig in!


I love this dish because it has so many delicious different flavors going on and it's incredibly nutritious. This power bowl has about 28g of protein that will fill you up and get you moving on whatever adventure lies ahead.

This article has been read 586 times. Share it and spread the love!