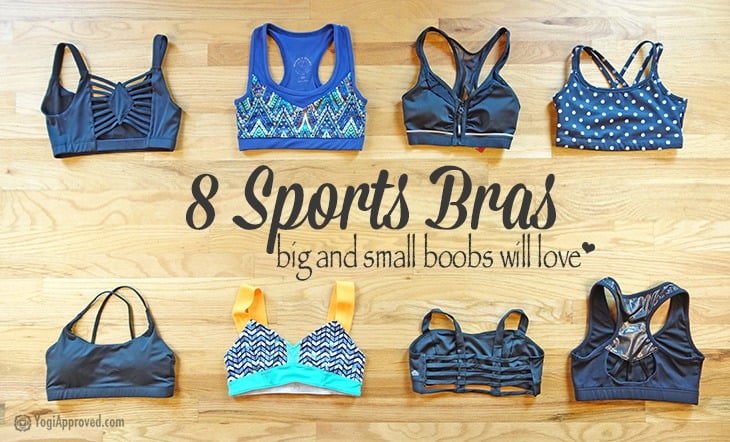 8 Supportive and Stylish Sports Bras from A Cups to DDs
Sports bras are an essential piece of clothing in all yogis' wardrobes, no matter if you are small- or large-chested. Sports bras give us support and prevent delicate tissue from stretching and sagging, and they can add personality and style to any basic yoga tank, whether you're an A cup or a DD. The needs of both yogi types are very different when it comes to sports bras. Yogis with larger breasts want more support, and therefore more fabric, to prevent hunching and to keep the ladies where they are meant to be (especially in inversions). Smaller-chested yogis often don't need the extra support and instead prefer minimal, lightweight fabric that keeps everything in place but doesn't feel claustrophobic.

To find that beautiful happy medium that keeps both types of yogis in booby bliss, two different yogis – an A cup and a DD cup – have tested 8 yoga sports bras and have identified which bras are best for petite and full-figured yogis. Here is what they found:


Montiel Ex Bra ($38)
The Ex Bra has a more traditional style, but kicks it up a notch with two slim crossing back straps that look amazing under shirts or tanks that show off your back. The Ex Bra comes with removable bra pads for extra versatility. The bra is available in white, hot pink or black in sizes XS-L.




Big Boobies: This bra is so soft and feels luxurious against the skin. Even though the straps appear to be slim, they are sturdy and keep the girls in place throughout my yoga practice. I love the cross-back straps that instantly add a little personality that is typically lacking from sports bras of my size. I sized down to achieve a secure and comfortable fit.

Small Boobies: I second what Big Boobies said: this bra is so soft, you'll never want to take it off! In terms of comfort, this bra is top-notch. The lightweight fabric feels wonderful on my skin, and the smooth material goes great under any type of activewear or regular top. The adorable strap detail on the back makes you want to flaunt your stuff, and the support is just the right amount: secure, but not too tight.
---
Nina B Roze Racer Stitch Sports Bra ($58)
The Racer Stitch Sports Bra is a traditional racerback-style bra designed for high-impact workouts. However, this bra includes a silver lurex and black mesh detail on the back for style and extra hold. The bra is available in black or abstract paint colors in sizes XS-L. Save 20% with the code SPORTSBRA at checkout.




Big Boobies: This bra can take me from yoga to a jog around the track without fear of a wardrobe malfunction. The bra has high compression which makes me feel 100% secure, no matter if I'm in downward facing dog or holding steady in plank. Racerback styles are always a busty girl's best friend, but this bra goes a step beyond with the flirty open back and eye-catching metallic fabrics.

Small Boobies: I am in love with the detail on the back of this bra! From the silver and mesh to the straps that look like sun rays, you won't want to cover up this bra. While this sports bra is a thicker, heavier material (something my small boobs are not usually accustomed to wearing), it's still breathable, comfortable, and versatile. I have worn the bra to hot yoga, and I have rocked it out on the town. The verdict? YouAligned™!
---
Jala Clothing Eco Bandeau Bra ($58)
The Eco Bandeau Bra looks like a typical bandeau bra from the front, but peek in the back and you will find sexy horizontal openings that take this bra to the next level of style. This light- to medium-support bra is also made from recycled water bottles, so you can feel as good about your purchase as your ta-tas do wearing it. The bra is available in S-L in black or white. Use code ECO20 for 20% off of your entire purchase.




Big Boobies: I love the sexy back slits that add a little personality to my plain open back tanks. Unlike most bandeaus, this bra has straps that keep the the bandeau portion of the bra in place. This is not a bra for running a marathon for big-boobed ladies, but it will get you through your yoga practice with lightweight comfort. This is also a great post-yoga lounging bra that is so comfortable, you can sleep in it. I had to size up to make sure that the ladies stay covered without spilling over, and this bra requires a tank or cover up as it can create an eye full of cleavage that you may not be comfortable showing off to your fellow yogis.

Small Boobies: Jala's Eco Bandeau Bra speaks small boob language. Its lightweight fabric is incredibly soft and feels like a second skin, which is perfect for me, because I'm very picky when it comes to fabrics. The slits on the back are sexy and fashionable, and also very breathable, making this bra perfect for hot yoga and SUP (stand up paddle boarding). While I usually wear an extra small, the small fits quite nicely – I feel secure yet unrestricted – the perfect balance.
---
KiraGrace Flirt Yoga Bra ($58)
The Flirt Yoga Bra is a black and white polka dot print bra that has a fit designed for yogis with fuller busts and hips and a smaller waist, yet it is also great for yogis with smaller breasts. The high compression sports bra is made of moisture-wicking materials and has a double-layer for support, comfort and avoidance of "headlights" in cold studios.




Big Boobies: For busty babes, compression makes all the difference. Especially during high-impact workouts or those that involve a lot of jumping or bending over, we want to feel secure and know we won't have a Janet Jackson nip slip. With this bra, the fabric sits high enough to give you complete coverage (even when you bend over) without squishing the girls and creating an eye full of cleavage. Combine the quality material with the uber-cute polka dots and you have a great overall sports bra for all of your athletic activities.

Small Boobies: As ladies with small boobies may agree, high compression isn't always a must. I'm always skeptical of overly-compressing bras for two reasons. 1. I don't need it! 2. Sometimes the compression makes my upper back/neck ache. However, in the case of KiraGrace, uncomfortable tightness is not an issue. The bra is comfy and secure – without being too tight – great for yoga, the gym, or underneath your favorite top, because that polka dot pattern is too cute to hide!
---
Capezio Bra Top ($37)
The Capezio Bra Top is a traditional racerback bra with a sexy back cut out and mesh detailing throughout the bust and back for breathability and comfort. This black bra has loads of style and functionality with its center zipper that makes slipping this on and off a breeze. It's available in XS-XL in black.




Big Boobies: This is a big boobied girl's best friend! At first, the center zipper scared me – I've tried other bras and tops with zippers and a few hours (or minutes) in I looked like the Hulk breaking through my bra. In this bra, the zipper is definitely beneficial as it allows me to have a secure fit without having to stretch the bra over my head (or my bust). It is comfortable, breathable and the center ruching is cute and feminine.

Small Boobies: The Capezio Bra Top is uniquely designed and offers a refreshing change from the typical sports bra cut. The back mesh detailing is incredibly cute, and the bra fits snuggly for ladies who enjoy a secure fit. This bra will stay in place whether you're at the gym, on a jog, at the dance studio, or practicing yoga. While the center zipper is great for functionality, it does press against your chest in yoga poses on the stomach, so be sure to keep that in mind when you're on your yoga mat.
---
Alo Yoga Reversible Bra ($64)
With the Reversible Bra, you get two bras in one. You can choose between a more traditional solid print or let your wild side shine with a funky and playful pattern. The light-support bra is made of high-performing anti-microbial Nylon Spandex with mesh detailing on both the front and back to keep you cool and dry. The bra is available in XS-L.




Big Boobies: This bra is all about the style and versatility! I can throw on a tank and go from yoga studio to street in this bra with ease. The bra has wide, supportive elastic straps that don't slip or slide through my practice. Best of all, the straps provide enough support for my practice without digging into my shoulders or causing stress on my neck. The bra is super comfortable (I've slept in it) and doesn't dig into my rib cage or cause indentation marks in my skin.

Small Boobies: Typically, smaller-chested ladies don't find bras in their size with wide straps. But as soon as I slipped this Alo bra on, I understood what all the fuss is about. This bra offers full coverage and support with a low cut center in the front for a little fashion and flare. Each side of the reversible bra gives you plenty of wardrobe options, and the comfortable Nylon Spandex feels so nice against my skin.
---
Onzie Sun Ray Bra ($65)
The Onzie Sun Ray Bra adds a burst of sun, lighting and positivity to your life and your wardrobe with the beautiful ray of sun detailing throughout the back. Designed with Free-Flow Fabric technology, the bra is designed to dry quickly for hot yogis, swimmers, and runners.  The bra is available in S/M, ML and LL in black, eggplant, rose, teal, and fantasy/sunset.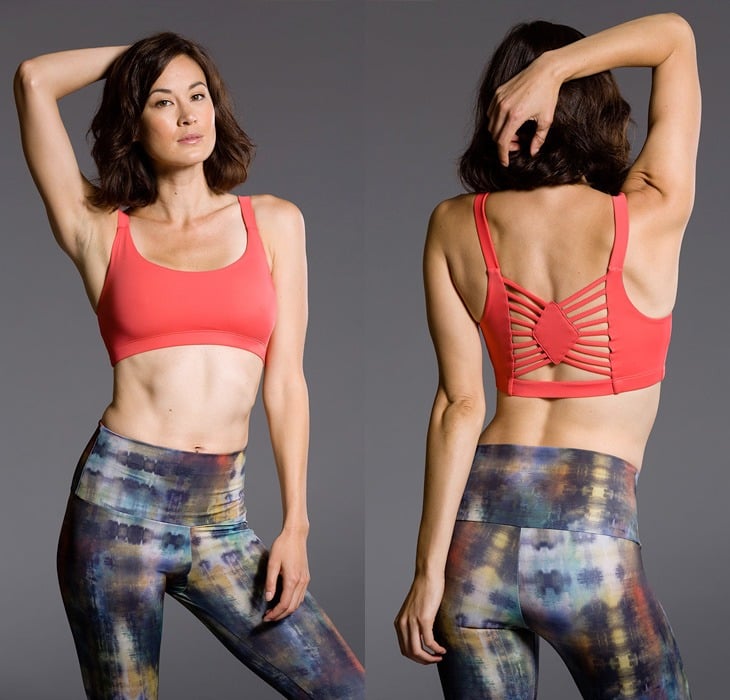 Big Boobies: The bra is fully lined, which makes all the difference for us busty babes. The full-coverage bra rises high in the front so you can bend down low without giving your neighbor a show. The thick straps and soft material make me feel comfortable and secure, even during inversions.

Small Boobies: The Onzie is visibly and touchably high quality. From the front, it looks like a standard sports bra design. From the back, it's fashionable diamond design will get you a lot of compliments. What I like most about the Onzie bra is its soft and comfy fabric (a spandex/polyester blend). As an A cup yogi, the larger cut in the front leaves my ladies feeling free, so if you like a little space in your sports bra, this is the bra for you.
---
Threads for Thought Hemera Sports Bra ($45)
The Hemera Sports Bra is a supportive and comfortable racerback-style bra that is made of spandex and recycled polyester from water bottles and contributes to reducing waste and creating a cleaner, greener earth. The bra is available in XS-L.




Big Boobies: This fitted sports bra provides just the right amount of support. The double-thick material and busy pattern prevents "headlights" from appearing in cold studios. The material is buttery soft and luxurious and not what you would typically imagine when you think of eco-friendly or sustainable clothing.

Small Boobies: I am pleasantly surprised by this sports bra. Typically, I go for the smaller cuts because I don't need all the extra fabric and compression. Yet the Hemera Sports Bra makes me feel secure for my more physically demanding activities, while creating a small (welcomed) amount of cleavage. This makes the bra able to accompany your small boobies from the gym to the yoga studio to the mall without skipping a beat.
Shop this top here


When you are ready to shop for your next sports bra, be sure to look for high-quality materials and cuts that are appropriate for your exercise of choice (yoga, running, lifting weights, etc.), along with your chest size. When it comes to chest size, not all bras are created equal, and it's important to take care of your ta-ta's so you can get the most out of your activities while feeling secure, stylish, and supported.

Have any specific questions or comments about any of these bras? Please tell us in the comments below.

This article has been read 10K+ times. Bada bing!