Found: This Crystal-Infused Weighted Blanket Is The Ultimate Cuddle Buddy
Weighted blankets (also referred to as gravity blankets) have become so popular, but why? Beyond the comforting feeling of being hugged while you're sleeping, interestingly enough there is a wide range of impressive benefits of using a weighted blanket while you sleep.
A big piece of the weighted blanket magic is the power of DTP, or Deep Touch Pressure which creates a calming effect in mind and body. How?
Deep Touch Pressure causes the release of serotonin and dopamine, two feel-good brain chemicals that combat the effects of stress and anxiety. This is done through "tactile sensory input" (with weight in the case of weighted blankets) that is often used in occupational therapy.
In fact, Deep Touch Pressure is a form of therapy used often in cases of autism, ADHD, and anxiety.
Now that we know why they are so beneficial, let's take a look at what we have a feeling might be the only weighted blanket you'll ever want . . . Plus why!


Meet the Crystal Weighted Blanket by Sunday Citizen
Weighted blankets are typically filled with little glass pearls to get their weight, but the Crystal Weighted Blanket by Sunday Citizen is also filled with thousands of pieces of natural amethyst and clear quartz crystals.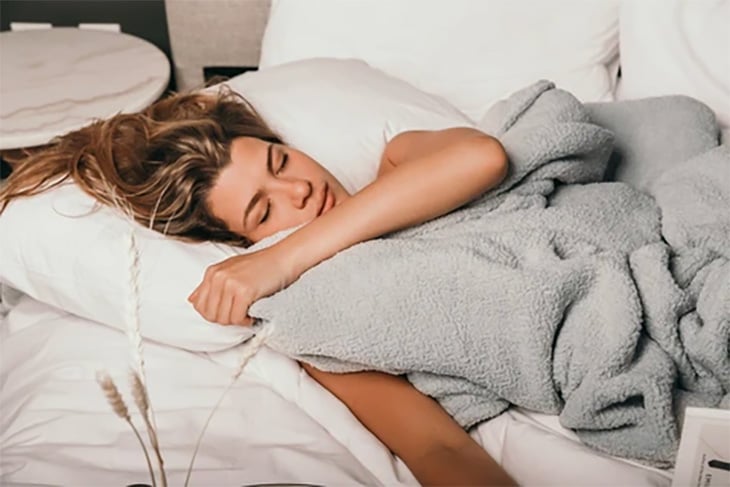 Aside from being super cool, the benefits of having a weighted blanket filled with crystals are considerable.
Crystals are believed to possess certain powers and characteristics. Sound too woo-woo for you?
To explain further, crystals have specific molecular structures which means each crystal emits a unique vibration and signature energy field that interacts with our own energetic vibration.
In this sense, crystals can absorb and direct energy.
Interested in learning more about the powers of crystals? Read our Ultimate Crystal Healing Guide: 20 Powerful Crystals and Their Healing Properties

The Power of Amethyst and Clear Quartz Crystals
Amethyst and Quartz are two common and popular crystals, and their popularity is largely due to the powers they're believed to possess.
Crystal quartz is known as a 'master healer' and is thought to increase the flow of qi energy and stimulate both the immune and circulatory systems. It also clears energy and enhances the power of other crystals.
Amethyst is known for its potent calming abilities. Often recommended for more restful sleep, Amethyst is thought to stimulate the sympathetic nervous system which is responsible for the 'rest and digest' function in the body.
It makes sense that these two powerful stones be combined for the ultimate weighted blanket experience.
That's what makes the Crystal Weighted Blanket by Sunday Citizen so unique . . . and effective. They combined two powerful crystals with the already powerful effect of sleeping under a weighted blanket for incredibly restorative sleep.


Final Information to Know About Sunday Citizen's Crystal Weighted Blanket
This weighted blanket's cover is machine washable (cold, gentle cycle and tumble dry low) – can we get an amen?! The cover is 100% microfiber and removable (and oh-so-soft). The inside filling (hand wash in cold water only) is polyester with glass pearls and all those amethyst and clear quartz crystals.
The Crystal Weighted Blanket weighs 21 pounds and comes in Cloud Grey or Off White. Sunday Citizen offers free shipping and free returns with a 90-day guarantee. The blanket comes in off white and cloud grey.
A study in the Journal of Alternative and Complementary Medicine showed that physically grounding the body while sleeping helped alleviate stress, improve sleep, and even reduce pain.
With so many benefits of sleeping with a weighted blanket, it's a potent form of self-care. And the added benefits of one infused with healing crystals makes it a total no-brainer investment in your quality of sleep and overall wellness.
Sweet dreams!
This article has been read 4K+ times. Feelin' the love!