Online Mattress Buyer's Guide – Which Memory Foam Mattress Is for You?
How did you sleep last night? If you're reading this, chances are you've had better. We spend ⅓ of our entire lives sleeping, yet many of us are sleeping on a less than optimal mattress.
Why is this?
Because buying a new mattress is not something we want to do often. It used to be that purchasing a new one wasn't exactly a pleasant experience. And getting the thing home was quite the production. But hey, it's what we had to do and for decades, it was the only way to buy a mattress . . .
The good news is that the mattress buying game has changed for the better. Nowadays, we can purchase a high quality memory foam mattress online and it gets delivered to our front door. Can we get a hallelujah?
A year or so ago, there were only a handful of companies offering the online mattress shopping experience. This made deciding which memory foam mattress to buy a less complex decision.
But now, there are many memory foam mattresses online to choose from, and they are not all created equal. So, we took it upon ourselves to research the top online mattress brands on the market.


How Did We Do It?
A quick Google search will give you most of the mattresses available online. So, we made a list of the ones on the first few pages and gave them a call to tell them our crazy idea. Most of them were excited to send one our way. From there, we tested each brand, and wrote this article to bring you the results.
Full Disclosure: The only brand we were not able to test was Casper. Not sure why, but they weren't into the idea. Since Casper isn't included on the list, we'll share what we do know about this brand in case you're considering them.
Online reviews seem to like the Casper mattress and this brand comes with comparable guarantees and warranties to the other ones we tested, so if you really want a Casper, what's the worst that can happen?

We Tested These 7 Memory Foam Mattress Brands:
Saatva (formerly Loom & Leaf)
Tuft & Needle
Yogabed
BedInABox
Nest Bedding
Avocado
Leesa

It should be noted that the same one person did not sleep on each mattress for an entire night. This would have meant spending an entire week sleeping at the office and we couldn't get anyone to volunteer for that.
Instead, we gave seven different people one to take home and asked them to provide feedback on a series of questions about their overall sleeping experience. This user feedback, paired with online research, is how we put together this review. Without further ado, here's our online memory foam mattress buyer's guide.


The YouAligned Online Mattress Buyer's Guide
This is not a ranking review – we will not be saying that one mattress is 'better' than the other. Instead, we pair each tester's feedback with the key details you need to know to make an informed decision about your next purchase.
In no particular order, here are the seven most popular memory foam mattresses available online:


1. Loom & Leaf by Saatva
Tagline: "The perfect memory foam mattress"
This is the only mattress we tested that did not come rolled up in a box. But no worries – it can still be delivered to your doorstep for $99, so unless you have a miniature elevator or a 10-story walk-up, it's not any less convenient than the beds that do come in a box.




Our initial impression of the Loom & Leaf? Luxury. This bed is made with eco-friendly materials and is super comfy. It is soft on the top layer yet also very supportive. Both the "soft bed people" and the "firm bed people" liked this one, making it a great compromise for couples who don't share the same firmness preferences. This bed is made in the United States with plant-based foam and wrapped in organic cotton.
Mattress Tested: Relaxed Firm Loom & Leaf – Queen
Price Tested: $1,099
Shipping: $99 delivery includes in-home set-up
Important Details: 120-day trial and 15-year warranty
You'll like this bed if:
You're ready for some adulting. You prefer that pillow top feel over the minimalist square memory foam mattresses. You don't care that it doesn't come in a box as long as it's delivered to your door. You want a plush, eco-friendly bed that is also firm (yes, this bed is a unicorn).
2. Tuft & Needle
Tagline: "The internet's most comfortable mattress"
The Tuft & Needle mattress came rolled up in a 72lb box. And it's a beautiful box in case you're into that sort of thing. This brand does a top-notch job when it comes to their marketing (you've probably heard of them). Needless to say, our expectations were high.





Is Tuft & Needle comparable to a Tempur-Pedic? No. But they're not trying to be. It is light and breathable. It feels like something you want to sleep on. And at $675 with free shipping, it makes for a happy purchase. They claim on their site that 95% of customers keep this bed, and we can see why.
Mattress Tested: Queen
Price Tested: $675
Shipping: Free shipping in the US (except Alaska and Hawaii)
Important Details: 100-night trial (with free returns), 10-year warranty
You'll like this bed if:
You're looking for a bed that won't break the bank but that you'll love sleeping on. The Tuft & Needle is moderately firm but not stubborn. The proprietary foam layering is supportive yet breathable and stays cool. If you're looking for an affordable supportive mattress and tend to sleep hot, this would be a great choice. And if you're in Arizona, you can stop by their Scottsdale showroom and take one for a 'test sleep' before you buy.
3. Yogabed
Tagline: "Clean. Simple. 20,000 happy customers."
Based on the name alone, the Yogabed mattress is certainly intriguing. While this one is not a replacement for your yoga mat, it is a great bed. To be honest, the 'Yoga Bed' name seemed a bit gimmicky at first, but it didn't take long to realize that this mattress is awesome. The Yogabed memory foam mattress is delivered in a box. We love that the cover is very well made, and the fact that you can zip this cover off and wash it is a very nice feature!




The Yogabed is very supportive and a nice balance between firm and soft. It's also slim, so it is ideal for a platform bed. You'll stay cool with their Thermocool smart fiber technology. Yoga translates to "union," so if Yogabed is referring to the union their mattress makes between you and a great night's sleep, the name is apropos.
Mattress Tested: Queen
Price Tested: $699
Shipping: Free shipping
Important Details:
101-night trial (with free returns), 10-year warranty
Comes with 2 free (very comfortable) memory foam pillows
Zip-off mattress cover for easy cleaning
You'll like this bed if:
You're looking for a lower profile mattress that is super comfy and affordable. You prefer a softer bed and you also need/want new pillows. If you have pets that like to sleep in your bed, you can sleep well knowing that you can wash the cover to keep it fresh.
4. BedInABox
Tagline: "The original mattress in a box."
Fun trivia fact: this was the first company to sell a mattress in a box, so this is the original gangster in the online memory foam market. This family-owned mattress company makes all of their beds in the United States – nothing is imported. And yes, it does come in a box.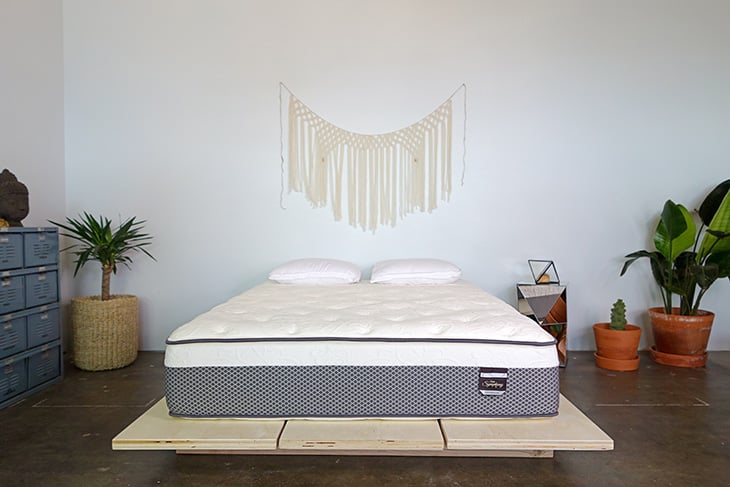 BedInABox offers quite a few different beds in their line-up. We tested their most popular memory foam mattress, but they have a wide variety of options, so be sure to check out their website and compare their other offerings. The Silk Symphony mattress isolates movement and is also dual-sided (with a softer vs. more firm side), so it's great for anyone on the fence about what firmness they want.
Mattress Tested: Silk Symphony – Queen
Price Tested: $1,499
Shipping: Free shipping in the US (except Alaska and Hawaii)
Important Details:
120-night trial (with free returns), 20-year warranty
Zip-off mattress cover for easy cleaning
You'll like this bed if:
There is a lot to love about the Silk Symphony. One of the most unique features of this bed is that it is flip-able: one side is softer and one side is more firm. So, if you can't decide on the firmness factor, you get both options with this bed.
Very comparable to the Loom & Leaf, the Silk Symphony has a plush top layer, making this bed feel a bit more like that pillow top mattress you might be used to. You'll love this bed if you're looking for a luxurious feel with one of the best warranties out of all the beds on this list.
5. Nest Bedding
Tagline: "Love where you sleep."
Nest Bedding brings you factory-direct mattresses with high quality and low price tags. They are one of the top-ranked online mattress brands and have an impressively broad range of options (plus pillows, bedding, and even dog beds!).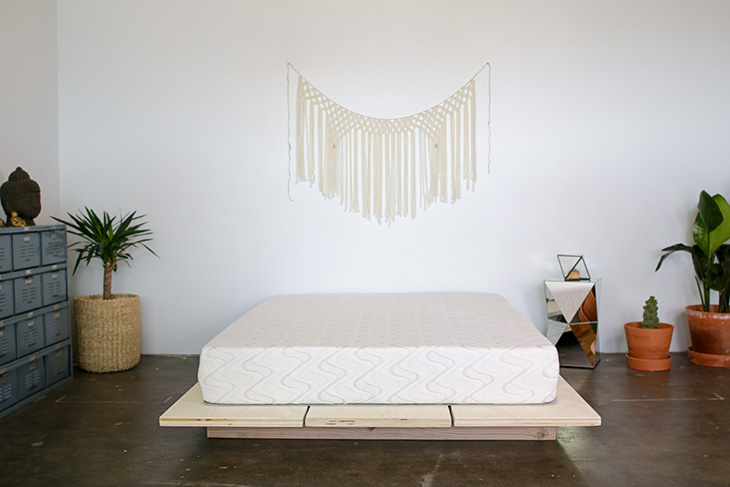 You can choose either the 'medium' or 'firm' feel for the Love & Sleep mattress by Nest Bedding, and we tested out the medium, which we loved for its perfect balance of soft and firm. It is lightweight, making it convenient for moving and great for a platform bed. It's made with Energex foam and fabric that keeps you cool.
Mattress Tested: Love & Sleep – Queen (medium feel)
Price Tested: $599
Shipping: Free shipping
Important Details:
100-night trial, 10+ year warranty
You'll like this bed if:
You're GoldiLocks and you want that 'just right' medium firmness. You are a bargain shopper who demands high quality without the high price tag. You tend to sleep 'hot' or want to be sure that you'll stay cool and comfortable all night long and you want one built to last.
6. Avocado
Tagline: "Organic Mattress, Natural Mattresses."
If you care about living a green, natural lifestyle, then Avocado Green Mattress is the brand for you. Handmade in California with natural materials and no toxic chemicals, this brand is committed to eco-friendly, ethical, and sustainable practices.




Avocado does not compromise on quality to meet their eco-friendly and natural standards. Their beds are incredibly comfortable and we think it's due to the pressure-point support cushioning and blend of New Zealand wool, natural latex rubber, and organic cotton materials. We tested out the one with the optional pillow-top (highly recommended!) but you can opt for the standard which is gentle yet firm and save $300.
Mattress Tested: Green Mattress (with pillow-top)
Price Tested: $1,699 (or $1,399 without the pillow-top)
Shipping: Free shipping
Important Details:
100-night trial (free returns), 25-year warranty
GREENGUARD Gold Certified organic pillows available starting at $79
You'll like this bed if:
You are looking for a firm bed. You are concerned about the environment and your health and because of it, like to buy eco-friendly, natural and organic products. You're willing to spend a bit more in the name of high quality and eco-conscious practices, and you want a durable mattress that will last (with a crazy long warranty to back it up).
7. Leesa
Tagline: "The better new mattress."
Two aspects first caught our eye with Leesa: the unique, aesthetically pleasing mattress design, and the fact that they donate a mattress to homeless shelters for every ten mattresses sold. Leesa has a top online reputation for being a high quality mattress brand for under a grand (we're poets).





What makes Leesa so loved? When you first jump onto this bed, you'll feel it for yourself – despite being memory foam, this one is forgiving and bounces back to it's original shape quickly. It is also a very cool sleeping mattress giving you an airy feel for a cool night's rest. The body contouring with pressure relief and core support make you feel like you're sleeping on a supportive cloud. Warning: you may have a hard time getting up in the morning.
Mattress Tested: Leesa Mattress
Price: $940
Shipping: Free shipping
Important Details:
100-night trial (free returns), 10-year warranty
Leesa donates one mattress for every ten sold
Seamless cover with two design options
Made in the USA
The blanket shown in the photo is insanely comfy – Add one to your order for $149
You'll like this bed if:
You want a bed that's on the softer side but still offersgreat support. You care about giving back to charity and also appreciate aesthetic design. This mattress is beautiful. Hypoallergenic and CertiPUR-US certified are important distinguishing factors to you.

Shop this mattress here


Which Mattress Will You Choose?
When it comes to finding your new favorite mattress, obviously there are many factors to consider. Start by checking in with yourself: what are your non-negotiables? What have you not loved about your previous bed that you'd like to change with your next one?
Next, decide on your budget and other factors like warranties, free trials, materials and where your preference lies on the firmness scale to help you narrow down the search. The good thing is that all of these brands offer you the option of testing them out before fully committing.
From there, the only thing left to do is wait for your new bed to arrive and start enjoying a great night sleep with your new favorite memory foam mattress. Sweet dreams!
This article has been read 1K+ times. Feelin' the love!