A Letter From the Editor ☀️🚐 What I Learned From 3 Months of #VanLife
After three months of living out of a van and traveling up the West Coast, we walked back into our downtown Denver loft and were shocked by the amount of space … and things we owned. I was so proud of myself for packing one suitcase for the entire trip; I still ended up wearing the same 3 outfits.
My fiancé and business partner, Tyler and I created YouAligned back in 2015. A few years later we launched YA Classes, our on-demand yoga class platform. Until this past summer, we've been filming mainly with yoga teachers in Denver, Colorado where we're based.

We felt a pull to mix things up.

Last spring we were feeling a pull to mix things up a bit, so in June we took our filming on the road to film yoga classes with some of our favorite instructors in Arizona, California, and Oregon.
This summer of being on the road taught me minimalism. It taught me presence, and it gave me a much needed sense of space. I embarked on this journey stuck in the habitual mindset I'd cultivated over the last several years of running a business: feeling incessantly busy (not glorifying it but also never able to turn it off).
Yet being on the road, we were at the mercy of our next stop on the map. Wifi came and went, and most of the time, we'd find 3-4 hour windows to focus and get as much work done as possible before not having wifi for another day or so.
This was the reset my brain needed. Slowly, I was learning the lesson of mental flexibility and emotional stability that is required for the balance we all seek and discuss, yet so few actually attain (and maintain).




Think back to when you were a young child but old enough to understand and remember your experiences. Most of us were much more free, present, and unassuming, and things were a bit more simple back then.
Part of this is the time period. I'm 31, so growing up in the 90's was truly the best of both worlds – we had modern technology enough to enjoy, but cell phones weren't a [mainstream] thing yet, the internet was in its infancy, and as a result, life was a bit more slow-paced (pay phones, pen pals, and taping TV shows, anyone?).
Technology, despite its many advantages, steals our time. It takes up space – a lot of it. It slows us down yet speeds everything up around us simultaneously. Add the layers of social media, email, text messages and the incessant notification pings that follow and we spend our waking moments fleeting from one form of data and consumption to the next.

I didn't realize how bad I needed it until I did it.

We need to slow down. We need to step back (and out of our "I'm too busy" mindset). We need to stop glorifying – and thereby justifying – being busy. We need to recharge. We need to practice less DOing and more BEing. We need to remove the notion of what I just said being cliché because we all say it but most of us aren't actually following through.
Why is that?
Because slowing down seems almost impossible. It feels like sand through our fingers – barely within our realm of control. For me, this summer on the road was my reset button. It was the proverbial outlet that my soul so desperately needed to plug into (something I didn't even realize how bad I needed until I did it).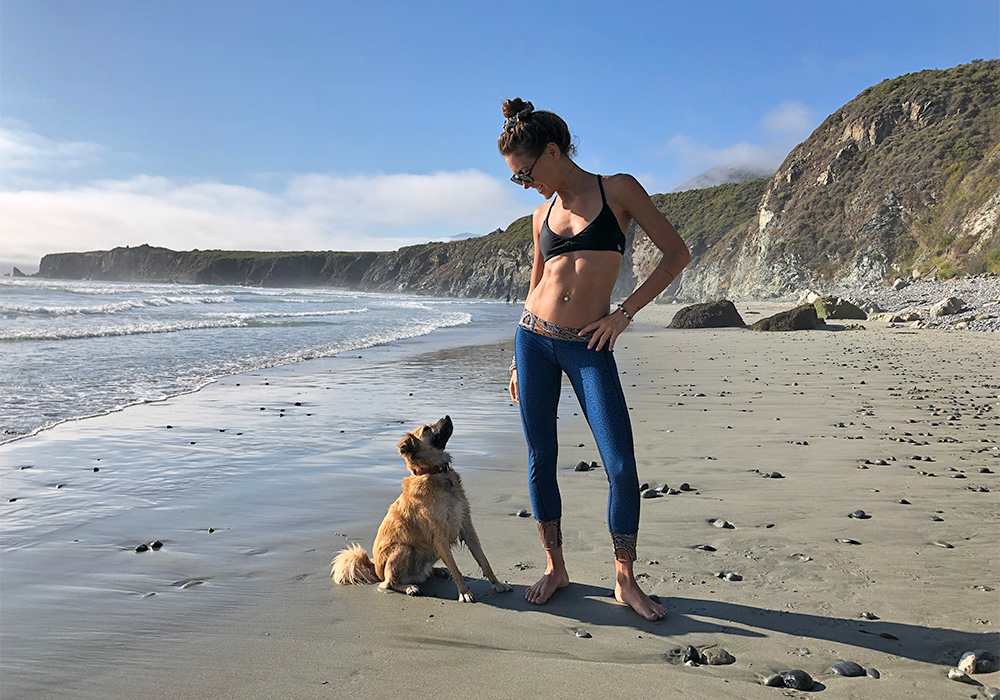 So – how do we do it?
How do we find the silence, the separation, the peace, and the grounding we need to recharge, hit the reset, and renew ourselves mind/body/soul?
Take inventory of what in your own life brings you peace, helps you feel grounded, and supports your quest in cultivating the grand pause.
Nature. Meditation on a regular basis. Breaks every day to breathe, tune in, and stop doing for a few moments. Spend time with friends. Call your family members more often. These are things that help so many of us feel … good.
For me, I didn't realize how much I needed to see my mom (who grounds me but also keeps it light, keeps it REAL and makes me laugh) to feel supported. I forgot how important taking long walks was for my soul. I stopped prioritizing my personal time to journal and read good books. And I had convinced myself that working harder was smarter (hint: it ain't).
So what reminds YOU of your true self? What grounds you and helps keep you present? What have you stopped or neglected doing that fills you up, recharges your battery, and brings you peace? Spend more time focusing on these things/people/activities, celebrating them, and scheduling them in just as you would a meeting or an appointment.
Because when you look back on your life and childhood once more, you'll realize just how quickly it all flies by. If you don't stop to appreciate the present, the present slips past.
Don't let your present moment be sand through your fingers. Invite the present moment in like your lover. Care for it, be grateful for it, bask in it, and never stop making time for it. IT – the present moment – is all we'll ever have.
Today is the Fall Equinox! As we say farewell to summer, it's the perfect time to set an intention to find more presence, mindfulness, and peace in this new season.
Namaste my friends!
With love and in light,
Ashton August
Practice with me.
We filmed this yoga program on the road.
Yoga Program
With Ashton August
This article has been read 813 times. Share it and spread the love!