Product Review – The Manduka Pro Lite Yoga Mat
When it comes to product reviews, we don't mess around. All of the items we review are put through the ringer of everyday use. You can trust that our reviews are non-biased and completely honest. Let's get started. 
Today I am reviewing the Manduka Pro Lite yoga mat through my perspective of being a yoga teacher. Teaching 8 or more classes per week, in addition to my personal practice, means that I spend a lot of time on a yoga mat! (Yes, I love my life) Over the six years that I have been practicing yoga I've tried a lot of different mats. All mats have their pros and cons, so I have developed a list of "must-haves" when it comes to yoga mats I love.
I will be reviewing the Pro Lite yoga mat in the following areas:

Durability
Value
Traction
Weight
Style
1. Durability: As soon as I stepped onto the mat, I could feel how well it's made. I immediately noticed its thick, plush cushioning—4.7mm to be exact. Padding is important—it protects your precious joints. We've all had those mats that begin to show their age—they develop little craters from where our countless steps have knicked away itty bitty mat pieces. I have found that to avoid this unfortunate wear and tear, you've got to spend a little more doe, which brings us to value!
2. Value: When it comes to yoga mats, you truly do get what you pay for, and quality should be a top priority. While I've accepted that nicer yoga mats cost more, that doesn't mean you have to break the bank for a good mat. Compared to other similar mats on the market, this Manduka Pro Lite gives you the best bang for your buck. The Manduka Pro Lite that we tested runs $78. This may seem like a lot to pay for a yoga mat but once you get this bad boy you'll quickly realize it was a good deal. Plus, all Manduka mats come with a lifetime guarantee, which is proof of the company's faith in their product.
3. Traction: I'm a hot yoga fanatic, so traction is essential, especially when you're sweating all over your mat. I'm not a huge fan of yoga towels because frankly, I'm a purist. Less is more. I believe that if you have a great mat, why should you have to spend more money on a towel that goes over it? The Pro Lite mat has a non-slip surface and super-grip bottom, so neither you or your mat will slip and slide during your practice.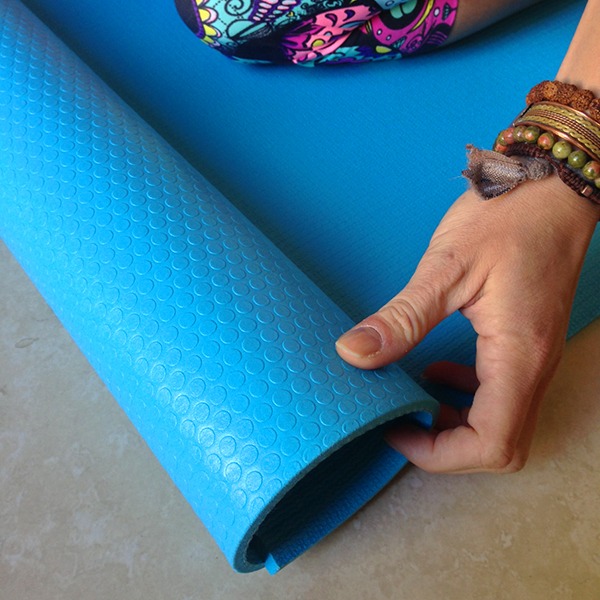 4. Weight: Have you ever tried to bike to yoga with an impossibly heavy mat? Or even just carry your mat, plus yoga bag, plus water bottle, purse, etc. into class? All of this can really bog you down—and nobody needs that! Lightweight mats make all the difference, and the Manduka Pro Lite, even as plush as it is, lives up to its name, weighing in at only 4 pounds! Awesome!
5. Style: Even yoga mats can have style! You can find fun, colorful, and stylish mats anywhere, but the key is finding a mat with style that doesn't compromise the above three must-haves. The Pro Lite comes in 11 color variations, from Skydive (featured in the photo), to Zest (a bright yellow), these mats are beautiful!
A few more important highlights of this mat: it is a zero-waste sustainable mat, made in a factory with non-toxic emissions. It is 100% latex free and safe to use for people with latex allergies. With its closed cell construction, you won't get any moisture or bacteria build-up (this is a huge plus for those of us that love hot yoga). This is honestly one of our favorite yoga mats on the market. And for the price, you can't beat it.
Now you have the essential ingredients in finding your perfect yoga mat: the Manduka Pro Lite. Manduka, much praise—and definitely yogi approved!! You can shop it here.
The Verdict – A Must Have!
Cost: $$$
Durability: 10
Value: 10
Traction: 10
Weight: 4lbs
Style: 10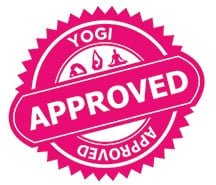 The Manduka Pro Lite Yoga Mat is #YouAligned™!
This article has been read 10K+ times. Bada bing!