What is Mindfulness? A Simple Introduction to the Practice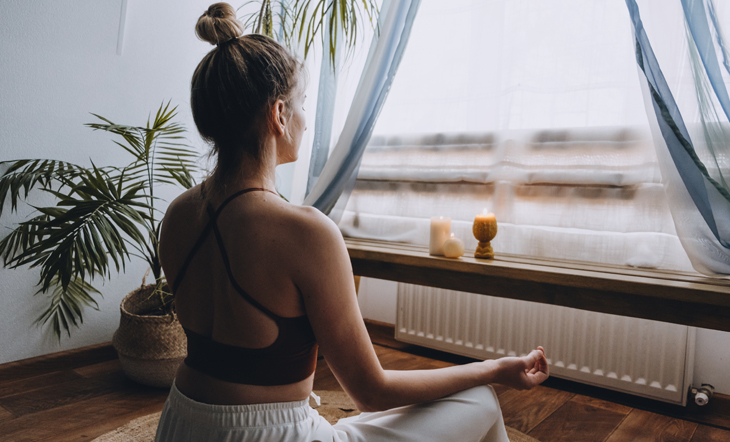 If you've ever wondered what is mindfulness? then you've come to the right place!
Mindfulness is one of those beautiful spiritual words you're sure has lots of meaning and something to do with self-awareness, but what does it really mean?
If you are here, you are most likely practicing mindfulness in some way already. You just may not be exactly sure of how and when.


What Is Mindfulness? First, Let's Define It
According to mindful.org, mindfulness is the basic human ability to be fully present, aware of where we are and what we're doing, and not overly reactive or overwhelmed by what's going on around us.
Mindfulness is much like it sounds – the practice of being mindful. We are often taught about being mindful of others, but this practice focuses on us being mindful of ourselves.

Mindfulness calls for us to tap into ourselves.

What is mindfulness, simply? It's a level of self-awareness and consciousness that can't be taught; only learned.
It calls for us to tap into ourselves. To notice all the intricate details that make us who we are and to ask ourselves why those things are the way they are.
9 Mindfulness Books Everyone Who Wants to Be More Present Should Read


Where Did Mindfulness Originate? A Brief Overview
Matthew Nisbet explains the connection between mindfulness and Buddhism in the article, "The Mindfulness Movement: How a Buddhist Practice Evolved Into a Scientific Approach to Life."
He explains the concept traces back to the Pali words sati, which implies in Indian Buddhist tradition: awareness, attention or alertness, and vipassana, which means insight cultivated by meditation.
He also pointed to the University of British Columbia's Jeff Wilson who wrote a book-length study of America's mindfulness movement. Wilson further confirmed the connection to Buddhism by identifying that similar breath-attention techniques are found in Tibetan Buddhism and in the Japanese Zen meditation practice of zazen.
In short, Buddhism continues to influence our approaches to mindfulness.


These Are the 7 Pillars of Mindfulness
The 7 Pillars of Mindfulness are based on The Mindfulness Based Stress Reduction (MBSR) concept by Jon Kabat-Zinn adapted from the seven principles of inner posture developed during meditation.

1. Non-Judging
Become aware of the judgements you pass and how they affect the choices you make. With time, you can learn to release them.

2. Patience
Everything will happen in its own divine timing. Be present with yourself today.

3. Beginner's Mind
Continue to be open to learning. New things are always on the horizon!

4. Trust
You have your own intuition and inner knowing that you are on the right path. Trust your inner voice.

5. Non-Striving
You are where you are. Trust the process and allow yourself to enjoy this moment. It will lead you to the next one with ease.

6. Acceptance
You are in control, and you are not in control. Practice gentleness in the areas you can control and acceptance in the areas you cannot.

7. Letting Go
Worrying keeps the mind in a negative energy space. Peace attracts energy to fill positive spaces. Let go and let flow.
For more information, pop over to EHN Canada's, "The Seven Pillars of Mindfulness" article.


When Am I Unknowingly Practicing Mindfulness?
If you have a moment of hmmm…why did I say that? or wow, where did that come from?, these are moments of mindfulness.
There may be certain patterns or habits you are practicing that cause you to question when they started or why you show up for yourself in this way.

Mindfulness is a practice of enhanced self-awareness that allows us to connect with ourselves on a deeper level.

For example, let's apply this practice to food. Do you tend to crave a lot of sugar? Notice the moments in which you crave sugar. Are you alone in these moments? Sugar cravings can be linked to a desire for intimacy. If you are thinking through this with me, you are practicing mindfulness.
Dr. Judson Brewer is known for discovering how mindfulness can undercut addiction. In his work, he uses neuroimaging techniques to reveal how it affects the brain and develops tools to help people quit smoking and handle food cravings.
The article, "Habit Loops & Everyday Addictions", further discusses Dr. Brewer's research on how we can practice mindful eating:
"We taste it, yummy, and especially with sugar, our brains release a chemical called dopamine that says: remember what you are eating and where you found it. We lay down a context-dependent memory, and we learn to repeat the process next time."
By becoming self-aware of what foods we are consuming and how these choices are affected by our current mental and emotional state, we are practicing mindful eating, an example of how we can apply and practice mindfulness in our daily lives.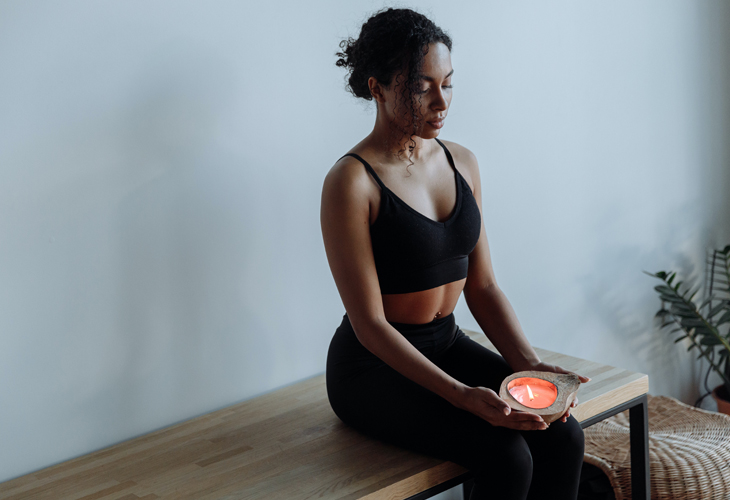 Here Are 4 More Ways to Practice Mindfulness In Your Daily Life:
Mindfulness can take many, many forms. Here are four forms that anyone can practice in their day-to-day lives.
Mindfulness is for everyone, at any age. Here Are 15 Ways to Teach Your Kids Mindfulness

1. Mindfulness Meditation
Mindfulness is all about taking a moment with yourself. You can practice this meditation by sitting with yourself in silence. Take a moment to notice where you are mentally, physically and emotionally in the moment. Slowly move through each phase one at a time.

2. Free Flow Yoga
You can follow your mindfulness meditation with a mindful yoga flow. Listen to the rhythms of your body and just flow. It may be a connected flow or a disconnected flow. The importance is in being mindful of what your body is kindly asking for you to do.

3. Journal
This is a free flow suggestion to tap into your self-awareness and current state of being. Begin to notice what is on your mind and as it comes in; release it onto the paper. Consider deeply why you have these thoughts and how they are positively or negatively affecting you.

4. Ask Yourself Questions
The "Who, What, When, Where, Why" of mindfulness.
Who was I around? What was said or done? When did this happen or when did I notice in my body I was affected? Where did I feel this in my body? Why did this have an effect on me?
How Mindfulness Actually Works + A Practice You Should Try The Next Time You're Feeling Off


How Often Should We Practice Mindfulness?
Practicing mindfulness daily will positively support your mental, physical and emotional health.
Elissa Epel, PhD., the Director of the Aging, Metabolism, and Emotions Center at UCSF & Scientific Advisor to Meru Health and Emily Hine, a Certified teacher of Compassion Cultivation Training and Mindfulness and an inspirational writer and speaker teamed together to write "6 Practices for Preventing Depression".
In the article they discuss how stress negatively affects the body ultimately leading to depression. They recommend taking a "mindful minute" to reduce stress. For this mindful minute they suggest opting for a three minute breath break.
Schedule a three minute breath break into your daily schedule. Mindfulness is about making a choice to be intentional. It can be a quick exercise or take a bit of time. There are many simple ways to practice mindfulness daily.
Practice These 8 Simple Exercises to Infuse Your Day With Mindfulness


What Is Mindfulness: The Takeaway
Mindfulness is a practice of enhanced self-awareness that allows us to connect with ourselves on a deeper level. Practicing it daily can positively impact your mental, physical and emotional health.
There are many ways to practice. Find what resonates with your soul and leave the rest.
3 Enlightening Ways to Improve Your Self-Awareness with Yoga
This article has been read 479 times. Share it and spread the love!