You Know You're a Millennial Yogi If…
Like it or not, we're a predictable generation. Millennials share and laugh at the same memes. We binge on the same shows ("Birdbox" and "You," anyone?). Apparently, we even have a color. Oh yes, millennial pink.
And when it comes to our fitness and yoga practices, there are some definite universal truths that unite us. Because millennials and yoga go together like mac and cheese.
Yes, we are millennial yogis. And sometimes, we just gotta laugh a little at our collective selves.
Curious why us millennials are so into yoga anyway? Here Are 7 Undeniable Reasons Why Millennials Are So Obsessed With Yoga


You Know for Certain That You're a Millennial Yogi If You Can Relate to These 20 Things:
You know what they say: If you can't fight 'em, join 'em. In other words, embrace your yogi millennial basic-ness.
See how many of these clichés ring true for you:

1. You Did It for the Gram
You've traveled to an Instagram-ready locale just for that epic pic of you in a Warrior Pose.

2. Your Phone Is Zen
Your phone has an entire folder of apps dedicated to Zen-ing out.


3. You Don't Need Pants
What are pants anyway? If it isn't stretchy and form-hugging . . . thank you, next.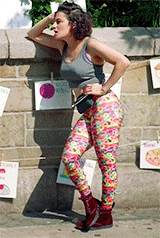 4. You're Always Ready
You have at least two mats rolled up in the backseat of your car at any given time.

5. You Have a Favorite Day
The day your yogi subscription box arrives is the best day of the month.

6. You Multitask
You've watched a Netflix episode from down on the mat, mid-flow.

7. You've Been Stuck in a YouTube Black Hole
You've caught yourself scrolling YouTube yogi accounts for longer than you'd like to admit.

8. You Search #YogaGoals
And logging hours crushing on yogi Instagrammers who are #goals.
In case you need more: Fill Up On Yoga Inspiration With These 8 Yoga Instagram Accounts

9. You Live Stream
You've live-streamed an instructional yoga sesh to your social media at least once.

10. Your Home Is All Yogi Feng Shui
Your home décor choices are all inspired by your favorite yoga studios. Salt lamps, crystals, and calming color palettes, anyone?

11. You Go on AcroYoga Dates
A yoga class date is your dream date, honestly.
Ready to Fly? Use These 3 Tips to Start an AcroYoga Practice

12. You Move From Studio to Street
Lululemons often double as a happy hour outfit (just add boots and a top!).

13. You Savor Sundays
Your ideal Sunday consists of yoga and a bottomless mimosa brunch.

14. You Know Yoga > Cocktails
You've passed up happy hour before in favor of hot yoga class with friends.

15. You Use Yogemojis
The yogi emojis are always and forever in your "recently used" category.

16. You Have/Want an Om
You already have a yoga tattoo or are at least seriously crushing on them.

17. You Vision Board Hip Retreats
Your vision board for this year includes a yoga retreat, preferably in Bali.
Well, Bali or Thailand . . . but how do you choose? Wondering How to Choose the Right Retreat for You? Ask These 6 Questions


18. You Get 'Errrrything Yoga on Prime
All of your suggestions and most-recent orders on Amazon Prime are somehow yoga-related.

19. You Ain't Got No Baggage
When life gets stressful, you let that sh*t go. Because the best thing yoga has given you is the ability to be Zen AF, no matter what life hands you.

20. You Stream Yoga All Day Everyday
Can't make it to the studio? That won't stop you! You practice online all day 'errryday.


Millennials and Yoga Are a Match Made in Heaven
How did you fare? Are you a total millennial yogi?
At the end of the day, predictable though we may be, there are far worse things to be than a Zenned-out millennial yogi. Namaste, millennials!
In the mood for more laughing-at-ourselves humor? JP Sears Bashes Millennials in This Funny-Because-It's-True Video
This article has been read 1K+ times. Feelin' the love!