Practice Mindful Movement In This No-Props Online Yin Yoga Class
Relax and renew with mindful movement in this gentle online Yin Yoga class.
Yin Yoga and Restorative Yoga may seem like they're one in the same, but did you know a key difference between Yin and Restorative is that Restorative classes typically rely heavily on props, while Yin classes can use props but don't always?
In this Simply Yin online yoga class, YA Classes instructor Ashley Limehouse guides you through a 40-minute practice with zero props which makes this class easy to take whether you're home, traveling, or craving a Yin practice when you don't have props on hand.
In this deeply calming and gentle Yin Yoga class, you'll ease into poses with the intention of approaching your edge, and softly melting deeper into each Yin posture. You'll bring awareness to your breath and body's sensations while increasing mobility, flexibility and blood flow to your hips, glutes, side body, spine and chest.
Want to learn about the incredible benefits of Yin? Learn All About Yin Yoga and the Most Common Benefits of This Practice


Move With Mindfulness and Intention In This Online Yin Yoga Class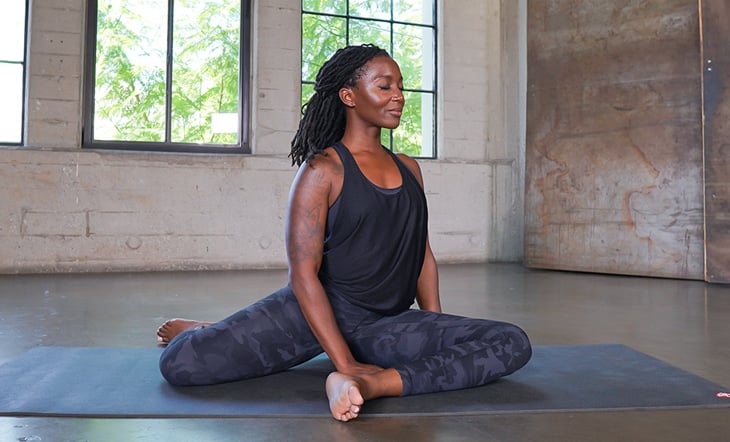 Curious about how this gentle online Yin Yoga class will help challenge and restore your mind and body?
You'll begin with your feet at the top of the mat in Mountain Pose, and engage in mindful movement as you make your way down into Malasana (or Yogi Squat Pose), tuning into your breath. For the rest of this online yin yoga class, you'll continue to stay close to the ground, next looking inward with Seated Forward Fold Pose.
You'll smoothly transition from one Yin Yoga pose to the next, taking a few breaths to reconnect in Child's Pose, finding awareness and acceptance in the present moment. Your practice comes to a rejuvenating close with seated twists, where you'll feel open, relaxed and balanced.
Whether you're new to this style of yoga or if you're already a total Yin Yoga junkie, this online yin yoga class will easily feel like a warm, cozy hug for your mind and body, and you'll emerge feeling that calm, connected and contented energy that accompanies a Yin practice.
Want to invite more mindfulness into your daily life? Practice These 8 Simple Exercises to Infuse Your Day With Mindfulness


Your YA Classes Teacher Ashley Limehouse Shares Her Advice for Practicing Yin Yoga: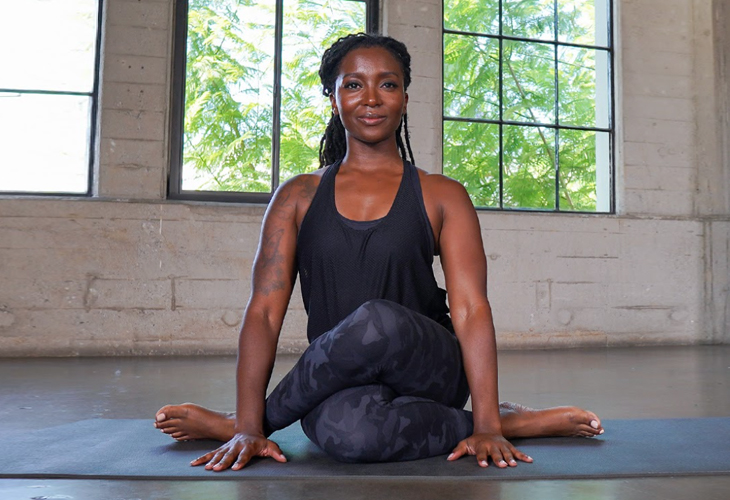 Typically with Yin poses, you will hold each one for an extended period of time, sometimes up to five minutes! So what exactly does it mean to approach your edge when you're holding these poses for extended periods of time?
According to Simply Yin teacher Ashley Limehouse, the edge is where the interesting stuff happens that challenges you both mentally and physically in ways you may not expect.
She offers this guidance to help you navigate this practice:
"When you are in your practice, thoughts, sentations, or emotions may equally arise. But I invite you to be with it. Welcome them in and try to fight the urge to have total control, remembering that we only have control over how we react to these thoughts and feelings.
Thoughts are said to be by-products of the release of tension. And they can certainly come up in Yin. It is a state in which we are more aware, so therefore our goal is to be aware of our thoughts and feelings, but without judgement. Just allow. Yin Yoga is the practice of contentment, after all."


Check Out More Online Yin Yoga Class Offerings on YA Classes
Our members are LOVING Ashley's Yin Yoga classes! Once you try her Simply Yin, we have a feeling you'll love her classes too. ❤️ Good news! Ashley has more online Yin classes on YA Classes, which you can check out below (with more coming soon, so stay tuned!).


Have you tried YA Classes by YouAligned yet? Did you know that we plant a tree for every class our members complete? We've planted over 170,000 trees and counting!!
Explore our vast selection of hundreds of online yoga, fitness, and meditation classes. We add new classes every week!
If you're already a YA Classes member, thank you for practicing with us! If you haven't tried us yet, you can start your free 14-day trial.
This article has been read 475 times. Share it and spread the love!

YouAligned
YouAligned is an online yoga, health and wellness publication for your life on and off the mat. We are here to help you live happier, healthier, more fulfilled lives. Yoga is our passion. Your healthy lifestyle is our obsession!
You may also enjoy

Want to try an online yoga class? For less than a yoga studio drop-in rate, you can enjoy unlimited online yoga classes in the comfort of your own home.

YouAligned