Exploring Kundalini Yoga: Chanting and Pranayama Techniques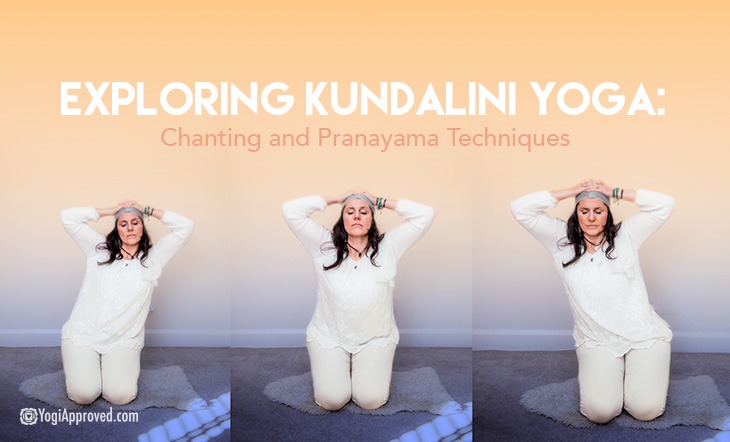 With all the different forms of yoga available to us, it can be a daunting task to find the yoga practice that speaks to you – to find YOUR yoga.

During a transitional period of my life 9 years ago, I stumbled across a Kundalini Yoga class on TV . . . and I was hooked.

Kundalini Yoga incorporates postures, repetitive movements, chanting, drishti (eye gaze), mudra (hand positions) and breath work (otherwise known as Pranayama) to raise the consciousness of the mind and alter the energies of the body. I realize that higher consciousness, peace, tranquility and a strong healthy body are the goals of all Yoga disciplines, but Kundalini simply gets you there faster! It is the more direct route.

Here are two Kundalini methods to help you establish more peace, health, and balance in your life:

1. Chanting
Sound and chanting (also known as mantra) are used regularly in Kundalini because sound stimulates the nerve endings in and around our mouth. This in turn stimulates the hypothalamus in the brain, which releases positive hormones. Mantra also quiets the mind as we focus on the new sounds and letting them sing out into the universe. So let go of your inhibitions and give chanting a try!

A really lovely, easy mantra to try is Sa Ta Na Ma. The meaning translated is "Birth, Life, Death, Rebirth." Yet I encourage you to not get bogged down with the meaning. It is the repetition of this mantra, along with the hand movements, that make you feel the meaning and importance of this mantra.

Try it for yourself:
On chanting Sa, touch the index finger to the thumb.
On Ta, touch the middle finger to your thumb.
On Na, touch the ring finger to your thumb.
On Ma, touch the little finger to your thumb.

Practice chanting for 3 minutes to begin with, and then stop to notice how you feel. Mantra is highly powerful for our bodies and our immune system due to the reflex points in and around the mouth. This is why singing makes us feel so good, inside and out.

Now I am experiencing a greater sense of self and higher awareness of my emotional body than ever before.
2. Pranayama
Conscious breathing patterns (or Pranayama) are common in Kundalini Yoga, and a fave is the Breath of Fire – a rapid inhale/exhale breath through the nose. The navel pumps inwards and upwards towards the spine to force the exhale out, which then allows for the inhale to happen naturally. To give you an idea of pace, aim for two breaths a second.

Breath of Fire makes you feel amazing. It detoxifies the body, stimulates the navel chakra (the point at which our ambition, determination, willpower and confidence are manifested), increases oxygen to the brain, and changes the chemical structure of the blood.

At the end of a round of Breath of Fire, inhale deeply and hold your breath for as long as possible. Then, as the breath returns to normal and the blood receives all that fresh new oxygen, you feel incredibly revitalized and centered.

Incorporating the breath with a yoga pose produces fab results. This practice is called the "Ego Eradicator" because it helps quiet the negative voice in our mind and opens our hearts to light.
Try it for yourself:
Sit crossed legged in Easy pose on your yoga mat, or on a chair with feet flat on the floor
Lengthen your spine, draw your shoulders back and down, and close your eyes
Make loose fists and release the thumbs, almost like you're giving a "thumbs up"
Extend your arms skyward at about 60 degrees (if you were a clock face, the arms would be at 10 and 2), thumbs pointing towards each other
Practice Breath of Fire for 1-3 minutes
At the end, inhale deeply and hold the breath in. Touch thumbs together above your head
Exhale fully as you spread your fingers wide and lower the arms slowly. As you lower, imagine you are drawing a bubble of white light around you
Allow your hands to rest on the floor
Relax and take a moment to notice – how do you feel?

Kundalini Yoga is a very specific and 'different' type of yoga from what we often see in the mainstream. Personally for me, it has revolutionized my life, to the point that I would not be a yoga teacher had I not first tried Kundalini.

Much of Kundalini Yoga is both challenging and comforting in equal parts. The profound science of the practice brings about chemical reactions in the body that create palpable, profound shifts in your thinking, physical health, and daily life.

Now I am experiencing a greater sense of self and higher awareness of my emotional body than ever before. My life choices have changed, I shy away from energy sapping people or situations. I choose a quieter pace of life and am a calmer, conscious mother.

To quote a great Kundalini teacher Maya Fiennes, "What is certain, if you persevere with Kundalini, is that your skin will glow, aches and pains and other ailments will cease to be a problem, you'll be calmer, healthier, happier." Yes please – I'll have double portions of that!

Questions, comments, or personal experiences practicing Kundalini Yoga? Please share in the comments below.

This article has been read 6K+ times. Feelin' the love!