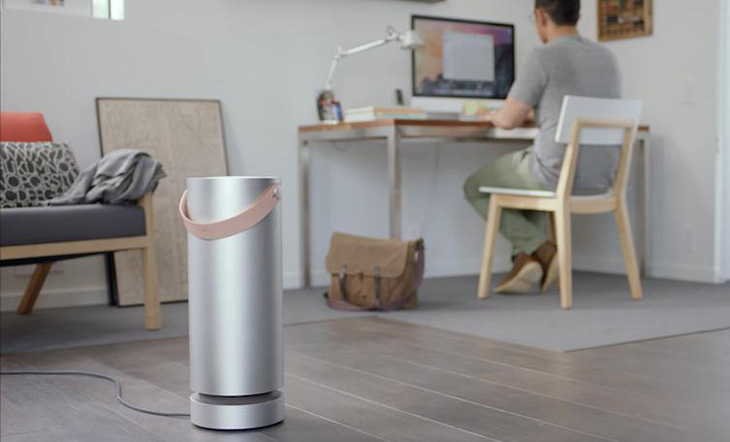 We Review the Molekule Air Purifier – Is It Worth the High Price Tag?
When it comes to product reviews, we don't mess around. All of the items we review are put through the ringer of everyday use. You can trust that our reviews are non-biased and completely honest. Full-disclosure: we don't publish negative reviews. If a product doesn't live up to our standards, we won't promote it. Everyone has their opinion, this is ours – let's get started.
YouAligned is headquartered in downtown Denver, Colorado. Living in a beautiful yet dusty and congested city, we can't help but recognize the importance of clean air where we live and work.
Denver, like many major cities across the globe, is regularly on warning for poor air quality. Whether you also live in a big city or have other reasons for wanting an air purifier, the benefits of having one are hard to deny.
Air purifiers are designed to improve the overall air quality in your space. Generally, air purifiers pull the pollutants out of the air (think a water filter for your oxygen).
That's where air purifiers begin to differ. While most purifiers simply collect pollutants in their filters, the Molekule Air Purifier claims to actually destroy pollutants altogether.
Molekule also claims to destroy airborne bacteria, viruses, allergens and even mold. We wanted to learn more and see the results for ourselves, so we tested out the Molekule Air Purifier for the past month.


We Tested Out the Molekule Air Purifier: This Was Our Experience
When the Molekule arrived, the first impression was all about the aesthetic: it has a leather carrying strap on top, a sleek cylindrical design, and a polished aluminum body. It's beautiful and feels very well made.
The set-up is simple and intuitive (with the option of downloading and syncing your Molekule with the Molekule app). If you do download the app, you'll pair it with your phone and input your initial preferences.
The app is a pro and a con of the Molekule. The pro is that the app allows you to customize the purifier for your space. The downside is that the app is not the most user friendly (which reviews on the Molekule site also reflect – the app user experience seems to be a common complaint with Molekule).
You can check out all of the Molekule reviews here.
You can also connect the Molekule to wifi to enable filter status updates so you know when the filter needs to be replaced (which the site states is once every three months for the pre-filter and every six months for the PECO filter).
The filter is easy to change and the Molekule comes with two pre-filters and one PECO filter, which is a nice touch. After that, you can opt for Molekule's subscription service which sends new filters to your doorstep every six months for $65 (and your first refill is free if you register within six months of purchasing your Molekule).
There are four main modes: auto, boost, silent, and dark mode. Auto is the mode we recommend keeping the Molekule set to. It puts out the ideal airflow based on the size of your space. This mode does emit a soft white noise.
Boost mode is meant for when you need a strong clean. Silent reduces the speed of airflow but still cleans. Dark mode is similar to night mode if you're light sensitive, but this mode also turns off the first stage of the PECO filter process so the cleaning in dark mode isn't as effective.
Since we're starting to get technical, let's move on to the details of how the Molekule actually works . . .


How Does the Molekule Air Purifier Work?
Most air purifiers use a HEPA filter to trap pollutants in the actual filter (which is why it's important to replace any air filter you use on a regular basis, because the pollutants live on the surface of the filter and over time can be re-released back into your air).
HEPA filters do trap a majority of pollutants – over a certain size. This is how the Molekule differs from other air purifiers. In addition to using a pre-filter to catch larger particles like dust and pet hair, Molekule also uses a PECO filter.
What is a PECO filter? We asked the same thing. PECO stands for Photo Electrochemical Oxidation. Translation: it breaks down and destroys (as opposed to only trap) pollutants on a microscopic scale.
PECO utilizes free radicals to oxidize pollutants. According to their website, "PECO is able to destroy pollutants 1000 times smaller than traditional HEPA filters (0.1 nanometers versus 300 nanometers)" using nanotechnology.
The light the Molekule purifier shines onto the PECO filter creates a catalytic reaction which in turn destroys pollutants (that's why we don't recommend using dark mode).
PECO has been shown to destroy airborne viruses and is how the Molekule purifier eliminates allergens, mold, bacteria, and chemicals (VOCs) from your space.
It's nice that these claims are third party tested, and you can view all of their studies here.

Other Details About the Molekule You Should Know
Molekule says that it can replace the air within a 600 square foot space once an hour. It uses two filters: a pre-filter for larger particles like hair, and a PECO filter for microscopic air pollutants.
You can control it with the touch screen on the top of the purifier. You can also use wifi to connect to it remotely via your smart phone and app. We did experience intermittent issues with the app connectivity.
It comes with a two-year warranty and you can also return it for 60 days after purchasing. If you do return it, you will pay for shipping and handling. You can buy it for $799 or opt for $45 monthly payments.
Molekule is portable. It weighs 18 pounds and has a leather carrying strap so you can easily move it. When we moved it into a new room, once we turned it on, it asked if it had been moved. This was so we could reset the space size if needed.

What Sets Molekule Apart From Other Air Purifiers?
Two main factors: First, the PECO filter. The fact that the PECO filter eliminates pollutants from the air is a major selling point. This is especially ideal for people who live in poor air quality zones and/or suffer from allergies, asthma, or other health issues.
The second factor is its aesthetic. Most air purifiers aren't the most beautiful addition to your home, while Molekule is actually chic and discreet.

Who Is the Molekule Good For? Not Ideal For?
While we do agree that eliminating – as opposed to only trapping – pollutants is a big selling point for this air purifier, the fact still remains that Molekule rings up at $799. That combined with $130 per year in filter replacements ($65 every six months) makes this considerably more expensive than your average air purifier.
Another aspect to consider is the app. If you're not technologically savvy (or don't want to be), Molekule may not be the best choice.
This air purifier is for the design-forward individual who doesn't mind spending more money for something that looks nice in the room. It's also for techy people who love to be connected. The Molekule is not for someone who is on a budget or doesn't love the idea of integrating technology with their air purifier.


Molekule Air Purifier Product Review: The Verdict
After using this for over a month, we saw a difference in the overall air quality in our space. Allergies seemed to be reduced, it was less dusty and it also cut down on dog hair (we always have at least two dogs in the office, and they shed a lot). When we removed the pre-filter, it had gathered a considerable amount of hair and dirt in just a few weeks.
The technology, modern design, and the transparency of third party testing are what make the Molekule stand out. If you'd like to learn more about the Molekule Air Purifier you can visit their website here.

Full-disclosure: brands may compensate us for the production of reviews like this one. However, if a product doesn't live up to our standards, we will not review or promote it. This is our honest opinion of the product.
This article has been read 2K+ times. Feelin' the love!