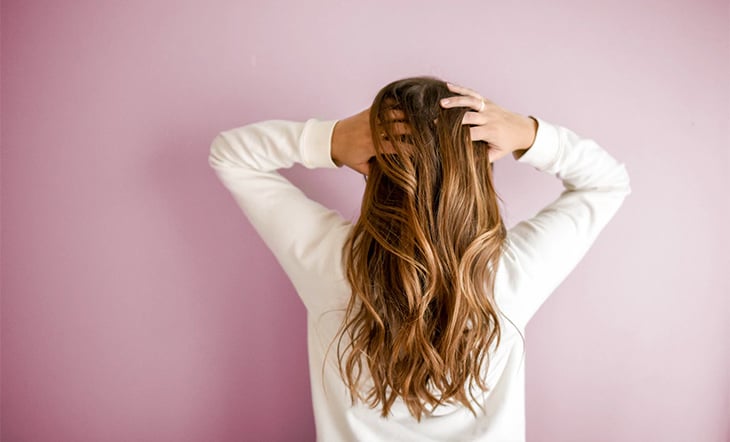 This Is Why I Haven't Shampooed My Hair In 5 Months (and Counting)
I've ditched store-bought shampoos and taken up the No Poo Method, and I'm not turning back. Most personal care products and makeup are made with countless synthetic chemicals and fragrances, many of which are toxic and can be harmful to your personal health – or even increase your risk of cancer.
Just take a look at the label of your lipstick, lotion or nail polish, and I'd stand to guess that you can barely pronounce half (or more) of those ingredients.
Ditch the Dirty Dozen! Beware of These 12 Toxic Chemicals Lurking in Your Beauty Products
For these reasons, I stopped shampooing my hair.
No, I did not turn into a cave woman with an unkempt mess upon my head, but I did eliminate shampoo and conditioner from my daily personal care routine.
What I now do instead is called the "No Poo" Method, which replaces shampoo and conditioner – and all haircare products if you can swing it – with baking soda and apple cider vinegar.
Here's Everything You Need to Know About the No Poo Method:
While baking soda and vinegar are commonly known to cause a fake volcanic reaction in science fair projects, when used separately in your hair, they make for an excellent shampoo and conditioner replacement.
The ingredients are also inexpensive and easy to find at any supermarket or online, and one container lasts a long, long time. I have been using the same box of baking soda for several months and I probably have several months' worth left.
As for the apple cider vinegar, I have a gallon jug and that would probably last me 10 years or more if I only use it for my hair.

My Experience With the No Poo Method and What to Expect:
Before, I needed to wash my hair daily, or I looked like a greasy blonde mess.
Now, I clean my hair 2-3 times a week with the mixture, and I no longer need to wash, dry and repeat on a daily basis. Depending on my level of activity, I can either skip a day of washing altogether or rinse my hair with water and give my scalp a good scrub, also with water.



The great part of the "No Poo" Method is that, unlike shampoo, baking soda neutralizes and gently cleanses your scalp without stripping it of oils, which prevents your hair from overcompensating and overproducing oil and allows you to wash less often.

Before you get started, you should realize that the baking soda mixture will not feel like shampoo in your hands, and it will not lather and create suds. It will feel just like water and will rinse away nicely.

The vinegar conditioner mixture smells like vinegar, but it washes away with water. If there are hints of vinegar lingering, you can easily cover the aroma with a spray of essential oils or oil-based fragrance to your hair.

Also, if you are a regular shampooer, your hair might need some time to adjust to your new routine. My hair took a few weeks of more frequent cleanings before I was able to cut back on the frequency of washings.


Ready to Try the No Poo Method For Yourself?
There are many complicated formulas on the web that explain specific portions of baking soda to water ratios to make the shampoo mixture, but I do not have the time or patience to measure out careful proportions.
Through trial and error, I determined what works for my fine, spaghetti-straight hair type, and I am very happy with the results.

Here is what you will need:
2 mason jars (8-, 10-, 12-ounces, or whatever size you have)
Filtered water
Follow these steps:
Add 1-2 tablespoons of baking soda to your mason jar. You can try out different combinations to determine what is best for your hair type
Fill the jar with water and shake it until the water looks cloudy and there is no longer sediment on the bottom. I use an 8-ounce jar and approximately 1 rounded tablespoon of baking soda
Wet your hair as you would normally do before shampooing
Pour the mixture over your entire head
Use your fingernails to gently scrub the mixture onto your scalp. The ends of your hair will be cleaned as the solution drips down
Leave the mixture on your hair for 5 minutes
While the solution is working its magic, you can prepare your conditioner mixture. Use a second mason jar and add 1-2 tablespoons of vinegar, and then fill it with water. Depending on the length and condition of your hair, you should use about a quarter cup of the solution, so the jar will last you a week or two
After 5 minutes are up, rinse your hair with water
Rinse the ends and length of your hair with a small amount of the vinegar solution, and let it sit for a minute or so
Rinse your hair with cold water to lock in the moisture. If your hair and/or ends are dry, you can apply a small amount of an oil of your choice (such as coconut or jojoba oil), but make sure to rinse well before drying
A Few Final Tips For the No Poo Method
You can adjust both the quantity of the ingredients and the time you let the mixture sit on your head. I suggest starting off by adding the mixture to your head for a minute and add or reduce time, depending on how your hair feels afterwards.
Also, if you notice that your hair still looks oily after you dry it, use more baking soda. If your hair feels a little dry and brittle after drying, use more vinegar or run a small amount of coconut oil or jojoba oil through your hair, and then rinse thoroughly. And, vice versa.
If you decide to do the "No Poo" Method, your hair and scalp will thank you for it.
This article has been read 3K+ times. Feelin' the love!