This Mac + Cheese Stuffed Acorn Squash Recipe Is Our Cold Weather Obsession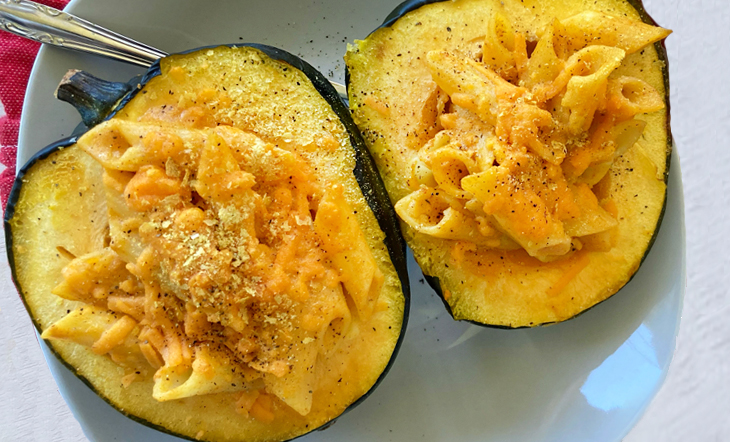 You had us at stuffed acorn squash. When colder weather comes around, comfort food is what we all crave. But comfort food doesn't have to mean unhealthy.
One particular healthy food group worth getting excited about is the selection of winter squashes popping up in the grocery stores!

This vegan mac and cheese stuffed into a roasted acorn squash recipe is as indulgent and perfect for cold weather as it gets.

This healthy comfort food recipe of vegan mac and cheese stuffed into a roasted acorn squash is as indulgent and perfect for cold weather as it gets. It's never been more delicious to be basic – not sorry about it!
Looking for more comforting vegan dishes? We've got a whole roundup! 6 Drool-Worthy Vegan Comfort Food Recipes You've Gotta Try


Mac and Cheese-Stuffed Acorn Squash
Whether you're looking for a dinner ideal for entertaining, or a party of one, this recipe has a definite wow factor but comes together in thirty minutes flat. You don't need the dairy to make a creamy, dreamy sauce, and this recipe is 100% vegan as written. It can also easily be made gluten-free.
To up the indulgence factor even more with this stuffed acorn squash recipe, add a mix of your favorite cheeses or top with breadcrumbs. While the recipe ingredients make this dish vegan and gluten-free friendly, you can swap vegan cheese for any cheese of your choose, and the same is true for which type of paste you choose.
Here's how to whip up this ridiculously delicious healthy acorn squash dish with a handful of basic, easy-to-find ingredients.
Need a simple roadmap to eating more vegan meals? Here are 5 Quick and Healthy Plant-Based Dinner Recipes to Try This Week


Vegan Mac and Cheese In a Roasted Acorn Squash Recipe
Makes 2 servings (if you feel like sharing).


Ingredients:
1 acorn squash
4 ounces pasta of choice, such as penne or elbow shape (option to choose gluten-free)
1 Tbsp. vegan butter, such as Earth Balance brand
1 Tbsp. all-purpose (or gluten-free) flour
1 cup almond, soy or oat milk
3/4 cup or more vegan cheddar cheese shreds, such as Follow Your Heart, or a blend of cheeses
1/2 tsp. paprika, or to taste
1/4 tsp. turmeric, or to taste
2 Tbsp. nutritional yeast
Salt and pepper to taste
Directions:
Preheat the oven to 400 degrees and wash your acorn squash.
You can cut it (carefully!) in half longways or prick with a fork and roast whole, then cutting in half when it's done roasting. Either way, place on a tray and roast for 20-30 minutes, until you can cut through it easily and scoop out the insides.
While acorn squash is roasting, begin your vegan roux. Melt butter over medium low heat, stir in flour and combine with a whisk. Once combined, stir in milk and shredded cheese.
Season with spices and nutritional yeast and cook on a medium low heat for 5 minutes. The sauce will thicken as it cooks. Adjust spices as desired.
Boil your pasta until al dente and drain.
When your acorn squash is cooked and cool enough to handle, scoop out the seeds and "guts" so you have a small bowl shape.
Pour your cheese sauce over pasta and stir to combine. Scoop the mac and cheese into your acorn squash bowls and sprinkle with additional cheese and nutritional yeast.
Place under the broiler for a few minutes until warm and bubbly.
Serve immediately and enjoy!


The Nutritional Health Benefits of Eating Acorn Squash
Good news! Acorn squash is packed with nutritional benefits. A one cup serving of acorn squash has 9 grams of fiber and is particularly high in Vitamin C and B. A healthy carb that's low in calories, acorn squash is also rich in the antioxidant carotenoid, second only to carrots!
Finally, a few fun facts about acorn squash. Acorn squash is a type of winter squash, but in the same gourd family as zucchini, pumpkin, and butternut squash.
It is botanically considered a fruit since it has seeds and comes from the flowering part of the plant. Acorn squash sprouts edible flowers called squash blossoms – all of these factors contribute to make squash technically a fruit!


We're Obsessed With This Healthy Comfort Food Recipe
We hope you try out this stuffed acorn squash dish and fall in love like we did!
Colder temperatures have us all craving the comfort foods that warm us from the inside out. What better way to both enjoy a delicious and warming meal that is also healthier than normal mac and cheese and offers the nutritional benefits of acorn squash?!
Did you make this acorn squash at home? How did it turn out? Do you have another favorite stuffed acorn squash recipe to share? Please let us know in the comments below – we love hearing from you!
This article has been read 169 times. Share it and spread the love!