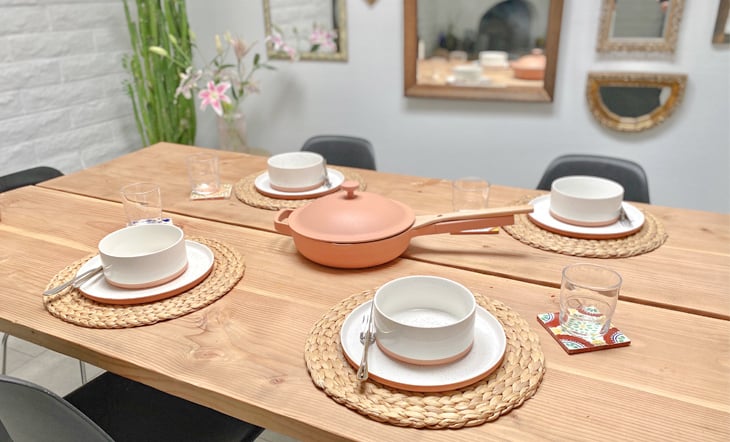 We Tried the Pan from OurPlace Everyone Is Raving About (Here's Why We're Obsessed!)
Raise your hand if you have one too many pans competing for space in your kitchen cabinets?
Meet Our Place: a kitchen and cookware brand that makes beautifully unique and well-designed dishes, glasses and – the focus of this article – the Always Pan.
We've been testing out the Always Pan in our own kitchen for the past few weeks and it's literally become the only pan we use. The "Always Pan" has definitely earned its name!
Read on to hear our honest experience, feedback and reasons why the Always Pan may just become your new kitchen essential.
Meet the Always Pan From Our Place
When it comes to cookware, quality is essential, and most people have limited kitchen storage space. No one wants to spend a lot of time washing eight pans to cook one meal, and we would all love to have a quality pan that replaces the uses of several . . .
Enter the Always Pan.
Our Place designed this pan to answer these wants and needs that so many of us have when it comes to cooking. To be honest, we haven't come across anything quite like this product before, which was why we had to try it out!
What Makes the Always Pan So Unique, Functional, and YouAligned™:
According to the Our Place website, the Always Pan is the "perfect size and shape to do the work of eight pieces of traditional cookware." But is it true?
Two weeks and many meals later, we answer with a resounding YES.

The four-piece set comes with a 10" diameter, 2.7" depth, 2.6qt capacity pan, modular lid, nesting spatula and steamer basket.
Made from a heavy gauge cast aluminum core and with a ceramic non-stick (and non-toxic) coating, the Always Pan distributes heat evenly and quickly. It's a joy to cook with, from frying to sautéing, pastas to eggs, and also multitasking dinner dishes.

This pan is (and does) everything.

The modular lid both locks in and lets out steam and also includes a stainless steel steamer basket. It comes with a nesting wooden spatula that's finished with natural mineral oil and has its own built-in spoon rest (so nice for mess-free cooking!).
The pan is compatible with any cooking surface, is dishwasher safe (love that!) and is non-stick while being non-toxic (it's PFAS + PTFE-free). While our favorite feature is the innovative multifunctional design, there are more reasons to love this pan (and brand) . . .
A Few Final Notes About the Always Pan By Our Place
In addition to being super functional and well-designed, this pan looks and feels like quality. You can tell it's made well, built to last, and it's also beautiful (finally, a pan you actually want to leave on your stovetop).
Most importantly, Our Place is committed to using responsible materials and ethical labor (you can read more about this on their Mission page).
Our Place is also passionate about uplifting culture and community. Their kitchen collections are "new heirlooms from the cultures and places that make up the fabric of the modern American kitchen." Our Place believes "that there is a transformative power in uplifting the differences in how people cook and eat together."
If you're interested in learning more about the Always Pan, the Our Place brand, and their other kitchen products, you can visit their website here and check them out on social.

This article has been read 1K+ times. Feelin' the love!