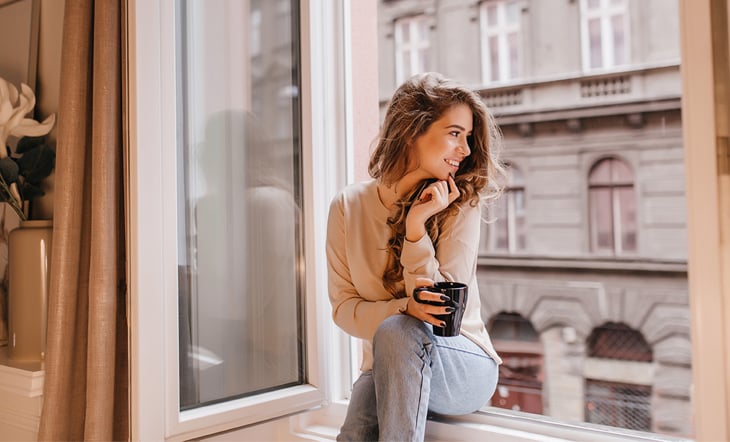 This Fall-icious Pumpkin Spice Latte Recipe Is Soooo Yummy You Won't Know It's Vegan
Pumpkin Spice Latte season has arrived! Or should we say, fall has arrived. 🙂
Whether you associate Pumpkin Spice Lattes with fall, or the other way around . . . if you're reading this then it's safe to say you love this time of year and you want to learn how to make your own delicious and healthy pumpkin spice latte recipe!
Who doesn't love pumpkin spice?! There's something decidedly comforting about cozying up to a warm, spicy, pumpkin spice latte.
What's not so comforting is the price tag and the often-shocking amounts of sugar that your favorite coffee shop's version comes with. Blowing our daily sugar intake on one latte? No thanks!

Who doesn't love pumpkin spice?!

Instead, with a few wholesome and simple ingredients, you can easily brew your very own delicious bevie at home – no fancy barista skills needed!
Make Your Coffee Healthier: 5 Simple Swaps to Make Over Your Morning Cup
This Pumpkin Spice Latte recipe uses all natural ingredients, can be made entirely organic, and is vegan so all can enjoy, guilt-free!


Pumpkin Spice Latte Recipe
Makes one latte. Double the ingredients for two

Ingredients:
¾ cup black coffee
½ cup plant milk (almond, coconut, or oatmilk are great options)
1 Tbsp. pumpkin puree, canned or homemade
½ tsp. vanilla extract
¼ tsp. cinnamon
Pinch of allspice
⅛ tsp. nutmeg
1 Tbsp. maple syrup
Preparation:
In a saucepan, blend coffee, milk, spices, pumpkin, and syrup, and warm over medium heat until it's close to boiling (but not quite – so keep an eye on it.) Pour all ingredients in a high-speed blender and blend until foamy (approximately one minute).


A Few Final Notes:
You can dial up the treat-aspect of this drink by using full fat canned coconut milk, or keep it as more of a daily beverage with some lighter unsweetened almond milk, or really any plant-based milk (oat or pea would be awesome here.)
You can also use a pumpkin spice blend versus the cinnamon, allspice, and nutmeg if you prefer. For an extra fancy touch, feel free to use a milk foamer if you have one (but no worries if not – the blender does the trick).
For an extra treat, top your Pumpkin Spice Latte with a dollop of dairy-free whipped cream, and tuck in to the ultimate fall treat!
Finally, this can also be made cold (simply skip the heating-up step) by blending in a blender, pouring and enjoying as-is.


Cheers to Fall With This Yummy, Vegan Pumpkin Spice Latte!
Warning: once you try this Pumpkin Spice Latte recipe, you'll be hooked…but with these ingredients and lack of icky additives, refined sugar, and artificial flavors, that's a habit you don't have to feel bad about!
Embrace the fall season with pumpkin spice-everything and enjoy this magical time of year.
Can't get enough pumpkin spice?! Try These 5 Delicious Pumpkin Spice Recipes to Embrace Fall Guilt-Free (Vegan and Gluten-Free Options)
Happy fall, y'all!
This article has been read 1K+ times. Feelin' the love!