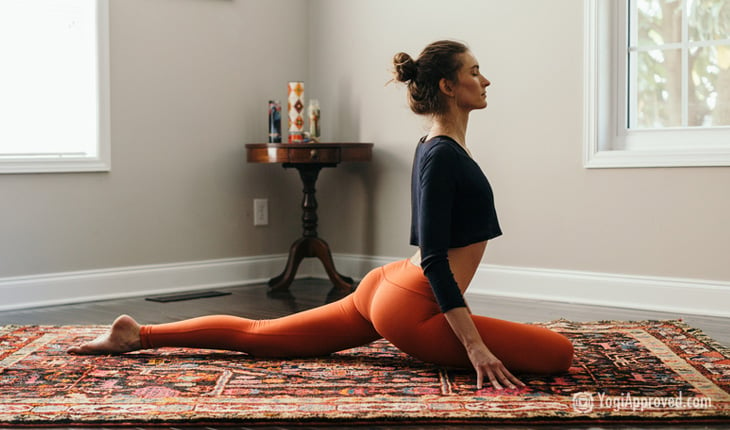 10 Great Resources for Online Yoga Classes
Online yoga classes are everywhere these days. Just Google "online yoga" and you'll see what we mean. But don't trust that the top Google results are actually the best options for your online needs. Those are typically just the brands paying the most to show up first on the list.

There are plenty of options for great online yoga; honestly, way more than 10. But the online yoga websites we've listed below are our favorites. All of them differ in one way or another so read on and see which one sounds like the best fit for you.

These Are 10 Great Resources For Premium Online Yoga Classes:
1. Alo Moves
Alo Moves is great place to practice with the yoga celebrities of Instagram like Patrick Beach, Dylan Werner, and Kino MacGregor to name just a few. The online yoga classes are all beautifully filmed and offered as programs or individual online classes. An Alo Moves subscription is $20 a month but they do offer a free 7-day trial.


2. OmStars
Speaking of Kino MacGregor, OmStars is her baby. OmStars is real, watchable, entertaining, enlightening, authentic content made for yogis by yogis. Classes are offered as "series" like your favorite TV shows. An OmStars membership will run you $14.99 a month.


3. YA Classes
YA Classes by YouAligned.com is a fantastic resource for premium online yoga classes and programs. If you want to grow your practice in specific areas like gaining flexibility, learning how to Handstand, and building strength, YA Classes is a great place to go. Once you purchase a program, you own it for life and can watch it anytime. All programs and classes can be purchased individually from $7 – $27 or you can become a member for just $10 a month and enjoy unlimited access to all programs and classes. Try it free for 7 days.

Best of all, as a member, a tree gets planted every time you complete a yoga class. Making you feel even better about getting on your mat. Try it FREE for 7-days here.


4. BullDogOnline
BullDogOnline is "fitness-fueled yoga with a musical heart." Their online offerings are recorded live classes so it feels like you're right there in the studio. You'll get fitness-focused yoga and great music in one sweaty, energetic, heart-pumping brew. Bulldog is yoga rebooted – no chanting, and free from instructions in Sanskrit. A membership to BullDogYoga will run you $16 a month. They also offer daily passes for $5 a day.


5. Grokker
Grokker is the "wow they have a lot of classes" type of online yoga resource. With over 4,000 videos you're sure to find something that interests you, and you'll also get more than just yoga. Grokker offers fitness videos, cooking classes, and even "sleep" videos. A Grokker membership is $14.95 a month.


6. DoYouYoga
DoYouYoga offers both free and premium (paid) classes in the form of multi class programs and bundles. Their offerings are extensive and cater to a wide range of yogis. DoYouYoga also offers a social media aspect to their platform where you can follow other yogis and share your progress. A membership is $15 a month.


7. YogaToday
YogaToday produces what are arguably some of the most beautiful online yoga videos around. This is because all the online yoga classes are filmed outside in the beautiful Northwest US. If you want to practice in a serene setting, you should definitely check out this online yoga site. A YogaToday membership will run you $14 a month. They also offer a 14-day free trial.


8. oneOeight
@YogaGirl Rachel Brathen created oneOeight, an online platform offering video-based yoga classes, meditation classes, cooking inspiration, life coaching, and more. The bright website is inviting and easy to navigate. With over 1,000 online classes there is much to choose from. A oneOeight membership is $14 a month after the 10-day free trial.


9. MyYogaWorks
This is the online offering from the popular real life yoga studio, YogaWorks. MyYogaWorks offers online yoga classes by the handfuls, most of which are filmed in their studio, bringing a sense of consistency to their classes. A MyYogaWorks membership is $15 a month after their 14-day free trial.


10. YouTube
If you're looking for free yoga classes that may be a little less polished, then YouTube is a fantastic resource for free online yoga classes. Check out this article that highlights some of our favorite yoga channels on YouTube.

This article has been read 30K+ times. Bada bing!