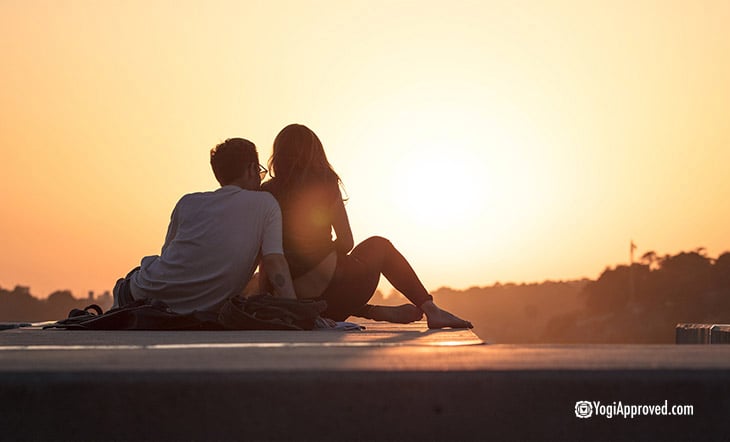 10 Ways to Show Someone You Love Them​ ​(Without Spending a Dime)​
Valentine's Day is sneaking up on us, but that is no cause for panic! While it can be fun to buy someone gifts as an expression of your love, there are tons of ways to let a person know you love them without spending a damn penny.
Love is such a beautiful thing. It fills our hearts and souls and brings peace of mind and comfort. Love is pretty much the best magic there is, and showing your love doesn't have to cost anything!

Here's How to Show Your Love Without Spending a Damn Thing
Whether you're celebrating Valentine's Day with a significant other, your best friend, your pets, or your family this year, here are 10 free and creative ways to show someone you love them.

1. Say Thank You Often
Saying "thank you" is a really simple, and often overlooked, way to make sure someone knows you are grateful for them. These two little words will make your favorite person feel great, especially if you remember to say "thank you" for little things. This gratitude practice will help to ground you in gratefulness and contentment.

Take it a step further, and write about your person in a gratitude journal! We've compiled a list of our favorite five gratitude journals here.


2. Tell Them Specific Things You Appreciate About Them
When you tell someone what you appreciate about them, get specific. Like, really specific. This shows your person that you see them, and that you are paying attention to what they do.

For example, you can take, "I appreciate your sense of humor" to "I appreciate that joke about the turtle you told at lunch today because I needed that deep belly laugh. It helped make my day a whole lot brighter." See the difference?


3. Look Them in the Eyes Often
The saying goes that the eyes are the window to the soul, and when you love someone, your souls are connected on some level. Looking your loved one in the eyes often is a fantastic way to feel connected, and helps to limit distractions when you are with them.


4. Let Them Talk, and Actually Listen
When the person we love is in pain, or frustrated, or sad, we tend to interrupt them when they're speaking because we want to help them with our suggestions. While this comes from a place of love, it might not always be very helpful.

When your love is telling you something that's off, try to listen fully and wait for them to be finished before speaking. Acknowledge what they said and whatever they are going through, then ask if they would like to hear your suggestions.


5. Set Aside Quality Time for Them
Life is busy. This can mean that the time you spend with your loved one gets bombarded by emails, TV, social media, or any other distraction. It's so important to set aside quality time to spend with your love that you know won't be interrupted. Time to put your phone away and engage with them. If that means putting them in your calendar, do it!


6. Be Excited When They Accomplish Something
You know your love is the bomb.com, and that they can accomplish really big things. So, sometimes, your reaction to exciting things might be more along the lines of, "Of course you did that, you're awesome! Moving on . . ."

If your partner is through-the-roof excited about something, try to match, or exceed, their level of excitement. Remember that, just because you knew they could do it doesn't mean they did. They could've had doubts about themselves and are therefore so thrilled that they accomplished this thing in spite of those doubts.


7. Go Outdoors Together
Nature is so cool. It can be a place of adventure, grounding, restoration, healing, and more. It's a fantastic space to share with someone you love. Find an outdoor activity you both enjoy, or pack a picnic lunch and find a beautiful lawn somewhere!


8. Give Them Space
This is important. When you love someone, it's easy to want to spend all of your time with them because, well, you love them. You love their energy, their presence, and the way they make you feel. You love the time you spend together and the endless adventure you're on. But you have to give them space.

In this space, they'll have room to grow and to return to the root of their being. This will help you both stay grounded and independent in yourselves, and allow you both to grow into better humans while still journeying through life together.


9. Help Them Out When They're Overwhelmed
Do you know that your partner has the worst week at work coming up, and that chores might fall through the cracks, meals might be missed, or their routine will be off in some way? Step up to the plate! Tell them you'll have dinner ready, or take care of their pets – anything that will help to decrease their burden for a little bit.


10. Hide a Written Note For Them to Find Later
This one's fun. Everyone loves a handwritten love note, right?! Combine that with a bit of a scavenger hunt, and hide a note in their car, jacket, lunch bag . . . wherever they'll find it throughout their day. This is sure to have your loved one cracking a smile!

Get Out There and Show Some Big Love!
Love is great, isn't it? By taking the time to show each other love, we are slowly working to make the world a better place. If you're on a budget this Valentine's Day, or if you just want some badass ways to show someone you love them, try out some of these suggestions. Let's learn to love people well!

This article has been read 1K+ times. Feelin' the love!