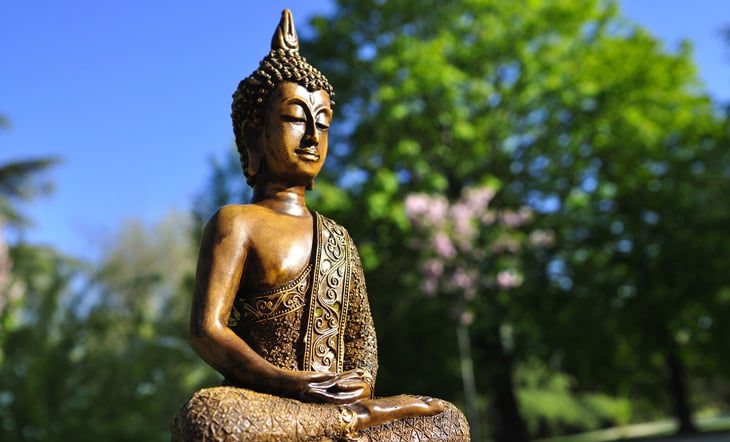 7 Timeless Spiritual Lessons You'll Learn From Reading Siddhartha
If you've ever read a book that made a huge impact on your life, you know the feeling of satisfaction when you finish the last page and let the wisdom and inspiration wash over you like a transcendent wave. There are numerous spiritual novels that can propel your journey in life.
Siddhartha is one such book. The highly influential and infamously popular book by Hermann Hesse is a remarkable text that every spiritual seeker needs to read. It depicts the story of a young man named Siddhartha who is on a quest for knowledge and a deeper understanding of himself.

Siddhartha teaches us many valuable lessons about living an awakened, conscious, and spiritual existence.

If you have read this engaging story and life-changing book, then you know just how powerful it is. If you haven't read it, Siddhartha is incredibly soul-satisfying and transformational in helping you find your purpose and live intentionally.


First, Here's a Brief Plot Synopsis of Siddhartha
The context of Hesse's novel begins with the life of Siddhartha. He is born into a prominent Indian-Brahman (priest caste in India) family where his childhood was surrounded by religious texts, spiritual teachings, and devotion.
From the beginning, the young Siddhartha is wise beyond his years. He adheres to a lifestyle of meditation and simplicity. Siddhartha has everything he needs but chooses to leave it all in search for his life's purpose. An excerpt from the book highlights this:
"Within Siddhartha there slowly grew and ripened the knowledge of what wisdom really was and the goal of his long seeking. It was nothing but a preparation of the soul, a capacity, a secret art of thinking, feeling and breathing thoughts of unity at every moment of life."




Siddhartha is an avid truth-seeker, and his ascetic nature at a young age propels him to leave home and live with monks known as Samanas. His childhood friend Govinda accompanies him on this journey. Here they both learn to live with no attachments, minimal food, and live the life as nomads.

We Can Learn Something From Every Moment
Along the journey, Siddhartha becomes part of a sacred tribe and learns the value of stillness, breath, and fasting. The Samana way teaches Siddhartha a deeper connection with all living beings and creatures – feeling at peace with the process of birth and death, just like the cycle of life.
A pivotal moment in Hermann Hesse's novel is encountering a character by the name of the Ferryman (Vasudeva). Siddhartha, as a young man, learns the language of the river and nature from the Ferryman:
"Have you also learned that secret from the river; that there is no such thing as time? That the river is everywhere at the same time, at the source and at the mouth, at the waterfall, at the ferry, at the current, in the ocean and in the mountains, everywhere and that the present only exists for it, not the shadow of the past nor the shadow of the future."
Every interaction Siddhartha has within the novel shapes his soul in a profound way. Siddhartha does not realize until later, however, that the spiritual path is within his soul – always present within his entire existence and in alignment with his purpose.
What Is Your Dharma? Here's How to Find Your True Life Purpose

Countless Generations Stand Behind You
No matter what experience or crisis Siddhartha faced, there was an inner voice that called him home to his own soul – not to a physical place, but a spiritual and energetic place.
At the end of the text, Siddhartha is reunited with his friend Govinda. While they're speaking, Siddhartha asks his dear friend to gently press against his forehead. At that moment, you see that Siddhartha illuminates a magnetic force within himself and he is connected to everything.
Every sage, ancestor, lineages were felt by Govinda. Siddhartha finally realized that the source was always within him in his older age. The seeking finally came to an end.


Here Are 7 Life-Changing Lessons You'll Learn from Siddhartha:
There are many valuable life lessons presented in this narrative – lessons that are worth reviewing if you've already read Siddhartha and lessons that are worth cracking the book open if you haven't:

1. You are your own guru
Respect and learn from others, but don't hold anyone's power or wisdom above your own.

2. Your journey is not like anyone else's
Embrace your unique path and avoid playing the comparison game.

3. In life, there will always be challenges
Embrace life's challenges as necessary for your evolution – they're here to teach you!

4. Release the impulse to constantly seek the next big thing
Replace this impulse with an ability to remain open, aware, and humble. Ultimately this is how we grow.


5. Presence is key to evolution
Like the river's journey in the story, we learn that our actions of today are what define us.

6. You must live by – and trust – your life purpose
We each have a unique gift and purpose to share with the world. Find yours and live by that compass.

7. Change is the only constant
By trusting yourself and the Universe, you can begin to flow with the waves of change, rather than resist them.


Siddhartha: The Final Takeaway
As a spiritual seeker, you will meet many people at various stages in your life. All will be your teachers, and some will help guide you and offer valuable wisdom to help you further discover your true nature.
We have all had moments like Siddhartha, in a search for what novel to read, meditation to practice, or a spiritual/religious doctrine to follow. It is good to question things throughout your life and never resist the curious nature of your soul.
All the answers you are seeking are within you already – you have the power to create your reality and live the life of your dreams. Through clear intention, conscious action, and divine trust, all that you desire can be real.
Indeed, Siddhartha teaches us many valuable lessons about living an awakened, conscious, and spiritual existence.
Looking for more inspirational books? Here Are 10 Spiritual Books to Add to Your Reading List
This article has been read 10K+ times. Bada bing!