Tarotscopes: A Tarot Card Reading for All August Horoscopes
Tarotscopes are a horoscope reading based on tarot cards. In this article, we will dive into an August horoscope based on a tarot card reading for each zodiac sign. It's Leo season this month!
As a tarot card reader and intuitive healer, I find it important to connect to an intention each month as a way to better show up for yourself, your healing, and stay connected to your goals and authentic vision!
When clients ask me for monthly tarot pulls or intentions, I remind them that this one card can prepare them for greater self reflection, more mindful conversations, and a truly inspired month! That's why I love the simplicity but depth of clarity that a tarot card reading can bring us.
I use a variety of decks, from the Wild Unknown by Kim Krans, to the traditional Rider Waite, and suggest anyone looking for a deck chooses based on the imagery. If it's visually appealing and beautiful, it will intuitively speak to you!


Tarotscopes: Here's Your August Horoscope With a Tarot Card Reading!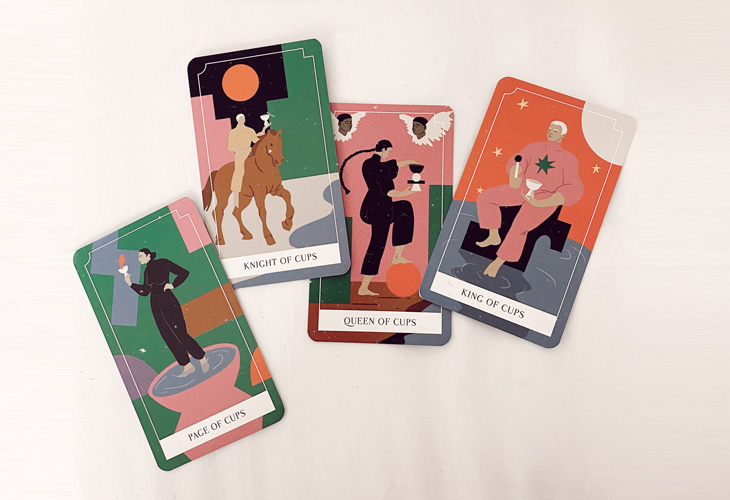 With it being vibrant Leo season, I asked the tarot cards what was in store for each of the signs. Here is your August horoscope, along with the lessons you can anticipate for this month ahead!
Leo Zodiac: Here's Everything You Need to Know About This Fire Sign

Aries: Ace of Wands
Inspiration has arrived! If you've been feeling less than passionate about your work or hobbies, August brings an entirely new idea and focus for you, Aries!
The aces in tarot card readings bring newness and fresh energy and with the purposeful fire element here represented by the wands (an element you're very comfortable and familiar with as a fire sign). This means that you can expect to feel truly unstoppable.
Practice: Breath of Fire. Really lean into the abundance of creative genius and inspiration with this Pranayama practice to keep your energy clear and high vibe!
Not sure what Breath of Fire Pranayama is? Learn All About Breath of Fire + How to Practice It In This Step-By-Step Tutorial!


Taurus: Ace of Swords
The truth is coming forward, and expect it to shock you a bit, Taurus! Ace of swords brings clear and direct communication, as well as a new mindset or way of thinking.
You might hear from someone out of the blue, or finally feel confident in communicating YOUR truth loud and clear. The ace of swords uses the air element to get to the bottom of things, and redirect your course if need be.
Practice: Lion's Breath. What better way to connect to the air element than intentional breathwork and clearing. Release tension in the face and jaw and open yourself to the possibilities of what's coming forward – or what you'll be asked to communicate this month.
Want to learn how to practice Lion's Breath Pranayama? Learn How to Practice Lion's Breath Plus 3 Other Pranayama Breathing Techniques Here!

Gemini: 10 of Cups
Such a beautiful card and energy to define your month of August, Gemini. 10 of cups represents fulfillment and harmony emotionally. Relationships feel strong and hopeful, and abundance is present.
Keep the focus this month on gratitude, as 10's represent completion in a tarot card reading and while a new cycle and fresh opportunity to express love will appear, this month is about riding the wave of worthiness and deep appreciation.
Practice: Gratitude journaling and prayer as well as expression of love to friends, family, and the community that connects you.

Cancer: The Hierophant
The Hierophant arrives when the universe is calling us to higher learning and greater spiritual purpose, Cancer. Seek out a coach, mentor, or community space that feels not only aligned but expansive.
Likely this year has brought some stagnation energetically, and you're feeling called to something greater for yourself and your purpose. Your August horoscope is asking you to take on a student role and appreciate the learnings!
Practice: Lean into learning something new. Whether it's time to hire the coach or mentor you've been seeking, or join an online course centered around spiritual practices that will hold you accountable in this discovery!

Leo: The Hanged Man
Leo season is upon us and while you're always comfortable in the spotlight, it actually might be time to get uncomfortable in a new setting or space of mind. The Hanged Man is a card of purposeful pause, and choosing to see from a new perspective for better understanding and more spiritual growth.
If you've felt unsure of direction or lacking fulfillment in any area of your life, step away and lean into this energy this month. August is calling for you to actually be the observer, rather than the one others are looking to for energy and inspiration.
Practice: Unplug! Less social media and more "me" time this month, Leo. Take time away from your notifications and outside noise. Let your thoughts and reflection be completely self-guided. A social media cleanse will bring this clarity you've been seeking and get you out of comparison traps!
Complete This Social Media Cleanse In 4 Painless Steps


Virgo: 10 of Wands
Virgo, this month you may be feeling heavy energetically. Likely you've taken on the weight of the world. People pleasing, lack of boundaries and the taking on of responsibilities that aren't your own has to end as you've possibly gotten in a rut or neglected your body's needs!
So free yourself this month. Begin to say "no" with strength and cleanse yourself with less plans, less commitments, and more time for YOU! The ten of wands represents a heaviness that comes from the accumulations of burdens from outside sources, so define what is yours to carry and put down what is no longer yours to hold.
Here's How to Set Healthy Boundaries and Exercise Your No Muscle
Practice: Boundaries! Clear your calendar and respectfully set the boundaries you need this month. Then, get outside and move your body. Invite freedom and lightness into your movement and breathwork practice – let it feel fresh, new, and exploratory.
Virgo, it sounds like you need a Nature Break!
Practice this outdoor yoga flow on YA Classes set in the beautiful mountains of Colorado.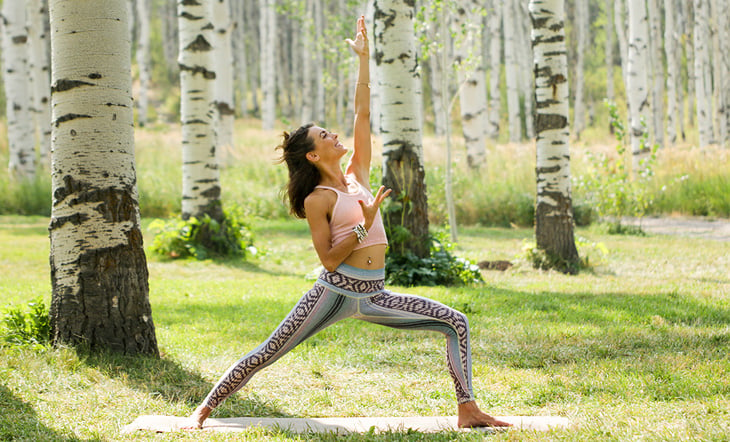 Libra: 6 of Coins
According to your August tarotscope, you may find yourself feeling generous this month, Libra. Whether giving your resources, time, or a listening ear to a dear friend, this energy from you is appreciated and will be seen by many in your life this month.
As you're ruled by the scales, you know the importance of balance and equal give and take. While giving with pure intention, know and accept the karmic return of generosity and prosperity you receive for your abundance mindset and giving spirit!
Practice: Service. In a way that feels heart led and truthful to you, your tarot card reading is asking you to be of service to others.

Scorpio: 2 of Pentacles
Got your hands full lately, Scorpio?? The two of pentacles shows a figure juggling and balancing two coins or pentacles, the earthly representation in tarot.
Likely you're holding space for a few projects or passions and have your eye on a change connected to career. Keep this up, because the answer in terms of which path to choose is right around the corner!
Practice: Don't be afraid to delegate and occasionally pass off a responsibility to a friend or co-worker you can trust. A feasible to-do list is your best friend this month to avoid burnout. And while busy, express gratitude for the energy you have that seems boundless right now!

Sagittarius: The High Priestess
Stillness, non action and TRUST are the themes of this month, Sag. If you've been wondering how a certain situation, relationship, or conflict will resolve, the High Priestess tarot card says there's more information to be revealed, so be patient.
As a wanderer and curious sign, stepping away from the need to go out seeking knowledge or truth can be challenging. Instead, try allowing it to flow to you. The High Priestess says listen to your voice and intuition, and the truth will be revealed.
Practice: Practice third eye activation and divine feminine practices. Write personal mantras about trust, inner knowing, and divine timing this month.
Feeling drawn to practices that honor and activate your divine feminine?
Practice my Sun/Moon Flows on YA Classes with yoga flows specifically for moon phases and feminine energy.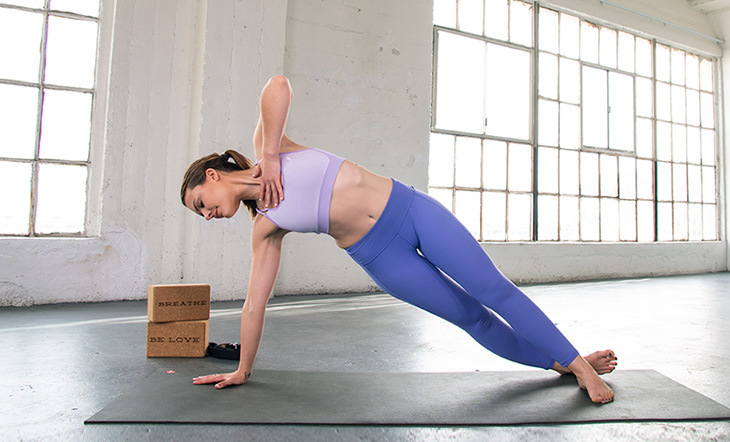 Capricorn: 4 of Swords
You may be feeling the weight of the world this month, but rather than allow it to bring stress or fears, focus on what you CAN change Cappy – your mindset!
The four swords calls us to rest, recharge, and go inward. This tarot card is similar to a spiritual toolbox, as it represents a chance to develop your personal skills and practices for when difficulties arise!
Practice: With a tarot card reading so heavily focused on rest and spiritual reflection, it's certainly a time to meditate! Here are some tips to get you started or reconnected to your practice.
Follow These 6 Simple Steps to Begin a Meditation Practice (Also Great for Meditators Looking for Fresh Inspo!)

Aquarius: 7 of Wands
As aquarians you are used to feeling as if you're going against the grain, or living to the beat of your own drum. Your August horoscope is no exception!
The 7 of wands calls us to be brave with our boundaries and courageous with our words while protecting our beliefs. If you're finding yourself feeling defensive, focus on conscious but clear communication and boundary setting in August.
Practice: Support yourself through healthy Throat Chakra work and poses like Reclined Fish Pose, and journal through your raw emotions before approaching discussions with too much heat, as the suit of wands is ruled by fire element!
Use These 7 Mantras to Clear Your Throat Chakra and Speak Your Truth

Pisces: 5 of Cups
Certainly a heavier card in the tarot deck, the 5 of cups marks loss, grief and sadness. Ruled by the element of water much like your sign, Pisces, the suit of cups asks us to feel our deepest emotions and tap into our subconscious.
While emotions are not something you fear the depths of, be mindful of how much you define your month by these moments. Notice when you're wallowing and swimming in these depths too long, rather than flowing with your feelings intentionally.
According to this month's horoscope, the five of cups is simply asking to be felt. It will run its course and leave you feeling more open, generous and connected. Like all things, feelings pass.
Practice: Write a personal letter to whatever you feel is causing this sadness and heaviness in August. Whether it's a mindset you carry, a past relationship, or a friendship that leaves you doubting yourself, begin to process by writing about the cause of these feelings.


Your Tarot Card Reading and August Horoscope: A Final Thought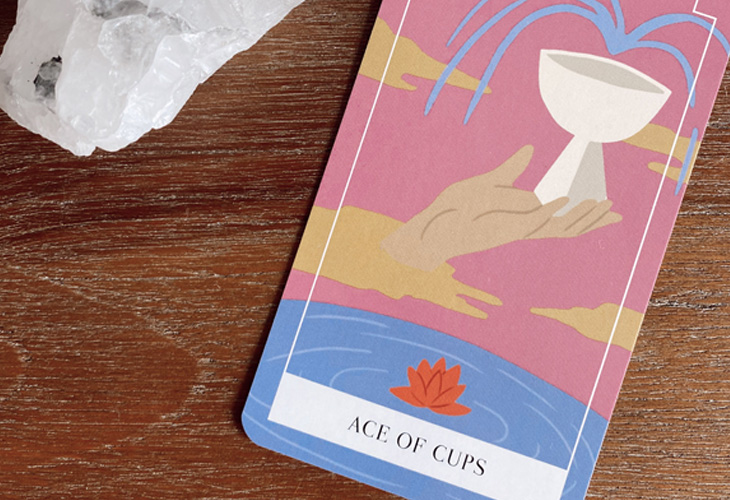 There you have it – your August tarotscope! What a beautiful month of reflection, introspection, and conscious communication among the 12 zodiac signs!
To end, I'll share a final takeaway to summarize your Leo season tarotscopes. If I were to offer tarot card reading "one-liners" of advice to each sign, they would be:
Aries, stay connected to your inspiration.
Taurus, you can prepare to live more truthfully.
Gemini, lean into complete gratitude!
Cancer, don't be afraid to get out of your comfort zone and learn something new.
Leo, a new perspective is needed, get uncomfortable for the sake of spiritual growth!
Virgo, release the heaviness and know you are worthy of boundaries.
Libra, this month is one of generosity and keeping balance, your specialty!
Scorpio, change may be near, so prioritize your time wisely.
Sagittarius, strive for less action, more trust and belief in your intuition this month.
Capricorn, you're a hard worker and deserve the rest you need to recharge.
Aquarius, time to speak up and be courageous!
Pisces, feel through your deepest emotions and honor them and their teachings.
Happy August and Leo season, all! Sending love and light through the month!
Want to bring tarot card readings into your morning routine? Add Tarot Cards to Your Morning Routine For a Boost of Clarity, Guidance, and Reflection (Here's How)
Have questions about your tarot card reading, or tarotscopes in general? Do you already have a tarot practice? Please share in the comments below – we love hearing from you!
This article has been read 1K+ times. Feelin' the love!