Try These 3 Relaxing Yoga Practices During Your Next Flight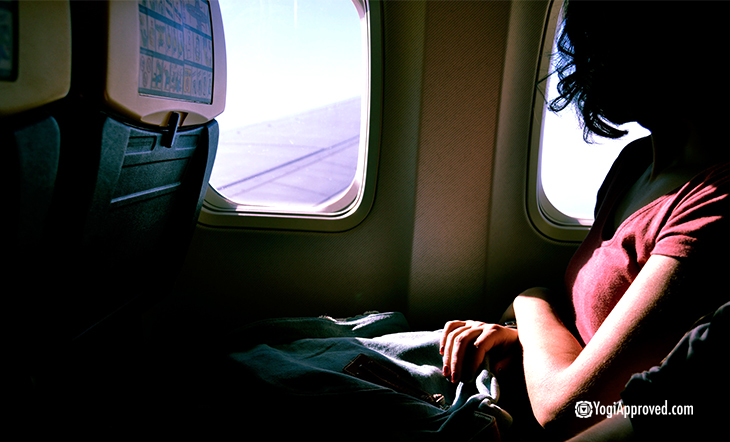 On every level, airplane travel can be anxiety-inducing. Whether it's a form of OCD planning for the trip, nail-biting in the outrageously long security lines, sweating during take-off and landing, or feeling disoriented upon landing in unfamiliar territory. But in the middle of all this, there are several airplane yoga practices you can turn to for comfort.
My last flight was only an hour and eight minutes. Yet, from the time I left my house to the time I arrived at my hotel, I had been in transit half the day. This left me anxious, and this anxiety can impact those whom we travel with and the family and friends we leave behind.
Let's talk about some of the negative physical side effects from air travel.
Air travel tightens muscles in our hips, lower backs, legs, and necks. Then add the poor design of standard airplane seats and carrying extra baggage around, and you're sure to have discomfort in these key muscle groups.
Additionally, our digestion suffers when our normal routine is disrupted. In transit, we get our food from unfamiliar vendors and we often eat at abnormal times of day and night. This can result in constipation, loss of appetite, and mindless eating (as in we might eat because we are bored, but not hungry.)

Here Are 3 Relaxing Airplane Yoga Practices For Your Next Flight:
These three techniques are a combination of pranayama (conscious breathing), mudras (hand gestures), and yoga poses to help you find the maximum amount of comfort and calm while traveling.

1. Three-Part Deep Breathing (Deergha Swasam Pranayama)
Airports, airplanes, and subway cars are transitional spaces that we use to get from one place to the next. They are part of the journey that we endure so that we can get to our destination. But they don't have to be stressful.

You can take a deep breath to feel more settled in your space. To practice Three-Part Deep Breathing, inhale while feeling your belly, ribs, and chest expand. Exhale from all three areas until you feel empty. Take one three-part breath between every 2-3 normal breaths until you find a deeper appreciation for the moment.


2. Hakini Mudra
You may find that air travel disrupts your ability to focus. Rather than worry about what you left undone back home or what will need to happen at your final destination, try this gesture. When crammed into a tiny airplane seat, Hakini Mudra is an inconspicuous practice.

Touch the tips of all fingers on your right hand with their partners on the left hand and fan your palms apart. Practitioners praise this mudra for helping them to focus scattered thoughts. You may alter the amount of pressure between your fingertips while holding the gesture for 1-2 minutes.

3. Legs Up the Wall/The Great Rejuvenator (Viparita Karani)
All flights, but especially the long ones, can cause your legs and feet to feel heavy from lack of movement. This pose offers relief to your tired legs by elevating them up a wall, and works wonders once you've arrived at your destination.

Being in the pose will also re-adjust the contours of your spine from those funky airplane seats. Practice this pose for 7-10 minutes or as long as you are comfortable. Alternately, try elevating your legs bent at the knee by bringing them onto a sofa, chair, or bed instead of a wall.

Happy Travels, Yogis!
These three yoga practices will help you stay grounded, relaxed, and ready for your adventure. Let us know how they worked!

Still not sure if yoga on an airplane is a thing? Check out the airlines that are launching in-flight yoga videos, or try out these nine yoga poses while you are sitting in those tiny seats. There's no reason to leave your practice behind just because you've left the ground.

This article has been read 1K+ times. Feelin' the love!