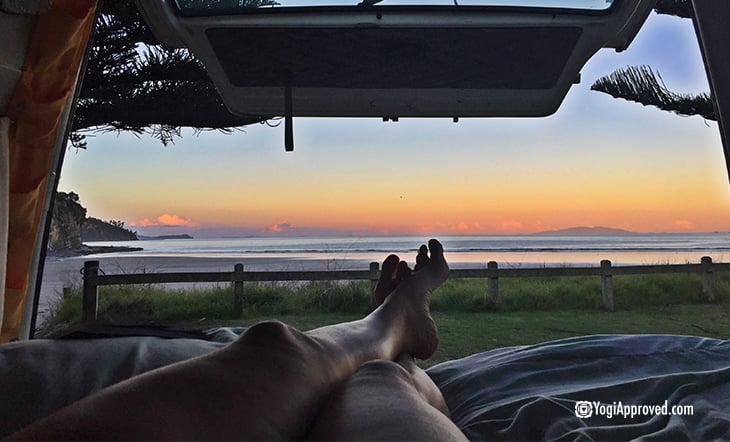 I Tried Living Out Of a Van For a Week – Here's What I Learned About #vanlife
A simple instagram search of #VanLife will leave you with a serious case of wanderlust as you are taken on a journey of renovated vans of all types parked in front of drool-worthy backdrops of beautiful beaches, mountains, and forests.

There are growing numbers of people choosing travel and adventure over routine as they embark on the Van Life journey. And thus, "Van Life" is more of a movement than just a trending hashtag.

What is the Van Life Movement?
Simply put, Van Life is about exploring an alternative way of living. This lifestyle of literally living out of a van embodies a shift in the way people think and live. Those who join the movement see it more as a culture than a trend.

We are a generation of young adults who are looking for a way to get out of 9-5 jobs and enjoy the freedom of living out of a van. Thousands of people in this demographic are drawn to this nomadic hippie lifestyle where they can live cheaply while being able to focus on what they truly love – travel, adventure, and exploration.

What Sort of Vans Are We Talking?
Van Lifers make their home on four wheels from of all types of vehicles, from DIY refurbished vintage VW Kombis to good old American school buses that have been beautifully (and professionally) remodeled into luxe homes on wheels.

But don't get too sucked into the type of van. The beauty of Van Life is more about the journey and the lifestyle rather than the van itself. It's the idea of living simply and focusing on life's experiences.


Who is Chasing After This Van Life?
It's not just millennials ditching the concept of working day-in and day-out in an office job that doesn't satisfy them and opting to live a life of adventure on the road. Retirees have been embracing campervan life for many years.

It's not uncommon to see young parents embarking on van journeys with their children, or even middle-aged adults looking to get out of the cookie cutter mold. That's the beauty of the movement – there is no specific age group or demographic.

It is a lifestyle that appeals to many people who want to live a more simplistic life, a life where they can be closer to nature and better able to explore and discover the world.

Where Are These Van Lifers Going?
The Van Life movement has literally crept into every corner of the world. You will typically see higher concentrations of people living the Van Life in beautiful and remote places with plenty of nature, scenic beaches, and forests.

It's not so easy to find spots to park and live out of a van in a city! Places like Western Australia, New Zealand and America's Midwest are a playground for the Van Life demographic.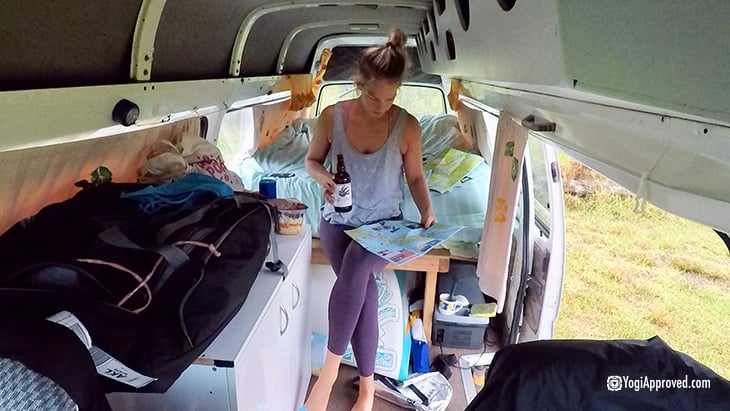 A First-Hand Account of a Van Life Newbie
I'll admit, I've been one of those people who have found myself endlessly scrolling through the thousands of Van Life photos on Instagram, dreaming about embarking on my own van adventure.

But did I really have what it took to live out of a van? Or did I just like the idea of the freedom that came along with it? There was only one way to find out, so recently I decided to test out this Van Life movement first hand.

The Location: New Zealand, North Island
The Van: 2 Berth Nissan Campervan (which I found on Airbnb)
The Plan: To have no plan

Recommended Read: 9 Lust-Worthy Off the Grid Airbnb Rentals For the Perfect Wellness Getaway

Rather than investing in my own van, I found my van, Petal, on Airbnb. She came with everything I thought I could possibly need for a one-week adventure through New Zealand . . . including heaps of space for my paddleboard under the bed. As I arrived, my only real concern was where I would park the van to sleep.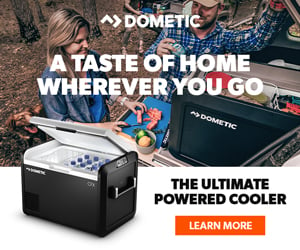 The first night I found a great little park in a beach town just north of Auckland where I could back my van up practically to the beach. There was a bathroom with a cold shower and toilet – I was set! I was feeling very proud of my ability to find this spot (and back my van up in the parking spot!) and set myself up for my first sunset dinner in the van.

I had no WiFi, and was loving the feeling of being completely disconnected and self-sufficient . . . until it got dark. Once the sun disappeared those fears of being in a carpark all alone in this van with all my belongings began to sink in.

I had two other Van Lifers staying just a few parking spots away, but I will admit that first night was a bit tougher than I had imagined. Luckily, waking up to the sun rising over the ocean the next morning made all those fears disappear.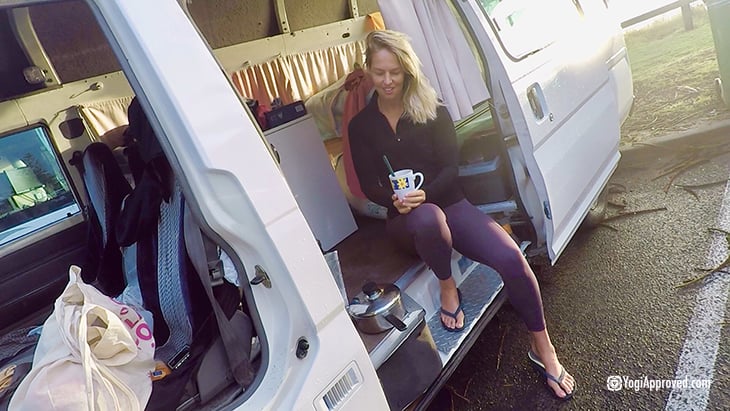 After an amazing breakfast sitting in bed and watching the sun rise and the beach become alive with people, I decided to drive north and see where I ended up. With no map and no plan I spent the day following the coastline and discovering dozens of beautiful beaches and scenic locations to hike and picnic.

I discovered that sharp turns and vans don't go well together – I tipped the contents of the van's kitchen all across the back of the van with silverware, pots, and storage containers flying in every direction.

That night I opted to park in a campsite right on the beach. After paying my $13 entrance fee I pulled into a campervan haven filled with vans of all shapes and sizes. I slept better knowing I was in a gated campsite with dozens of other vans all around.

Embarking on this adventure solo meant that I wasn't too adventurous when it came to cooking. My meals were basic: salads, sandwiches, and cereal for most of the week. Washing the dishes was hard enough using my one fork, knife, and bowl so I didn't want to complicate the process with more cooking utensils.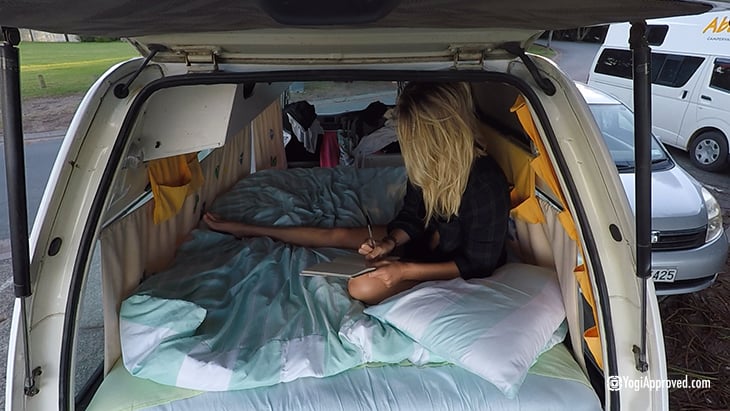 The rest of the week unfolded in the same manner – waking up at sunrise, eating every meal overlooking the ocean, getting lost as I traveled to off-the-beaten-path beaches and forests, exploring the landscape, doing lots of journaling, and sleeping in sync with the sun.

The week tested my ability to be self-reliant, disconnect from my phone, and live without the comforts that I had grown used to at home.

Van Life – The Takeaway
By living out of a van you learn to live with discomfort – something you may not see in the beautiful Van Life Instagram photos. The reality is it's hard to wash your dishes in a van, things move and shift while driving, you get lonely (and sometimes claustrophobic), the van can get extremely hot (or very cold), and it can be scary sleeping alone on the side of the road.

However, connecting with nature, enjoying the simple pleasures in life, and the freedom to focus your life on the things that are most important to you make it 100% worth it.

The biggest thing I learned over my week of living the Van Life was how little I need to be truly happy. I didn't need a house, WiFi, a big closet filled with clothes, or any other materialist belongings. I had all that I needed – the freedom to wake up whenever and wherever I wanted, the ability to reconnect with nature and to be completely self-reliant.

As a 31-year-old homeowner, I would have never imagined myself aspiring to live out of a van. But, through my one-week Van Life experience, I have decided to embrace minimalism to its fullest and embark on a journey (that will include living the Van Life) to reassess and embrace the things that are truly important for me to live a happy, balanced, and free life.

This article has been read 30K+ times. Bada bing!