What's Living On Your Yoga Mat? (Prepare to Be Grossed Out)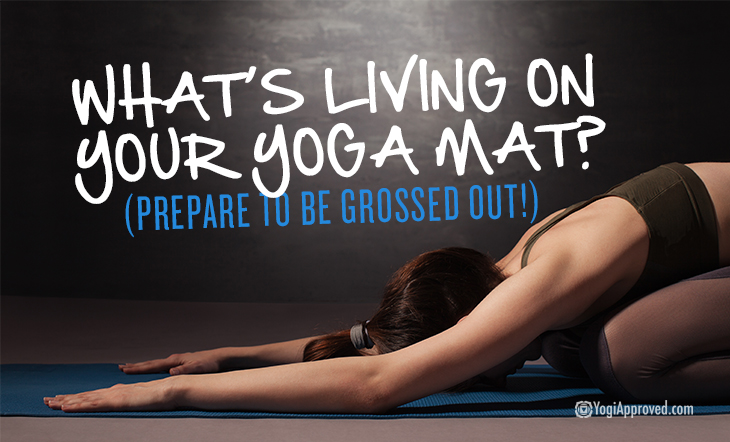 Take a minute to reflect on all the places your yoga mat has been. Odds are you've poured your sweat, tears, and who knows what else onto that thing . . . on a very regular basis. So then, dare I ask, how often do you clean it??

If you're anything like me, the answer is not often enough!

I'll admit that I've taken cleaning my mat for granted. My mat = my germs right? Wrong!

When you roll the mat onto the floor, and roll it up again later, you're rolling whatever mystery goodies (or not-so-goodies) up with it – rolled onto the side that you put your hands and feet and face on too.


Ugh! Starting to get the picture? Well, it gets worse. Let's look at the science behind the ick.

Ready to Find Out What May Be Living On Your Yoga Mat?!

Houston-based ABC13 News conducted a lab test on a series of mats from local gyms and yoga studios. The test (done by swabbing these yoga mats and sending them to a lab) came back with some pretty nasty results.

Warning: it's gross . . .

One mat from a boxing gym had a form of staph on it (excuse me while I go clean my mat RIGHT NOW!!). Staph can be very dangerous, but even its more mild forms can lead to urinary tract infections and more.

Another mat had a high amount of yeast build-up, which is a form of fungus. Certain forms of yeast can lead to wound infections, and yeast grows in warm, moist environments (like yoga studios, hot yoga studios, and gyms).

Finally, the third mat had a 12+ million count of bacteria, including (get ready for it, it's super gross) a fecal indicator, along with other allergens that can cause allergy flare-ups. Yikes!!

Now that we've exposed our invisible yoga mat germ invaders, here are a few ways we can avoid future EWWWW's:
1. The First and Most Obvious: Clean Your Mat Regularly
As if I even need to say it, clean your mat regularly. This means after (most) every use. There are many ways to clean your mat, so choose one that works best for you and your preferences.

Some yoga studios offer a spray bottle cleaning solution you can use before you leave. The cleaning solution can be as simple as equal parts water and rubbing alcohol.

Using disinfectant wipes such as Lysol or Clorox is another option, but be aware that these usually contain harsh chemicals. If you're interested in making your own yoga mat cleaner (and/or if you're a DIY fanatic), you can do it easily enough with a few antimicrobial essential oils and witch hazel with a purified water base.

Want our super simple DIY yoga mat cleaner recipe? Check out How to Make a DIY Yoga Mat Cleaner Spray

2. Go Antimicrobial
Consider buying an antimicrobial closed-cell mat. Many brands offer this design. The Manduka Pro-Lite is a top seller for antimicrobial material with its closed-cell surface that blocks bacteria-causing moisture.

Hugger Mugger makes an antimicrobial, high-performance mat that is really affordable. You should still clean your mat regularly, but using an antimicrobial yoga mat will cut down big time on the nastiness that sticks to your mat.

3. Go Natural
You can also buy at-home products to care for your yoga mat. Mat Renew is an inexpensive mat cleanser made by Manduka. I love it in lavender scent, and they also offer it in lemongrass.

Jo-sha makes all natural yoga mat cleaner wipes, which are easy for on-the-go cleaning. You can also use antibacterial essential oils such as tea tree, eucalyptus, or lemon essential oil.

4. Give Your Yoga Mat a Bath
Certain mats are machine washable. IF you have a sticky or any kind of synthetic mat, feel free to pop it right into your washing machine on the warm and gentle cycle. Otherwise, all rubber or biodegradable mats are better off being soaked in a warm, soapy bath.

I've also known some yogis to throw their mats into the pool (make sure it's your own pool or ask permission first!) for a quick and easy rinse.


The True Importance of Keeping Your Yoga Mat Clean
The moral of the story is that yoga is cleansing for mind and body. Don't contradict the practice by using a nasty, germ-infested, bacteria breeding ground that you call your yoga mat. If writing this story has taught me one thing, it's that I am probably due for a new mat.

It's important to be aware of what's potentially growing on your mat, so you can avoid the nasties before it becomes a serious 12+ million bacteria count issue. Be safe, be aware, and for the sake of innocent yoga mats everywhere, please clean your yoga mat regularly!!!

KEEP CALM AND CLEAN YOUR MAT!
-Namaste
This article has been read 6K+ times. Feelin' the love!