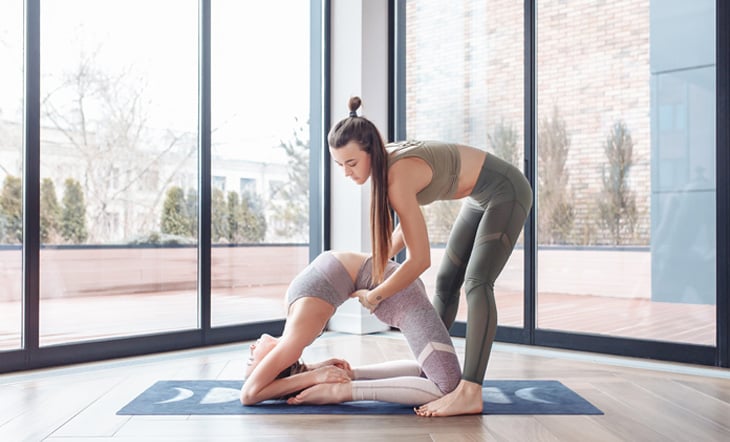 These Are 5 Lessons You Will Learn as a New Yoga Instructor
When you first get your yoga certification and start on the path of teaching yoga, you possess all the knowledge and experience gained during yoga teacher training. However, there are still big lessons for every new yoga instructor.
There is still so much to learn, and that's what makes your new yoga teaching journey so exciting!
Teaching yoga is a true gift. The practice of yoga has endless benefits for both mind and body, and the best part is – you never stop learning and growing. Not only does this statement apply to every yoga student; it also applies to every yoga teacher. Especially, new yoga instructors.
As yoga teachers, we are here to guide students through their practice. And in addition, our teaching influences the way that we ourselves practice yoga.

In addition to guiding others through their practice, teaching yoga teaches us a lot about ourselves.

Like life, yoga is a journey that is not as much about the destination. Sure, we can enjoy the challenge in working towards the full expression of a challenging pose. But the journey of yoga goes much deeper than the physical.
Read on for five key lessons that new yoga teachers learn when they first start out on their teaching journey.
Here Are 5 Lessons You Will Learn As a New Yoga Instructor:
1. Every Teacher Is Incredibly Unique
Just like water droplets and snowflakes, no two bodies are the same and no two yoga teachers are the same. This is a very good thing! Every person brings with them a unique perspective through which they view the world and approach their yoga practice (and teaching).
This uniqueness is something that should be celebrated! We each have special gifts, knowledge, and experience to offer – so let yours shine bright, dearest new yoga teacher!




Some yoga teachers shine brightest through their sequencing, while others are incredible at weaving inspirational stories throughout their classes. Some instructors love teaching workshops and retreats while others thrive best teaching one-on-one.
Certain yoga teachers love offering a huge variety of class formats while some teachers stick to one specific discipline.
Be sure to ask yourself: What's your unique passion that you bring to your yoga teaching? As a new yoga instructor, feel free to explore and try out all the ways to share your gifts.

2. Yoga Is a Journey, Not a Destination
It can be tempting to compare yourself to other yogis, whether you're in a class setting or on social media. Yet one of the most beautiful aspects of yoga is that it is different for everyone – and this includes teachers.
Some teachers want to teach to as many people as possible, or travel to teach in as many different places as possible. Other yoga teachers are content to teach at their local studio to the same small group of students.
Want to Travel the World and Teach Yoga? Here Are 5 Insider Tips From Someone Who's Done It
Regardless of what your ultimate goals with yoga teaching are, this is also part of what makes you as a yoga teacher unique (revisiting #1). Embrace your own unique journey of what yoga teaching means for you, and what you want from teaching.
The best part is that regardless of what motivates you to teach, you – and your teaching – will inevitably evolve over time. And that's a beautiful aspect of your yoga teaching journey!

3. Yoga Will Step Off the Mat and Into Your Life With You
Another incredibly rewarding by-product of teaching yoga? The way it follows you off the mat. Once you begin teaching yoga, you'll realize how the practice informs so much of your life.
If a friend mentions their back hurts, you'll probably reply by guiding them into Childs Pose. If your sister complains about being stressed out, you'll teach her your go-to Pranayama breathing technique.
Want to learn more about Pranayama? Read: Pranayama Explained + 5 Techniques to Get You Started
When a student asks for inspiration or guidance on life, you'll point them to the Yamas and Niyamas.
On a personal level, you're aware that the physical practice of yoga is only the tip of iceberg as you continue your own journey with the Eight Limbs of Yoga and exploring yoga philosophy.


4. Your Teaching and Your Practice Go Hand in Hand
You honestly can't have one without the other! As a new yoga teacher, you will most likely deal with the challenge of balancing time for your personal practice with the added time you now spend teaching yoga.
Do not compromise your personal practice! When your practice gets stale, your teaching will suffer. Inversely, when you maintain a solid and consistent personal practice, your teaching will reflect that in your inspiration, motivation, passion and creativity.
New Yoga Teachers: Follow These 7 Steps For a Successful Yoga Career
Indeed, a yoga teacher's practice is informed by and through their teaching. The way you practice yoga informs the way you teach, and the way you teach yoga in turn influences your personal practice.

5. You Will Find No Shortage of Inspiration as a New Yoga Instructor
From the endless yoga inspiration you can find online and on social media, to the classical texts and impressive amount of teachers you can find online or in person to learn from and study under, there is no shortage of inspiration when it comes to teaching – and practicing – yoga.
If you're interested in learning a new discipline or deepening your knowledge of a certain aspect of yoga, you can seek out this information. There are so many resources for remaining inspired and informed as a yoga instructor.
While continuing education is an important tenant of a strong yoga teacher, it should also be a passionate part of your personal pursuit of continuing your yoga journey as both teacher and student.

Keep your practice fresh with these online yoga classes
YA Classes by YouAligned offers hundreds of online yoga, meditation, and fitness classes for endless inspiration and variety in your practice.

The Takeaway On Being a New Yoga Instructor
Being a new yoga instructor is a beautiful and exciting way of helping people and sharing the practice of yoga. In addition to guiding others through their practice, teaching yoga teaches us a lot about ourselves.
As yoga instructors at any stage in our teaching, it's important to learn from the experiences of other teachers and students and different points in their journey.
Are you a new yoga instructor? Have you been teaching for a long time with more advice to share? Please share your questions or experience in the comments below. We love hearing from you!
This article has been read 744 times. Share it and spread the love!