Why You Should Practice Both Yoga AND Pilates (The Perfect Pair)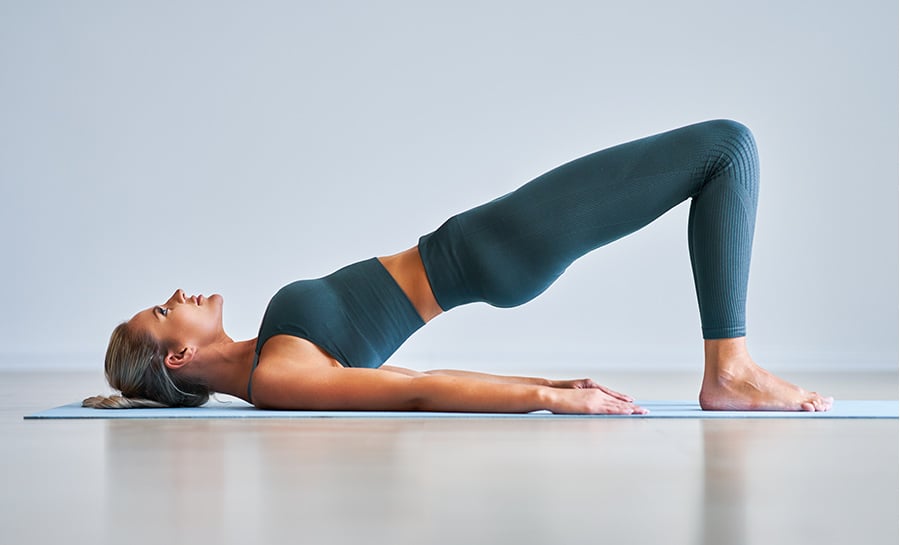 The relationship between yoga and Pilates is an interesting one. As the older of the practices, yoga actually served as part of Josef Pilates' inspiration. However, the interesting bloke was also inspired by boxing, swimming, circus acts, and his own bed springs.
As someone who teaches both Pilates and yoga, I feel judged by both camps. I've noticed that Pilates professionals sometimes judge yogis as being "hippies" who force stretches past their safety point. Yogis judge Pilates classes as being overly focused on repetition, lacking in creativity, and devoid of spiritual connection.
But in my personal practice, education, and teaching, I've experienced surprising benefits when I practice both yoga and Pilates in their more traditional renditions.
What Is Pilates? Here's Your Introductory Guide to the Practice


Here Are 5 Awesome and Unexpected Benefits of Practicing Both Yoga and Pilates Together:
1. You'll Physically Understand the Tie Between Relaxation and Movement
While yoga (mostly) focuses on relaxation from a mindful, spiritual, and meditative perspective, Pilates focuses on relaxation (mostly) on a physical level. Pilates teaches that our bodies habitualize negative tendencies through improper regular movement, like sitting for most the day.
When our bodies are stressed, they're more likely to use those bad movement patterns as the path-of-least-resistance, so to speak. When we are able to relax, we gain the ability to work through those negative tendencies and learn better ones.

2. You Will Learn How to Build Patterns of Movement Into Your Alignment
Any yoga instructor knows that prompting a new yogi to take even a basic standing posture requires a great deal of explanation and probably even more attempts before the correct alignment is found.
If the yogi already has a misaligned skeleton, it can take years to find proper alignment in a pose. By repeating the same movement again and again, continuously cuing proper alignment and adjusting accordingly, Pilates shows us that the body can relearn entire patterns of movement properly.

As someone who teaches both Pilates and yoga, I feel judged by both camps.

I've used this concept in my yoga classes, building yoga poses piece by piece until the class finally unwinds into the full version. When we show yogis how to slowly connect careful patterns of movement, they eventually find the correct full expression with grace and awareness.

3. You Won't Feel So Sore . . .
Feeling sore from a hard yoga practice is one of the weirdest physical ailments I've experienced. It's a peculiar state of being – sore from stretching and strengthening at the same time. I describe it is a very deep muscle fatigue, like the center of my joint is struggling to hold onto the tendons and ligaments around it.
However, since I've become a Pilates instructor I find that I very rarely ache that way. I think it must be because Pilates focuses on strengthening small stabilizer muscles, so I'm less prone to overstretch and more resilient when I do.


4. But, You Will Feel So Strong!
As a yoga instructor, I used to roll my eyes at the Pilates people who said, "Pilates totally transformed my body." How could lifting and lowering your leg two inches a million boring times possibly change your body?
It wasn't until I started an almost-daily Pilates practice that I noticed the difference. And what a difference it made! I felt that my muscles were more secure on my frame. I found myself able to hold yoga poses for longer.

I felt more energized and balanced. My breathing calmed. And my confidence soared


My back rarely ached, my muscles tone increased, my feet shrank and my neck became longer. I felt more energized and balanced. My breathing calmed. And my confidence soared.
10 Mat Pilates Exercises to Build Serious Core Strength

5. You'll Learn New Breathing Techniques
Certain schools of Pilates start each class with a breathing exercise, much like yoga instructors start class with pranayama. While pranayama is about moving energy through the body, Pilates breathwork focuses on bringing awareness to the dynamics of the lung space.
One of my favorite Pilates breathing exercises involves laying on the ground, knees bent, hands on superior ribs, breathing into the back of the lungs and focusing on a "softening of the breastbone."
I really enjoy the way Pilates breathing exercises create an objective view of the breathing process. I've experimented with Pilates breathing exercises on my new yogis and/or those less keen on Sanskrit and spiritualism with great results.


Practicing Yoga and Pilates – The Perfect Combination
As an instructor trained in a variety of group fitness styles, I think one of the best things we can ultimately do for our own bodies is keep them guessing. By incorporating different types of exercises, we'll have greater awareness of how we tend to move.
As instructors, it is so important that we keep our classes fresh, that we're aware of what else is on the market, and that we show one another support, no matter what we're practicing. It's a misaligned world out there; let's stay aware and supportive of each other!
Try These Classes
Need we say more? Here are 10 Compelling Reasons Why You Should Practice Pilates
This article has been read 10K+ times. Bada bing!