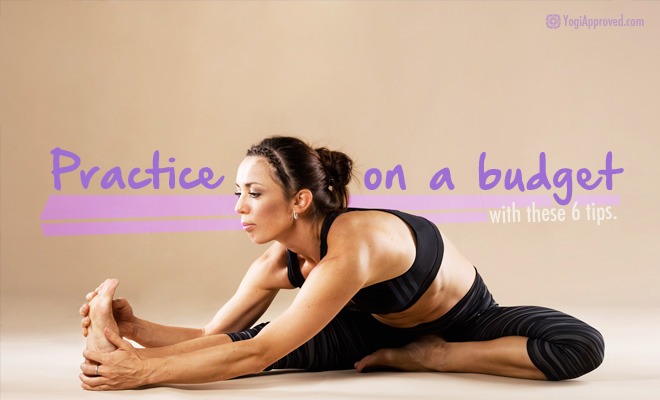 6 Tips for Practicing Yoga on a Budget
Maybe you've had this experience: a new yoga store opens up at your local mall. And judging by the big crowd in the store, it must be popular. You can't wait to check this place out… You walk in… "Oh that's cute." Then it happens… you flip over a few price tags and realize —that's your weekly budget for dining out!

Expensive private studios, clothes and high-priced yoga mats. When you first start practicing yoga, it's easy to be a bit intimidated by what appears to be an expensive enterprise. Can anyone really afford to do this practice on a regular basis? The answer is, absolutely!

Here are 6 tips and tricks for practicing yoga on a budget:

1. Check out classes where you already work out
Your local gym may offer studio classes, including yoga at no additional cost to you. At the very least, they may offer the extra classes at lower fee than you might find at a yoga studio. Your local YMCA, community college or rec center is a great place to look for inexpensive yoga classes.

2. Look for online deals
You may already be a subscriber to money-saving local deal websites. Groupon, Living Social, and many others constantly send emails with amazing offers to try great local yoga studios. Go ahead and try that class across town — the deals are usually worth the drive and you get to experience a new class at a different studio.

3. Subscribe to some yoga YouTube channels
There are tons of great yoga classes on YouTube and best of all, they are free! If you're really penni pinching, skip the yoga studios all together, grab a friend, and practice at home with your favorite YouTube yoga instructor.

Recommended read: 10 Great Yoga YouTube Channels for Free Yoga Videos

4. Shop around for yoga clothing
Although that new store at the mall is super cute, you don't need to break the bank for clothes you're just going to sweat in. Cute and comfortable — yes. But for regular classes, most of us don't need something that's going to last forever or cost a fortune. Almost all your favorite clothing retailers offer a fitness/workout line. Even stores with stylish and well-priced items like H&M and Forever 21 have active wear at amazing prices. You can find quality, affordable yoga tops from places like Old Navy, Kohl's, TJ Maxx and Target. Target actually has some great yoga pants.


;
5. Shop online. You can find almost anything on Amazon
You can purchase yoga mats, mat bags, organic yoga mat spray and unique clothing that you won't find in most retailers, and the prices are often better too. Type in a search and you'll be amazed at what you can find. Another site you might not associate with yoga gear is Etsy — not only are many of their items well priced, they are also handmade so you can feel good about supporting someone's work. Plus you get a unique piece of clothing you won't find in stores.

6. Get alerts
Sign up for emails from your favorite local studios, or even ones you haven't tried yet. Like them on Facebook too (you can always unfollow/unsubscribe if it turns out it's not your cup of tea). Go to studios you haven't been to before—yoga studios usually offer an introductory rate for first-time students. Also, be on the lookout for new studios. Usually, they will offer great discounts to students when they first open.

The best part about yoga is it really is for everyone. That being said, it should be accessible to anyone on any budget! You can practice on a dime and still reap all the amazing benefits that yoga has to offer.

If you have any suggestions for practicing yoga on a budget please share them with us in the comments below.
This article has been read 2K+ times. Feelin' the love!