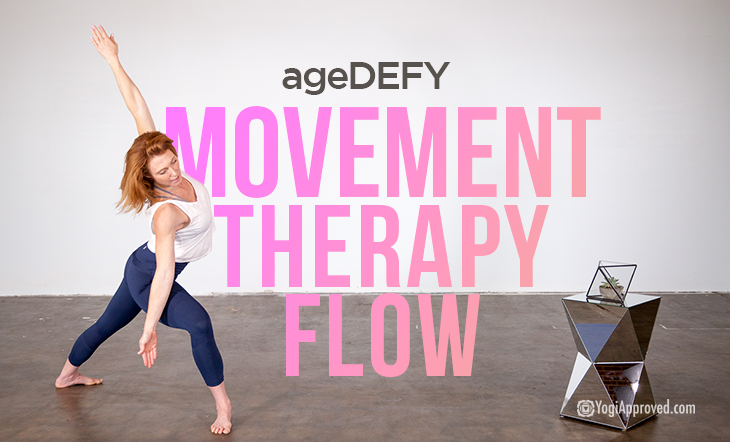 Stay Feeling Young with This AgeDEFY Movement Therapy Beginner Flow (Free Class)
As Joseph Pilates said, "If at the age of 30 you are stiff and out of shape, you are old. If at 60 you are supple and strong then you are young." When the body feels good, you feel good. When you feel good, you do good. When you do good, you live good. This is AgeDEFY Movement Therapy.

AgeDEFY Movement Therapy was developed by Dawnelle Arthur, a renowned yoga and fitness instructor who faced a debilitating injury and created this movement system to recover.

Movement Therapy is fluid movement to prevent injury, stay mobile, and keep the body young and mobile by using movement as medicine.

Who Can Benefit From Movement Therapy?
Everyone can benefit from movement therapy. You don't need to be old, injured, or at any certain level in your current fitness regimen. AgeDEFY Movement Therapy is for all ages, all backgrounds, and all levels.

If you feel older than your age, AgeDEFY is for you. Youth isn't the absence of wrinkles, not the gray in your hair, and not the number of your years. Youth is how young you feel and how mobile your body is.

It's never too late to get your youth back. AgeDEFY is perfect for the aging athlete, injured yogis, and anyone who suffers from chronic pain and stiffness and/or feels older than their age.

The more you move, the healthier you become and the younger you feel.

Why Was AgeDEFY Movement Therapy Created?
AgeDEFY Movement Therapy was developed by yoga and fitness guru Dawnelle Arthur after a devastating hip injury. At age 42, she was told she needed a hip replacement. The MRI results showed a massive acetabular cyst inside her hip joint, torn labrum, bone edema, grade three arthritis, bone spurs . . . you name it, she had it.

After many months spent feeling depressed and helpless that her teaching career and active lifestyle might be over, she decided she wasn't going to accept a hip replacement as her only option.

Dawnelle shares how ". . . the news of my hip devastated me. I spent three months depressed, barely able to move, in 24/7 pain, lost in my sadness, thinking my life as a yoga teacher was over.

My hip injury forced me to become creative and courageous in my movement practice. I stopped doing yoga and started using movement as my medicine."

Prevent Injuries, Increase Mobility, and Stay Physically Young With Movement Therapy
So where is Dawnelle now? "Two years after that MRI, at the age of 44, I am a better mover today and, even though I still experience pain, I'm stronger and more agile than ever!

Being forced off my yoga mat was one of the best things to happen to me and now I'm ready to help people of all ages to feel young again by using movement as medicine."

AgeDEFY is movement health and injury prevention wrapped up into one fluid and non-stop movement practice. New movement new results. It's never too late to get your life back.

Move young to live young with AgeDEFY Movement Therapy.

Enjoy this Movement Therapy AgeDEFY Beginner Flow
Never miss a FREE class. SUBSCRIBE HERE

This article and all included information is not intended as medical advice and does not treat or diagnose. Please consult your doctor for any health-related questions or concerns.

This article has been read 8K+ times. Feelin' the love!

YouAligned
YouAligned is an online yoga, health and wellness publication for your life on and off the mat. We are here to help you live happier, healthier, more fulfilled lives. Yoga is our passion. Your healthy lifestyle is our obsession!
You may also enjoy

In 2018, "wellness" will broaden to include mental and spiritual wellness in addition to physical wellness. Read all of the trends here.
Morgan Casavant