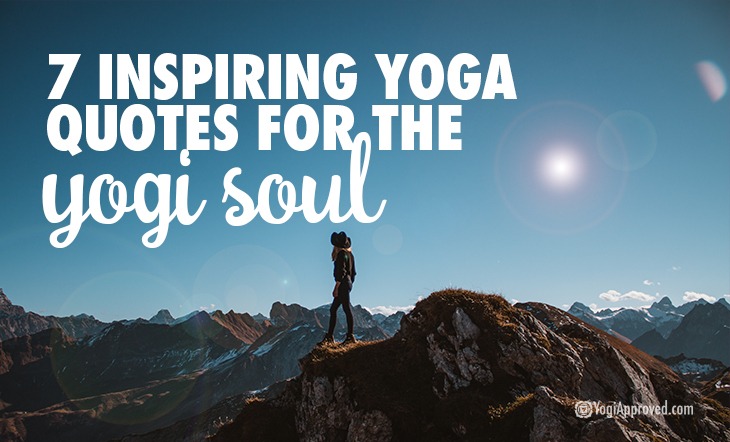 7 Inspiring Yoga Quotes for the Yogi Soul
Our yoga practice carries an omnipresent energy that is here to serve you daily. Through the practice emerges peace, tranquility and meaningful inner dialogue.

Yoga and inspiration work simultaneously with one another! It is an enlightening experience to practice yoga while reflecting on words of wisdom that you hold dear to your soul. That's why yoga teachers will often open with a quote or mantra, or invite you to set an intention of your own to add more depth to your practice. Quotes are empowering and add a dose of positivity to your day.

Here are seven thought-provoking yoga quotes that will inspire you and center you in gratitude:
"Yoga is the journey of the self, through the self, to the self." -The Bhagavad Gita

When you stand on your yoga mat, you feel spirit come forward. That is the gift of yoga – it is a realization that you are giving yourself time and self-love. Yoga is a practice of self-acceptance and self-awareness. With the dynamic force of breath and posture, you gain strength and perseverance.

The Bhagavad Gita is an excellent source of life insight and wisdom for the journey to back to yourself.


"You have to grow from the inside out. None can teach you, none can make you spiritual. There is no other teacher but your own soul." -Swami Vivekananda

This Swami Vivekananda quote illustrates how yoga is an individual practice and is here to guide you internally. It forces you to go within and delve into the layers of who you are. You have to face yourself, and when you do, the good, bad and at times suffering will emerge.

All growth comes from within, and external happiness is momentary while inner peace is lifelong. The spiritual path is one that is challenging, but is worth every lesson along the way.


"Travel light, live light, spread the light, be the light." -Yogi Bhajan

Yogi Bhajan's inspirational quote makes us remember that we are all the light, and each of us carries a vibration and uniqueness that no one else has in this world. This is your sacredness, and you should honor it always. The light you carry within is a gift, and that gift is meant to be shared with others. This, my friends, is the concept of namaste and of yoga as a whole.


"Yoga allows you to rediscover a sense of wholeness in your life, where you do not feel like you are constantly trying to fit broken pieces together." -B.K.S. Iyengar

When we have a steady yoga practice, it carries us through life's challenges. Through these challenges, we realize that obstacles are here to foster our individual evolution. B.K.S Iyengar beautifully reiterates that yoga brings you back to the "wholeness in your life."

There will be times when your faith will be questioned, but stay grounded because you know the way. The broken pieces are here to serve a higher purpose. Remember that at the core, you are divine and continuously rediscovering yourself.


"Yoga is about clearing away whatever is in us that prevents our living in the most full and whole way." -Cybele Tomlinson

The quote goes on to say, "With yoga, we become aware of how and where we are restricted – in body, mind, and heart – and how gradually to open and release these blockages. As these blockages are cleared, our energy is freed. We start to feel more harmonious, more at one with ourselves. Our lives begin to flow – or we begin to flow more in our lives."

Yoga has a dynamic healing effect on the mind, body and soul, and breaks through any barriers within you. You are clearing stagnant energy and limitations that no longer serve your purpose.


"The yoga postures and breath are tools to rebuild and transform ourselves. The goal is not to tie ourselves in knots – we're already tied in knots. The aim is to untie the knots in our heart. The aim is to unite with the ultimate, loving, and peaceful power of the universe." -Max Strom

Many of us have a story in our lives that we have accepted. At any given moment we are able to change that story and release the old programming. The aim is to strengthen our hearts and let go of the past.

Once we surrender, we align ourselves with the universe and allow a multitude of serendipitous experiences to occur. Always remember the universe is working for you! Yoga helps to rebuild ourselves and strengthen parts of our being.


"You are what you want to become. Why search anymore? You are a wonderful manifestation. The whole universe has come together to make your existence possible. There is nothing that is not you." -Thich Nhat Hanh

This last quote can be a mantra that you recite each day! It is so encouraging and uplifting to know that you possess the universe within your soul. The search is not beyond, but within you. Thich Nhat Hanh gives us a beautiful reminder that we have all the determination, perseverance and love to persevere and achieve our highest potential.


Yoga brings fulfillment to your life. When we hear these quotes, it adds another layer of contentment to your individual yoga practice. These quotes are here to remind of you what you already know -that you have the light, the power, and the peace within.

This article has been read 20K+ times. Bada bing!