Tarotscopes: Here's Your Tarot Card Reading for All November Horoscopes
Tarotscopes combine a tarot card reading with a horoscope reading to provide insight for what's in store for you this month based on your zodiac sign.
This month it is Scorpio season! This article will give you your November horoscope, as we dive into a tarot card reading for each astrological sign.
As we enter a new month, it is so important to create an intention as a way to stay connected to your goals and vision for what you want to accomplish, how you want to feel, and how you want to show up for yourself.

Scorpio energy is connected to transformation and the depths of our subconscious – it is certainly an intense and intuitive water sign!

Just as I remind my clients, when it comes to monthly tarot pulls or intentions, this one card can prepare you for deeper self-reflection, more mindful interactions and experiences, and a truly inspired month!
Tarot card readings provide simple yet powerful clarity – and that's exactly what this November Tarotscope will do for you, so keep reading!
My go-to tarot card decks are the Wild Unknown by Kim Krans, and the traditional Rider Waite.
As a tarot card reader, I always recommend choosing your own deck based on the imagery. If you are drawn to it and find it visually appealing, the tarot deck will intuitively speak to you!
Interested in learning more? Here's Everything You Need to Know About Tarot Cards


Tarotscopes: Here's Your November Horoscope With a Tarot Card Reading!
As we entered into Scorpio season, I asked the tarot cards what's in store for each zodiac sign. Scorpio energy is connected to transformation and the depths of our subconscious – it is certainly an intense and intuitive water sign!

Tarot card readings provide simple yet powerful clarity – and that's exactly what this November Tarotscope will do for you!

Decide this month if your intention relates to sacred and deep energetic healing, or following your intuition more closely to accomplish your goals and chase your passions!
Here is your November horoscope, along with the lessons you can anticipate for this month ahead.
Your Complete Guide to Scorpio Zodiac Sign + 6 Balance Yoga Poses for This Air Sign

Aries: 4 of Wands
The month of November might feel like quite the party, Aries!
No stranger to the fire element, the four of wands card predicts milestones (think engagements, childbirth, weddings, promotions, etc), as well as shared celebration with others.
Expect to feel most joyful this month when you are with others you love, celebrating the richness of life.
Practice: Joy and celebration. While the weight of the current world might make us feel less than inclined to celebrate, Aries, allow this flow of positive energy and the shared experiences you're being called to refill and refuel you so you can prepare for a more abundant, beautiful, and supported 2021.

Taurus: The Star
You're being called to independent healing this month, Taurus.
The star speaks to renewed hope after very difficult times, but also a creative energy and independence that is uniquely your own – this card is ruled by Aquarius, a sign that's no stranger to oddness and individuality.
Commit to some kind of healing practice that feels creative and unique in nature. And use this expression as a way of mending a past hurt, trauma, or negative experience you had this year.
Practice: Creative expression. Whether it's journaling, art, dance, or another form of creativity, feel into your imagination with the intention of deeper healing and a renewed sense of faith in your story and journey.
And don't stress about sharing your work – this practice can be just for you!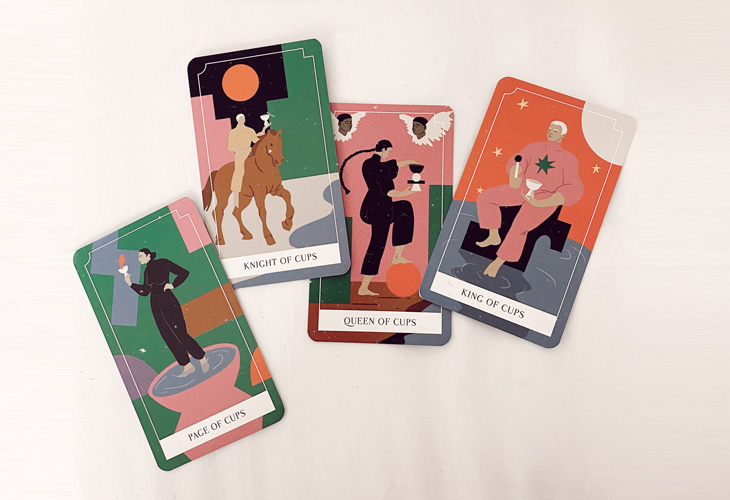 Gemini: 7 of Pentacles
Gemini, you might be feeling tired the month of November, and unsure of when all your efforts will begin to pay off.
Rather than fester in impatience, use this month as a way to reset and reconnect to what's been aligning and what is no longer working, particularly in your career, routines, and home.
The seven of pentacles is a card of contemplation with the goal of reinvigorating our passion and dedication to the cycle we're working through, so use this energy in November, setting your routines and work life right before the new year!
Practice: A good old pros and cons list. If an area of your life is feeling less than ideal, write through and contemplate where and what no longer has a space in your day-to-day.

Cancer: 8 of Swords
This is the month you STOP saying the word "can't", Cancer. 8 of swords is all about getting out of your head, combatting victim mentality, and progressing from a place of heart-led action.
Say YES this month – even when it's uncomfortable – and rely most on action rather than overthinking.
Practice: High-energy workouts to invite in masculine energy and get yourself moving and grooving!
Take the Yoga HIIT Online Yoga Class
The Yoga HIIT class with Katie Kasten on YA Classes is perfect for you this month, Cancer!
Yoga Class
With Katie Kasten
Leo: 10 of Cups
The ten of cups is a beautiful card of bliss, harmony, and complete emotional fulfilment. Expect a beautiful and effortless month, particularly in your relationships, Leo.
Remember: when the energy is this high and positive, your cup runneth over to those around us. Set the intention of your high vibration spilling into the lives of those you interact with through smiles, compassion, and sensitivity if they aren't feeling the same love!
Practice: Heart-opening to let the good vibes create a ripple effect! Whether this is by practicing heart-opening yoga poses, doing Heart Chakra work, or even using a healing crystal that helps open the Heart Chakra, give some extra love to yourself so you can then spread that love around!
Read: Balance Your Chakras Using This Guide to Healing Crystals for Each Chakra

Virgo: 6 of Pentacles
Virgo, you are capable of handling just about anything. And with organization of course!
The 6 of pentacles card arrives when generosity and support are around the corner. While the pentacle's suit connects to the earth element, this could be financial support or an offering of the tangible but for many Virgo's this month could bring a supportive healer, mentor, or spiritual teacher to your life.
Want to tap in more to your earth element and get grounded? These 4 Yoga Poses Will Connect You With Your Earth Element
Look out for subtle signs, warm energies, and be open to receive the help you deserve.
Practice: Seek a mentor, teacher, or spiritual leader that resonates with the growth and path you're on! Be open to their healing, loving and compassionate nature.

Libra: King of Wands
Libra, your season may have wrapped up but November brings plenty of powerful energy your way.
In case you missed it, read last month's Libra season Tarotscope here!
As the leaders and authorities of the tarot, Kings are all about making choices, taking firm and clear action, and stepping into leadership roles.
The King of Wands is one whose passions, charisma and charm lead the pack. He's quite entrepreneurial in nature – a true visionary. Let your passions be what fuels you to step up and be of service, perhaps even finding yourself in a greater role of leadership this month.
Practice: Take initiative. At work, home, or in personal relationships, emphasize your confidence and truth this month by taking initiative and empowering yourself and others to have expansive conversations, set lofty goals, and work toward your greatest passions.

Scorpio: The Hermit
While it's your month to be celebrated, your November horoscope says you might find yourself craving solitude, Scorpio.
As a deep and introspective zodiac sign, strike a balance this month between birthday celebrations and boundaries with your energy and time. Allow space for very quiet reflection, knowing it could bring forward some truths or clarity you couldn't quite discover the months prior.
Practice: Take a day off, or a day of silence, commit to a social media detox – go inward!
Insta Anxiety? Complete This Social Media Cleanse In 4 Painless Steps

Sagittarius: Page of Wands
There's a chance this month that your world gets slightly turned upside down Sagittarius Sagittarius, and it will feel exhilarating and exciting for your freedom and adventure-loving soul.
The page of wands brings an urgent message of creative opportunity or a passionate calling. While the fire element is represented by the wands, expect to feel lit up and thrilled to explore a new place, perspective, or idea.
Practice: Get out of your comfort zone, move your body, travel (or make travel plans), seek new knowledge!

Capricorn: Ace of Pentacles
A card that any Capricorn would be excited to see, the ace of pentacles marks a new cycle in manifestation, work, career and abundance.
The universe is gifting you something this month, Capricorn – so be on the lookout for a new opportunity – particularly in your work, home or health. This fresh ace energy will feel like a gift – one you've earned!
Practice: Practice manifestation. Whether you perform a moon ritual, write down (with as much detail as possible) that which you seek to manifest, or even take a yoga class themed on manifestation, do something to boost this special manifestation energy of this month's tarotscope.
Take the Manifest Online Yoga Class!
Take a powerful yoga flow based around manifestation with Ashton August on YA Classes!
Yoga Class
With Ashton August
Aquarius: 8 of Pentacles
Aquarius, I wish I could say that your November horoscope is one of celebration, fun, or adventure but it looks to be much more focused on hustle, dedication and true work ethic.
Perhaps the last couple months have presented new expansive ways of thinking, or a change in your work, home or love life. Expect this month to be less emotional and more about working hard to reach your goals and stay committed to your responsibilities.
Practice:: Establish a steady routine! Following a structured routine will serve you immensely, as this month's tarot card reading is all about focusing on drive, productivity, and forward progression.
This Is Your Best Morning Routine, Broken Into 5 Fun Steps

Pisces: The Lovers
Pisces, the lovers is a major arcana that truly holds two distinct meanings.
The lovers tarot card asks us to reflect on either our soul connections and the divine relationships we've nurtured, or the choices and decisions we've made – as this tarot card deeply relates to aligned decisions and choices that will benefit your spiritual evolution.
Your November tarotscope is asking you to decide which theme resonates more with you and then enjoy the ease and flow you're either finding due to prioritizing yourself in your decisions, or the beautiful, safe and secure relationships you've fostered.
Practice: Soul connection! Make time for undivided attention and true quality time with the people in your life this month, Pisces.


Your Tarot Card Reading and November Horoscope: A Final Word
Regardless of your astrological sign, this November tarotscope brings a beautiful month of deep energetic healing, spiritual evolution and releasing subconscious patterns amongst all 12 zodiac signs!
In addition to what your particular horoscope and tarot card reading revealed for you, all signs in the zodiac can live by these final words:
Move mindfully through this month, stay on your path through living intentionally each day, and trust that you are in the flow and supported throughout your journey!
Happy November and Scorpio season, all! Sending love and light throughout the month!
Have questions about your tarot card reading, or tarotscopes in general? Do you already have a tarot practice? Please share in the comments below – we love hearing from you!
Interested in expanding your knowledge of tarot card reading? Join Kate in her (FULL) Circle 8-week online course that covers the basics of reading tarot in a grounded and approachable way. The course consists of 5 tarot workshops led by Kate. YouAligned readers receive $50 off using code: YOGIAPPROVED50
This article has been read 1K+ times. Feelin' the love!