Add Tarot Cards to Your Morning Routine For a Boost of Clarity, Guidance, and Reflection (Here's How)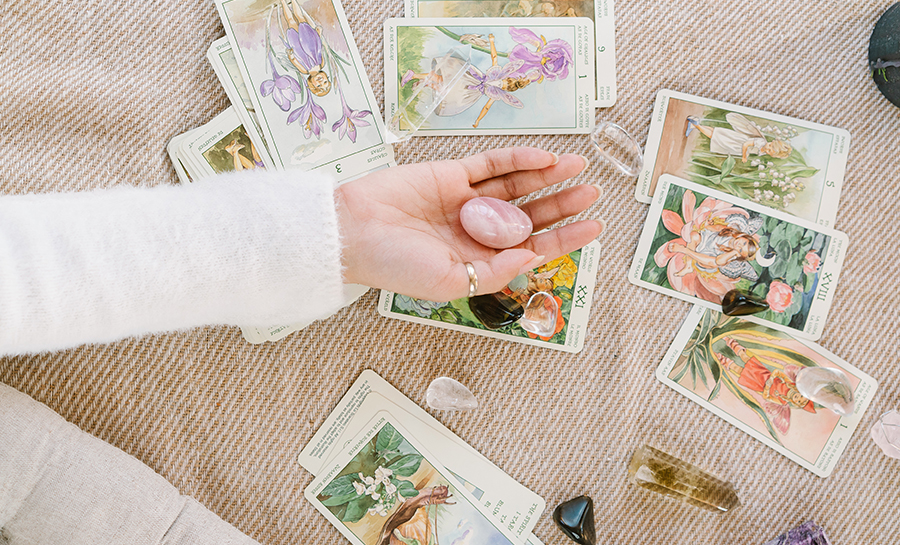 Tarot cards have been around for centuries, but recently they've gained popularity as a tool for spiritual guidance.
Tarot cards provide clarity, guidance, and an opportunity for reflection. For many, doing a daily tarot card reading is a ritual for grounding and presence.
Here's Everything You Need to Know About Tarot Cards
Whether it's your morning cup of coffee or taking time to meditate before you get ready for work, there's a good chance you already have an established morning routine. Yet these daily rituals you perform create a sense of consistency that can easily be disrupted by unexpected events. . .
Enter: a tarot card ritual that helps slow down your morning routine so it's more ritualized and less rushed.


Why Tarot Cards Are a Powerful Addition to Your Morning Routine
Adding a more mindful and introspective exercise like tarot card pulling into your morning routine can reestablish a sense of stability when things get shaken up.
Plus, centering your energy and focus on the activity at hand may just bring you the peace that your morning routine has been missing.
This Morning Routine Will Set You Up for Success Each and Every Day
Tarot cards are considered a physical form of divination, meaning that they work as a tool to help you communicate with the divine. AKA your higher self. Tarot cards present a daily practice that allows you an opportunity to reflect.
While rushing out the door might feel easier than attempting to maintain your morning routine, there are many benefits to keeping one in place. And a daily tarot card pull is a great place to start!


Follow These Steps to Complete Your Tarot Card Morning Routine:
Tarot-pulling is suitable for anyone and everyone. Being highly spiritual (or spiritual at all) is not a requirement. So, read on to discover this powerful method of connecting to yourself and your intuition.

1. Wake Up Early
Waking up early is an easy way to enjoy a few quiet, dimly lit moments alone.




In effect, you'll feel more accomplished before noon strikes and you'll be able to separate your workday from your alone time more effectively.

Get Cozy
You'll most likely still be in your pajamas at this point, but either way, make sure you're in something comfy and warm before moving on to the next step.

Prepare Your Morning Cuppa
The ritual of nursing a delicious, energy-inducing bevvy in the wee hours of the morning is about as old as they come. Whether its coffee or another healthy, invigorating stimulant like matcha, concoct your favorite hot-one before performing this tarot ritual.

Set the Mood
Creating an atmosphere that matches the way you feel and makes you feel safe while opening yourself up to vulnerability is key here.
Light some candles, spark up some incense, lay out a furry blanket and scatter some crystals for positive energy. Maybe take your practice outside! Whatever kind of scene you end up with, construct it intuitively.

Stretch It Out
Loosen up! Making sure your body feels lax before sitting up straight for a while is important. Besides, moving your body first thing is the morning is one of the best ways to awaken from the inside out, eliminate stress, and twist out toxins.
Have you tried Morning Flows With Alba Avella on YA Classes? Practice a unique online yoga flow for each day of the week

Grab Your Tarot Card Deck and a Journal
If you have more than one deck of tarot cards, grab the one that appeals to you most and a journal to write in. Then take a comfortable seat.

Take a Deep Breath
Inhale and exhale as many times as you need to in order to clear your mind before you pull a card. Connecting to your breath before performing a morning tarot ritual brings you back down to earth; grounding you and centering your mindset so you can focus.
In order to get the most out of a pulling ritual like this one, you can't expect to receive guidance from the cards if you're distracted with things that are out of your control in the present moment.


Shuffle Your Deck. . .
. . . And stop when you feel ready. Your intuition will speak to you here. Listen to it. Picture it this way: the cards are already guiding you in this step!
Whatever card you end up choosing is one that you needed to see, even though it might not seem like it upon pulling from your deck. Stop when you feel that you've done enough shuffling, whether you felt a nudge to or not.

Pull Your Card
Some of the same rules apply to pulling cards as they do to shuffling them: stop when you feel you should and then pull your card.
Trust that the guidance on this card is what you need to hear today, even if you're not sure of the meaning at first. There's no pulling another card once you've picked one up from your deck – confront whatever comes up as a result of the card you chose. Take your time and let the card guide you into clarity and reflection.

Reflect and Then Write About It
Get (extra) creative in this step. Feel free to decorate the pages of your journal. Express yourself! Ask yourself questions, reflect on the answers, and then journal whatever comes to mind.
You can use this time to write everything that comes to mind, or focus specifically on the card and how it relates to your intention for the delay. Stop writing when there's nothing else left in you.


Remember This With Tarot Cards and Morning Routines: You Get In What You Put Out
From personal experience, becoming completely honest about your thoughts and feelings is one of the most freeing acts of kindness you can grant yourself. It's painless to convince yourself of something rather than admit you're wrong.
Fortunately, the more you practice this way of communication with your true spirit, you won't have to assure yourself of anything anymore. Tarot cards can guide you in the right direction when you are able to listen to what they unearth.
And for what it's worth, incorporating this tarot card ritual into your morning routine isn't an effortless act. Facing and digesting whatever comes up in the deck isn't always going to be easy, and it takes work to stay dedicated to an everyday practice like this one.
But on the flip side, it's another way of showing up for yourself and slowing things down when the rest of the world is moving faster than ever.
Do you have a morning practice for self-reflection? Have you tried this one? Let us know in the comments below – we love hearing from you!

This article has been read 5K+ times. Feelin' the love!