Bored on Zoom? Make Quarantine Video Chats More Fun With These 10 Activities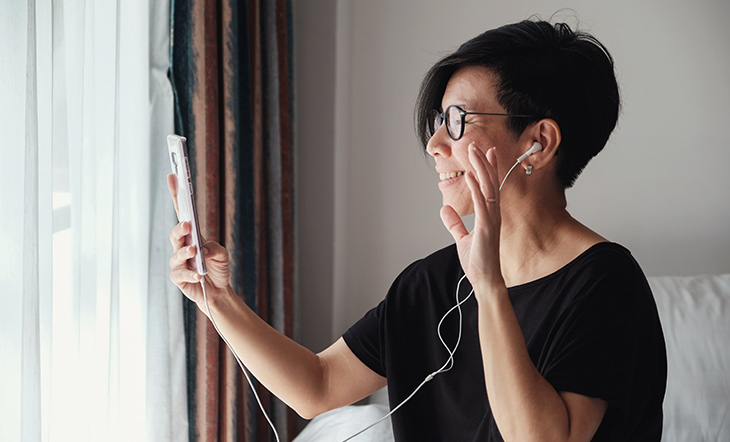 The COVID-19 quarantine has a lot of us craving human connection. Video chat is fun, but let's face it: the novelty of it starts to wear off after a few weeks. If you're bored of chatting from your couch, you're not alone. But there are social distancing games you can play while chatting!
For the people who are lucky enough to be able to stay safe at home or who have family too far away to do a drive-by visit (six plus feet away, of course!), video chats might be the only possible way to connect right now.
Instead of joining a group video chat with so many people that it's impossible to have a real conversation or talking about your day at home yet again, plan some of these uplifting activities and social distancing games that will give you something to look forward to and are sure to make you smile.
Need more than just video chats? Here are 6 Ways to Stay Positive and Support Your Mental Health During the Coronavirus Pandemic


Try These 10 Fun Activities and Social Distancing Games to Infuse Excitement Into Your Video Chats With Loved Ones:
1. Teach Each Other Something
You know that friend who makes the most beautiful, delicious meals? The one you go to every time you need cooking advice (or are hungry)? Ask for a virtual lesson in cooking your favorite dish!
Are you great at calligraphy? Organizing? Meditation? Finances? Dancing? Decide what each of you want to learn and then teach each other your best tips. Everyone has a talent – now's the perfect time to share them!


2. Dress Up for Dinner Together
Just because you're stuck at home doesn't mean you can't get dressed up! Instead of a lazy couch chat, set a time to "meet" for dinner and wear your favorite fancy outfit you've been missing.
Throw some candles on the table if you want to go crazy. Or, skip the fancy clothes and get wild. If you have kids (or not!), a "funny hat" theme or old Halloween costumes are good for some laughs!

3. Do Yoga Together
Our favorite activity – even Harvard Medical School agrees it's perfect for stress relief!
If you're someone who prefers yoga with other people, screen share an online yoga class (screen sharing works great on Zoom!) or listen to the audio together as you flow.
Even though you might not be chatting during the class, setting a yoga date with a friend can be great for decreasing feelings of loneliness. (Not to mention it will hold you accountable!)
Bonus tip: grab a snack together afterwards!
Need some ideas? Here are 6 Calming Online Yoga Classes to Take During Quarantine

4. Try Some Trivia
Quiz Up is a fun, free website where you can select from a variety of topics and play trivia with a group. This works best on a computer – align your video chat and trivia windows so you can see your friends and the game at the same time.

5. Make a List
Come prepared to share your bucket lists or take turns naming things to do and places to go together as soon as you're able.
What activities are you missing most right now? (Make sure someone writes them down!) You'll never have the "no, you pick!" argument again. Well, at least not for a while.

6. Play Pictionary
Skribblio is a free pictionary-style game played with two plus people. Create a private room, invite your friends via the personalized link, and put the video chat and Skribblio windows side-by-side.
The game will give you a word to draw and your friends will guess. Rack up the most points to win!

7. Cook a Meal Together
Agree on a recipe and bring your video chat to the kitchen!
May we recommend this Mouthwatering Vegan Buddha Bowl With Quinoa and Sweet Potato (Recipe)
Have one person read the instructions aloud as everyone cooks or bakes together. Do a taste test together and give the recipe a one to 10 score when you're done!

8. Play a Card Game
This free website offers a variety of games like go fish, euchre, and checkers as well as the ability to play any 52-card game of your choice. There's a ton of variety!

9. Play Heads Up
The Houseparty app offers fun entertainment options like Heads Up, a game in which participants give clues to help each other guess a specific word. Play it with up to eight people via video chat!


10. Play Charades
This classic game involves acting out a word without speaking for others to guess. Try a topic generator or just come up with your own ideas!


Use These These Social Distancing Game Ideas to Keep Your Video Chats Fun and Fresh
By laughing, sharing, and spending quality time with your loved ones, you can restore that missing feeling of human connection and help relieve any stress you may be feeling during the COVID-19 quarantine.
Even though you're physically apart, you can still create joyful new memories to reflect on in the years to come. Have fun suggestions of your own? Share them in the comments below!
Need additional stress management techniques? Try these 10 Instant Stress Busters You Can Turn to When Stress Strikes (According to Science)
This article has been read 250 times. Share it and spread the love!
6 Ways to Stay Positive and Support Your Mental Health During the Coronavirus Pandemic
If you're looking for how to stay positive during the coronavirus pandemic, the good news is your mental health is in your hands. Use these 6 tips.
Read »

Kara Beussink is a writer, runner, and proud University of Kansas graduate in New Jersey (but has called seven different states home!). She writes with the goal of empowering others to pursue their own healthy lifestyle and is a passionate advocate for maternal health issues. Follow her journey at KaraRuns.com!