Learn How to Create a Vision Board and Manifest Your Dreams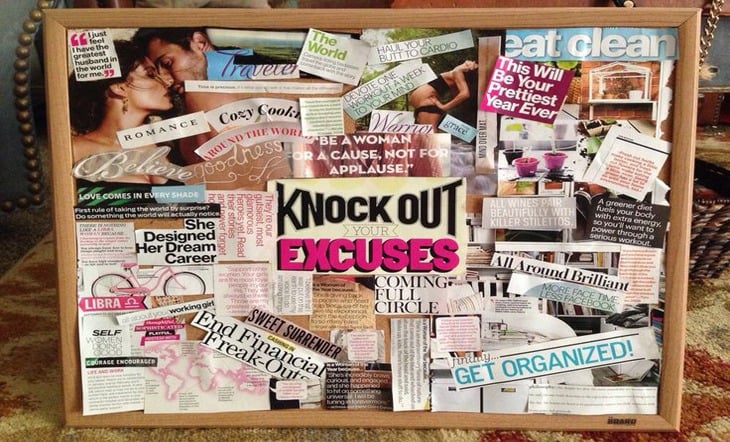 The Law of Attraction is a real thing and it's a simple concept: like attracts like. What you focus on, you attract. Enter the powerful tool of creating a vision board to manifest your dreams!
A vision board is essentially a collage but with a deeper meaning and impact. When you create a vision board, you gather images that symbolize whatever it is you want to bring into reality – a new job, a new house, your ideal partner – anything!

The power in having a vision board is that you continue to look at and envision what you're manifesting. Through repetition, you begin attracting these things into your life.

"That which you are seeking is causing you to seek." -Rumi
Creating a vision board is a potent ritual where heart, mind and imagination go to art class. This is your opportunity to get clear on what you want and to help bring these things into your reality.

If you're new to this concept, or are curious to hear about my experience creating a vision board, I share my story of what a vision board helped me manifest below. Then we'll jump into how you can create a vision board of your own.

My Vision Board Story
One day several years ago while wandering Manhattan I spotted a postcard that immediately grabbed me. It featured a scenic city street, all fire-escapes, graffiti, a community garden. Something about that photo resonated. I bought it for a quarter, went home and taped it on the wall of my cramped Greenwich Village shoebox apartment with a half-partition dividing my space from my roommates: a couple and their rabbit, Morrissey. 

When I'd first moved in, I loved the place. Eventually, though, it became hard to write late into the night with my roommate's TV blaring and Morrissey, cute as he was, didn't smell good. We were all on top of each other; I'm sure I was annoying, too. Meanwhile, the postcard stayed on the wall of my bedroom next to the exposed heat pipe. Pigeons serenaded nightly.

Vision boards help us set our intentions with images

Three weeks later I spotted an ad on Craigslist for a below-market, rent stabilized studio nearby. When I went to check it out I was shocked: the apartment was in the middle of the same block pictured on my postcard. Somehow I had summoned my new home.



I moved in, and that apartment was in my life for the next 7 years. It afforded me a stable landing pad during my 20s. I had the space I needed to myself. I kept the postcard. It worked to remind me of the power of visual intention.

If that postcard helped me find and feel at home it's not because I sat around each night staring at it, trying to frustratedly will it into being. I wasn't walking around the city trying to match up the photo with an actual block. 

It's because I noticed what I was drawn to and hung it up, front and center. This was a way to dream. I brought to the forefront of my mind what my spirit was longing for. Then, I let go of the desire and just went on with the day-to-day.

Now whenever I'm feeling stuck I try two things: make space (that can mean cleaning out a closet, opening my palms, or letting go of old habits) and visualize (dreaming, with exactness – not worry – for what it is I wish for).


Now It's Time For Your Vision Board Story
Rather than wait for chance to bring a postcard of what you want across your path, create your own future. Vision boards allow us to use images to set our intentions. 

You can use a bulletin board, the wall, a notebook or a cool site like Pinterest to create your collage. The trick is you can't get super fixed on what it is you want.  Just like in physical yoga practice, the idea is to do the work, and then let go of the results.
"Abandon all attachment to the results of action and attain supreme peace." -Bhagavad Gita
You may not receive specifically what you envision, but I can't help but think that by creating vision boards we are encouraging our minds and hearts to be on the look-out for similar "good fits" when we come across them.

Here Are 2 Ways to Create Your Own Vision Board:
The main difference in these two methods is in how your mind works. Do you love being able to hold the images in your hand, or are you more of a virtually-minded person?

Do you need to see the vision board visibly in front of you, or do you prefer digital organization (with the ability to add much more than your palpable paper counterpart)? There's no right or wrong answer.

1. Recycle the Recycling Bin
Pile up those old glossy magazines and inky newspapers you're sending to the recycling center and grab some scissors and tape (or glue). Then spread everything out on the floor. Get clear on what it is you're wanting to manifest. Then begin cutting out images that represent it.

The key to this process is "first thought best thought."  See if you can allow your heart to guide you and your mind to be light. This is not about thinking – it's about feeling. So use your intuition and notice what images naturally call to you. Simply cut out and collect until you have a picture bank.

Then edit your image pile. Pick those visuals you really want to use. Don't worry if they are "practical" or "realistic." In fact, the bigger the better! Allow yourself to embrace the process of manifesting your dreams – no matter how big or seemingly far-fetched.

Once you have your pics, you can either tape or glue them in a notebook, on a piece of cardboard, a bulletin board or on a wall. You've just created a vision board! Look at your vision board regularly. Spend time with it. Look at it every day and spend time visualizing that dream becoming a reality. You've already begun to make it real.

2. Pinterest
Pinterest is a wonderful way to make vision boards online. You can gather images of intention with a click of the mouse. Create your vision board using the same process of finding images that align with your vision and what you seek to manifest.

Use a Vision Board to Manifest Your Dreams
What we focus on, we attract. What we continue to visualize, we manifest. Through visualization and repetition, we create the reality we seek. Vision boards are a powerful tool to help us on this path. Creating a vision board is a fun experience that yields amazing results. What do you want to bring into your life? Make a vision board and make it a reality!

Are you following YouAligned on Pinterest? If not, you should be! Follow us here.🙂

This article has been read 10K+ times. Bada bing!