6 Mindful Dating Tips That Will Transform Your Love Life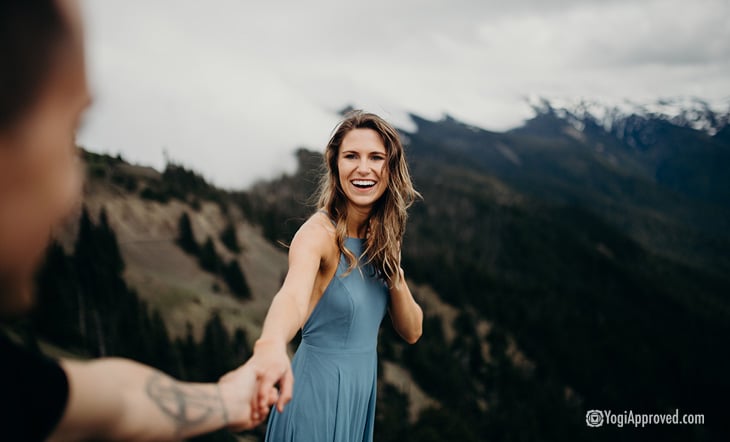 Dating is hard.

It's a lot of work to meet someone, hold a conversation, put in the time and effort to look nice, and be yourself (while also not being too much of yourself because you don't want to freak the other person out right out of the gate!).

And, if you're anything like me, you struggle with the back and forth of being an independent woman who "don't need no man" to wanting someone to be there for you and with you on the roller coaster of life.

But, whether we want to admit it or not, we are emotional beings. This isn't a bad thing . . . but it can sometimes be easier to let our emotions take over and dive headfirst into a new relationship.

That is why it is important that we are mindful about our emotions and how our emotions translate into thoughts and actions.

Mindfulness is the practice of becoming aware of your thoughts and feelings, as well as the actions that result from them. Mindful dating is essentially applying the practice of mindfulness to our relationships and to our partners.

Some examples of mindful dating include being aware of judgements being made by you or your partner, having open and honest communication in your relationship, ensuring your actions are in line with your feelings, and being honest with yourself and your partner about how you feel about one another.

Looking for a mindful partner? Find out How to Attract Real Love Into Your Life


6 Mindful Dating Tips
Introduce these mindfulness tips into your dating life and watch how everything changes.

1. Get to Know Yourself
Life is all about getting to know ourselves. We live and learn in everything we do, including dating. Relationships and dating are never time wasted. We always learn something about ourselves in the process and this is what will make us mindful daters.

To improve mindful dating, you must first know and understand how your emotions translate into thoughts and actions. If you know that you dive right in when you meet someone new and this hasn't worked out well in the past, be mindful of this and move slower this time around.


"The most important relationship in your life is the one with yourself" – Diane von Furstenberg

Also, knowing yourself to the fullest extent will help you to realize, and potentially change, how you react to certain situations (like that first argument with your new partner).

The better you know yourself, the more you know about what you want and need from a partner. A great relationship begins with you.

2. Practice Yoga Together
Practicing yoga with your partner will not only help your practice on an individual level, but it will also help to include mindfulness in your relationship.

Practicing yoga together helps to strengthen your relationship as it involves trust, communication, and fun – all things needed for a healthy relationship. Plus, partner yoga is a great date night!

Need a great mindful date idea? Here are 6 Reasons Why an AcroYoga Class is the Perfect Third Date!


3. Communicate
I don't mean, "Hi. How was your day?" kind of communication. I'm talking real communication.

"How are you feeling right now?"

"What can I do to help/make you feel better?"

"What do you need from me right now?"

Take note of how your partner is feeling, notice when they are not acting as they usually do, and make the conscious effort to help them with their situation.

Some tips to help encourage open and honest communication in your relationship include:
Don't make assumptions or pass judgement without knowing the situation.
Face one another directly when you are communicating. Facing away or sitting next to one another makes it easier to avoid the hard things.
Keep a journal. It is easier to talk to others about how we are feeling if we are honest with ourselves first. Get real with yourself so you can be real with your partner.
Take your time if you need to. Sometimes we've got to go through some really hard things in our relationships with others and those things take time to work through. Rome wasn't built in a day and your relationship won't be either.

Making the effort to hold real, meaningful conversations will not only help to improve your personal mindful practice, but will help to build a strong foundation for your relationship.

4. Don't Move Too Fast
We've all been there.

A new relationship is a lot of fun and super exciting. As a result, we tend to move too quickly, which can lead to a crash and burn.

Take your time to really get to know your partner and to make sure that you are what they need and they are what you need.

That said, nobody can tell you what is "too fast" for you and your partner. Relationships move at different paces for different couples. Communicating with your partner will help you to know what is the right pace for you.

5. Reflect
Take the time to reflect on your dates. Ask yourself questions such as: What did I like about this person? What did I dislike? Can I really see myself with this person? What do I want to know about this person that I did not learn on our date?

Taking the time to reflect on your dates and the people you are dating will help to ensure that you are making conscious, mindful decisions about whether to see that person again.

Also take the time to think back on the date itself. How did the person treat those around you (like your server)? How did they treat you? Did they talk over you or always try to "one up" you in conversation?

Actions speak louder than words. Pay attention.

6. Be Careful About the Online Dating Time Trap
A dating app or website is designed to keep you on their webpage for hours on end. And it is super easy to get hooked on swiping left or right!

This can really disrupt your mindfulness practice and cause you to make rash decisions when it comes to dating.

To help reduce the amount of time you spend on the app or website, get real about what you want to get out of that app or website. A date? A lot of dates? The one?

Be clear on what your negotiables and non-negotiables are when it comes to dating (back to that getting to know yourself, y'all!). Also, setting a timer will help you to reduce the amount of time spent in one sitting on the website or app.

Lost in the online dating game? Follow these 8 Tips to Navigate Online Dating


The Takeaway on Mindful Dating
You've got to nourish to flourish.

No matter if they are brand new or ten years old, relationships need nourishment to continually grow and share their beauty with the world. You wouldn't plant a seed and then leave it to grow on its own. You water it, put it in the sunshine, and show it love everyday. It's the same for your relationships.

Whatever your dating or relationship status, be sure to include mindfulness. Even if you are not currently in a relationship, being mindful on your own will help you to be more mindful when you do find that special person.
This article has been read 1K+ times. Feelin' the love!