5 Times You're Going to Wish You Had This Unique Meditation Cushion
When meditation becomes a part of your normal routine, it becomes a meaningful part of your day – a ritual that you look forward to, that nourishes and refreshes you mind and body.
Perhaps you create a meditation space in your home, or you light a candle or incense. Whatever you do to make your time meditating special, sacred, and effective, odds are you also use a meditation cushion.
Most people who have a regular meditation practice typically meditate between 5-20 minutes per day. Of course, there are some that don't have as much time and others that dedicate even more time, but regardless of how long you spend meditating, using a meditation cushion makes your time that much more focused, comfortable, and effective.

Recommended Read: Mindfulness Meditation Guide: How to Start a Daily Practice

When you meditate, you can sit either on a cushion or in a chair, directly on the floor or even laying down. While you have options for how you choose to meditate, there are many reasons why using a meditation cushion is ideal. And not all meditation cushions are created equal. The Air Meditator is a cushion designed to help you get the absolute most out of your meditation practice.


5 Reasons You'll Wish You Had The Air Meditator Meditation Cushion:
1. You have physical discomfort while you meditate
Many people suffer from low back pain, tight hips, sensitive knees, and other issues that may contribute to discomfort while you meditate. Part of the practice of meditation is to remain physically still to keep the awareness inward.
That being said, it's important to find a comfortable position that you're able to hold for an extended period of time. The Air Meditator is ideal for easing discomfort, as it has three adjustable air chambers allowing you to customize the cushion to your comfort zone.


2. You're going on a retreat (yoga, meditation, wellness, etc)
Ahhh retreats. The word alone conjures a sense of peace and relaxation. Whether you're going on a beachy yoga retreat, a silent meditation retreat, or a spa and wellness retreat, odds are you'll spend A LOT of time sitting, meditating, writing and reflecting.
What better versatile travel companion than an inflatable and adjustable meditation cushion that doubles as a yoga prop, bolster, pillow, and desk?! Air Meditator deflates and folds into a small pouch making it easy to travel with.


3. You like to meditate outside
Who doesn't?! If you have the luxury of being able to meditate outdoors (whether that's in your own backyard, on a hike, while you're camping, or even during that retreat from #2), this meditation cushion is the perfect thing to toss in your backpack and bring with you wherever your outdoor meditation leads you.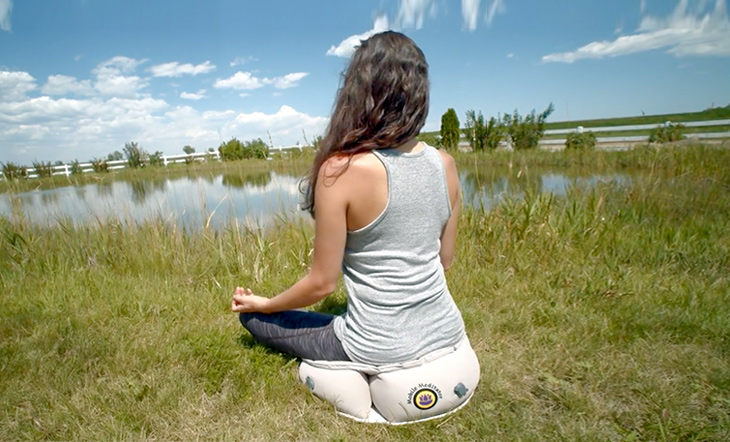 4. You meditate for more than 20 minutes a day
As we mentioned, there are many different ways you can meditate based on your body and what's comfortable for you. Typically with meditation, we work our way up from several minutes to a full 10, or 20, or longer.
Once you're meditating for longer than 20 minutes in a session, your body will thank you for having additional support in the form of an ergonomically designed meditation cushion.
5. You're serious about meditation and you travel often
If you meditate regularly, you don't want to interrupt your routine just because you travel often.
While you can substitute a hotel pillow or sit in a chair, many dedicated meditators feel that their meditation cushion is part of their routine. If that's you, then this travel meditation cushion helps you maintain consistency wherever you are.


Just As the Yoga Mat Is to Yogi, the Meditation Cushion Is to Meditator
If you meditate for a longer period of time on a regular basis, if you're going on a retreat, travel often, experience discomfort when you meditate, or like to meditate outside, the Air Meditator meditation cushion is a great option to help you deepen your practice.
Meditation is a seriously effective ingredient to your health and wellness and self-care routine. Don't let life get in the way of maintaining this healthy habit.

Recommended Read: Use These 10 Tips to Get the Most Out of Your Meditation Practice

Get Yours
If you're interested in getting your own Air Meditator meditation cushion, you can pre-purchase the cushions at a discount on Kickstarter here.

This article has been read 1K+ times. Feelin' the love!