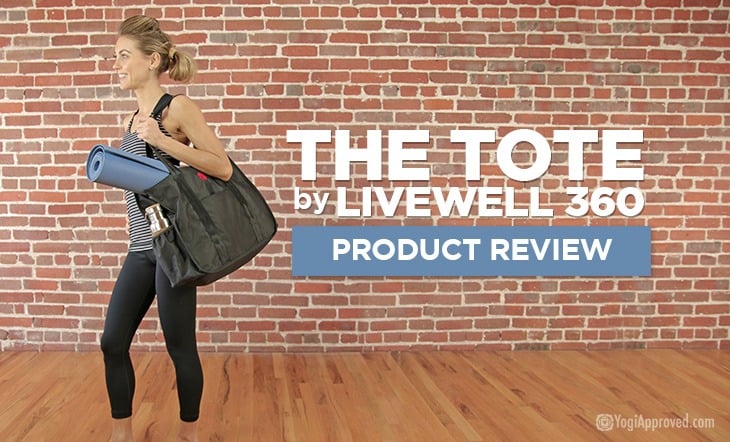 Product Review of THE TOTE by Live Well 360
When it comes to product reviews, we don't mess around. All of the items we review are put through the ringer of everyday use. You can trust that our reviews are non-biased and completely honest. Full disclosure: we don't publish negative reviews. If a product doesn't live up to our standards, we simply won't promote it. Everyone has their own opinion – this is ours. Let's get started.


Whether you live in a suburb or an urban metropolis, a good, large gym bag with plenty of compartments is essential. That is where Live Well 360 comes in. The New Jersey-based company designs high-quality, functional gym and fitness bags ranging from backpacks, duffle bags and toiletry bags to satchels and oversized totes.

There are many gym bags on the market today, but so many are a little too flashy or bulky for the average professional yogi on the go. Live Well 360's THE TOTE is a large office-friendly bag that can fit and compartmentalize all of your everyday essentials with room to spare. Let's take a closer look at why THE TOTE is great for active professionals.

Style
THE TOTE is a premium, modern bag that is sleek and sophisticated. You can easily pack all of your essentials in this bag for your entire day, and you can even tote it (pun intended) in the office without the scrutiny of your co-workers. This Live Well bag is versatile – whether you are wearing yoga clothes or business casual attire, this bag helps you look smart and put together, without looking like an oversized gym bag or a stuffy work bag.

Each time you reach inside THE TOTE, you can get a little dose of inspiration. The lining of the bag is printed with positive and inspiring words (inspire, love, joy, health, change, awareness, etc.) that can uplift and motivate you before your yoga practice and throughout your day.


Functionality
The bag is a great size for yoga instructors, business professionals, or anyone on the go, clocking in at 17" x 6" x 14" (LxWxH). While you cannot hide a yoga mat inside, the bag is tall enough to place your yoga mat inside, leaving the top portion of your mat within view. For many people, you need to juggle a purse, gym bag and briefcase or laptop bag to and from work every single day. THE TOTE combines all three bags in one, freeing up your arms and shoulders for other things, like holding your cup of coffee.

Inside, the bag has one large area that closes with a heavy-duty, claw-style clasp in the center to keep your belongings secure, yet accessible. This bag also have pockets galore – 9 to be exact! Overall, the pockets and compartments offer great utility for an on-the-go professional, allowing you to pack your bag with an organized, intentional place for everything.

Construction
From top to bottom, this bag screams classy and high quality. THE TOTE is made of top-grade ballistic nylon, a tough and thick yet lightweight fabric that was originally developed for flak jackets worn by World World II airmen. Now that is tough! The exterior nylon and interior poly lining are durable and resistant to water, stains, and odors – a necessity in a gym bag!

A good bag is nothing without durable straps that are well-stitched and made hold heavy contents. THE TOTE's straps are made from seatbelts that are smooth to the touch. Whether you are commuting in the big city or just need a functional bag for everyday use, the sturdy tote is designed to help you look sleek doing so.


Value
Many people pay hundreds of dollars (or more) just for a luxury designer purse! Then, you still need a gym bag, which can run the gamut of prices. And don't forget a laptop bag or briefcase to transport your laptop and other necessities to and from the office. Three bags to get you through your day is a lot to transport and juggle with just two shoulders! THE TOTE is practically three bags in one, replacing your everyday purse, gym bag and briefcase and simplifying your life. The bag is high quality and made with superior craftsmanship, making it a savvy investment at $99.

Who is this bag good for?
This bag is great for professionals going straight from the gym to work or from work to yoga. It is TSA-compliant, so it makes a great carry-on for everything you need during your next flight. Travelers, professionals, and yogis alike can use this multi-functional bag, keeping you organized and looking good while you do it!




If you have a busy lifestyle, and you're tired of juggling multiple bags that don't quite live up to your everyday needs, THE TOTE is the next and last bag you will ever want! For its high-quality, polished and professional aesthetic and design, Live Well 360's THE TOTE is 100% YouAligned™.

This article has been read 637 times. Share it and spread the love!