What's in Our Yoga Bag this April
The editors of YouAligned.com love yoga and everything related to living a healthy and natural lifestyle. We pride ourselves on keeping our finger on the pulse of the industry, and we take reviewing the latest trends and products very seriously. What's in Our Yoga Bag is a monthly recurring article and video featuring all of our editor's latest finds that we want to share with you!

You can expect a wide range of goodies, from yoga clothing and accessories to jewelry, healthy snacks, skin care products, and more – everything that aligns with your healthy, active yoga lifestyle. You never know what fun stuff we'll find next, so stay tuned!

Here is what we've got in our yoga bag this April!

Check out this video then read the full review below
Vuori Women's Burgundy Encinitas House Legging Capri ($78) and Heather Grey Burgundy Sports Bra ($52)
This month, we have a real treat for you: a ladies and gents look from Vuori. From the Artistic Collaboration Series, the Burgundy Encinitas House Legging Capri pairs nicely with the Heather Grey Burgundy Sports Bra, both featuring lightweight Supplex fabric that hugs your body in all the right places.


Vuori Men's Kore Short Navy Stripe Shorts ($68) and Crest Tee Heather Grey ($39)
For dudes, the Kore Short Navy Stripe and the Crest Tee Heather Grey make a dynamic duo for your exercise or daily routine. The shirt is incredibly soft and comfortable, while the high-performance shorts are a poly/spandex blend that are antimicrobial and sweat-wicking to keep you cool, fresh, and looking fly.


Pogamat XXL Thick Exercise Mat ($129.99)
The Pogamat XXL Thick Exercise Mat is an extra-wide (48") and extra-long (78") non-toxic yoga mat that provides you extra room to stretch out – with enough space to fit up to two people! It is heavy-duty and high-density with a super-plush 6.5 mm thickness that adds more cushioning for sensitive joints (knees, hips, elbows and wrists). Use this mat for your yoga or any fitness activity, and it's durable enough to be worn with sneakers!


Gaiam Duffle Bag ($39.98)
The Duffle Bag in Heather Gray by Gaiam is a super lightweight, affordable bag that is high quality and incredibly well made. This compact bag has tons of storage pockets and compartments, a large main compartment, and a convenient front sling to secure your yoga mat in style. Best of all, the neutral gray bag is a unisex color and design for yogis and yoginis alike!


Seed of Intention Amazonite Intention Mala with Sandalwood ($129)
From Seed of Intention, the Amazonite Intention Mala is made with stunning amazonite stones and sandalwood beads with an ornate locket. You can write your intentions on the included seed paper and then store them within the locket as a constant reminder. Once you are ready to manifest your intention, you can plant your seed paper and watch your dreams grow!


Mat Mist Sandalwood Lavender Geranium Mat Mist ($18)
Mat Mist's Sandalwood Lavender Geranium Mat Mist is a mat and surface spray with aromatherapy benefits. The potent geranium, lavender and sandalwood oil combine to create a beautiful floral scent that also acts as an antimicrobial, antiseptic, bactericidal and fungicidal spray. Use this spray to clean your yoga mat and your sacred space and create a calming, peaceful environment.


Fuschia Suzani Zafu Meditation Cushion from Chattra ($75)
The Fuschia Suzani Zafu Meditation Cushion from Chattra is a buckwheat-filled meditation pillow that features embroidered textiles from India. The hand block-printed medallion design in vibrant pink is finished with orange stitching and a colorful mirror tassel with a pom pom, making this a lovely home or yoga studio decor piece. The pillow is visibly high-quality and provides comfortable support and alignment for your meditation practice.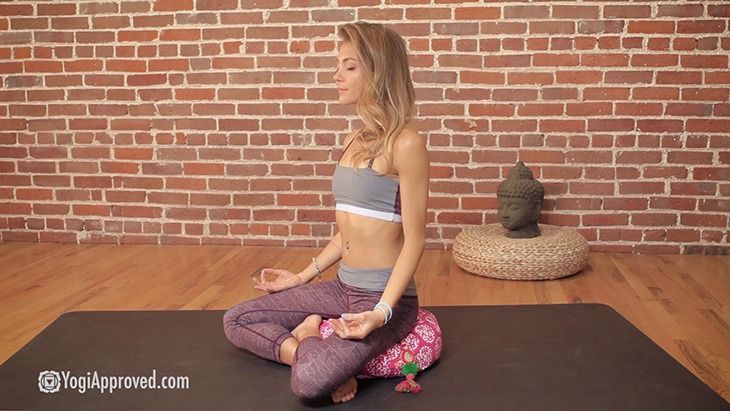 Miracle Essential Oils Slender and Tea Tree Oils (3 Oils for $24.90)
Miracle Essential Oils' therapeutic-grade Slender Oil is an energizing oil that you can add to your water, morning smoothie or aromatherapy diffuser to help stimulate your metabolism and also ease stomach issues. The Tea Tree Oil can be applied topically to soothe your skin, ingested to support a healthy immune system, or used as a hand sanitizer or DIY yoga mat cleaner.




Miracle Essential Oils is extending a special deal for YouAligned readers: buy 3 oils for $24.90 when you click on the special link below.
Mad Hippie Facial Cream ($25.99) and Antioxidant Facial Oil ($24.99)
Mad Hippie's Facial Cream and Antioxidant Facial Oil are a one-two punch for smooth, hydrated skin. Use the decadent Antioxidant Facial Oil to combat free radicals and give your skin the nourishment and protection it needs each day. The Facial Cream uses peptides to kick-start collagen production and is full of free-radical fighting antioxidants that reduce the appearance of fine lines and wrinkles.


Sensitive Planet Scent of Samadhi ($29.95)
Sensitive Planet's Scent of Samadhi is a non-toxic herbal perfume powder that is super-effective. The powder works with your chemistry and natural perspiration to create a custom fragrance that is unique for just you. Just place a small dab under each underarm and experience this long-lasting, uplifting fragrance for yourself, and feel good about using a healthy alternative to traditional deodorant.


Miracle Tree Organic Moringa Tea ($6.95)
Miracle Tree's Organic Moringa Tea is an artisan blend of organic moringa tea leaves that contain more than 90 nutrients, including antioxidants, vitamins and minerals and essential amino acids in every cup. Offered in a variety of single-serve blends including the earthy original, smooth (and non-bitter) green tea, and even chocolate that tastes like a calorie-free hot cocoa, among many other flavors. The high-quality tea is ethically sourced and free of gluten, GMOs and even caffeine!


What were your favorite featured products? Please share any comments or questions below – we love hearing from you.

Thanks so much for watching!! Be sure to join us next month!

This article has been read 2K+ times. Feelin' the love!