Get to Know a Yogi : Lauren Rudick
Every month in the "Get to Know a Yogi" series, we highlight a yogi that we think is making the yoga community a better, more uplifting and positive place. This month's yogi is the international yoga teacher Lauren Rudick.

This Montreal, Canada native and self-proclaimed dreamer and explorer currently resides in beautiful Costa Rica, but she has shared her love for yoga across the globe from Costa Rica, Iceland, Canada, England, United States, Morocco, and Bermuda, and many more magical places.


(YA) We are honored to feature you in this month's Get to Know a Yogi series. For those of us who don't know you, tell us about how you found yoga. Did it appeal to you immediately?
(Lauren) Yoga found me when I was 18 and in college. I happened to go to a class because it fit into my schedule. I loved it. It was Power Flow at my local gym. There were candles lit, the lights were off, it was beautiful. Soon enough I was making my schedule around getting to yoga. I did a teacher training on the suggestion of my own instructor, although I never thought I'd instruct. I just wanted to learn more about the practice. Every time I taught though, it became increasingly clear that this was what I am meant to do. Yoga did appeal to me right away! From my very first class I was intrigued, I enjoyed it and I wanted to try it again.

(YA) Why did you choose yoga as a career? Did you dive in headfirst or tread water for a while?
(Lauren) Yoga chose me. I didn't mean to become an international instructor; it just kind of developed that way organically. I definitely spent some time feeling like I was drowning, then treading, and today I'm lucky enough to say that I often feel like I'm floating on a cushiony raft in the sunshine enjoying the view and the ride. Although sometimes that raft does tip over, then I have to tread again. It isn't easy to follow a passion that has no roadmap or rules.

(YA) What continues to drive your love for yoga?
(Lauren) I am seriously inspired by nature, the beach, the ocean, and great teachers. My love for yoga is mostly driven by my commitment to better myself. I keep coming back to yoga because I keep striving to be a better version of me.




(YA) Have you ever fallen out of love with yoga?
(Lauren) I have gone through phases where I've done more or less asana or taken breaks from reading philosophy. Like anything else, when we over-saturate ourselves, we need breaks. Mine never last too long though.

(YA) When that does happen, what do you do to rekindle your relationship with your practice?
(Lauren) When I go through ebbs in my practice, it is usually rekindled by an inspiring teacher, story, or simply a beach. For some reason, whenever I'm on a beach at low tide and it's warm enough, I just want to strip off all of my clothes and practice!

(YA) You have traveled the world, teaching and practicing yoga across six continents and more than a dozen countries. What was your favorite place and why?
(Lauren) That's such a hard question! Every place is my favorite for different reasons. The people in Iceland warmed my heart. The spirit of the land in Nicaragua made me cry. Every meal in Malaysia was the best I'd ever eaten. Seeing whales in Alaska made me feel like I was closer to god. I can't choose just one place. Experiencing the tiniest bits of magic in each new place—this is my favorite.




(YA) What is your teaching style?
(Lauren) I think my teaching style varies with my personal practice as well as life's changes. I don't like to marry myself with any one yoga style. I respect and dabble in them all. I'm heavily inspired by Vinyasa Flow, Anusara, Ashtanga, Yin and Restorative. I think my classes are a jumble of all of these.

(YA) Who's your most memorable student and why?
(Lauren) My most memorable student… hmm that's a tough one! I think my most memorable student was a woman named Mallory. She was one of my first students who really followed me and my classes. She was actively supporting me on Instagram, Facebook and in person. No one had ever done that before her. She was also extremely generous and gifted me a dream catcher with crystals on it that I still have and look at every day. This reminds me to continue to strive for my dreams. Further, she taught me so much about love. She had a son who had spent most of his life in the hospital. Her only break from caretaking him was coming to my yoga classes. Despite this, she never once felt sorry for herself or for him. She never complained. She just loved and loved and loved. At the time, I couldn't even understand how someone could give so much when life had offered her such hardship. I will remember her forever because she was utterly selfless.




(YA) You have a successful yoga-inspired jewelry line, Tusk & Crown. Tell us about your inspiration behind your collection.
(Lauren) My jewelry collection was inspired by travels, nature and my hometown of Montreal. The idea was to have something hippie, bohemian, a reminder of mindfulness but nice enough to wear with a little black dress at a cocktail party.

(YA) Your philanthropic project, Postcards of Love, is so inspiring! When someone makes a $5 donation, you will send them a postcard from your latest travels and then donate the proceeds to a local charity. What inspired you to begin this mission?
(Lauren) I started Postcards of Love because I feel like my students give me so much of it! People are incredible. Time after time, I am invited into the homes, lives, and dinner tables of my students. I want to be able to give back but also to connect with people I only know through screennames and Instagram handles. Postcards of Love is an opportunity to do just that.




(YA) What song is stuck in your head these days?
(Lauren) I have this song King and Cross by Ásgeir in my head right now. He's a singer/songwriter from Iceland, and I was introduced to his soft music when I was there teaching workshops. I've been humming it since midway through my trip to Iceland! His lyrics are pretty inspiring as well.



(YA) If you could summarize your guiding principles with a mantra, what would it be?
(Lauren) My Mantra: Be honest. Practice Truthfulness. I am authentically and unapologetically me. I speak from the heart.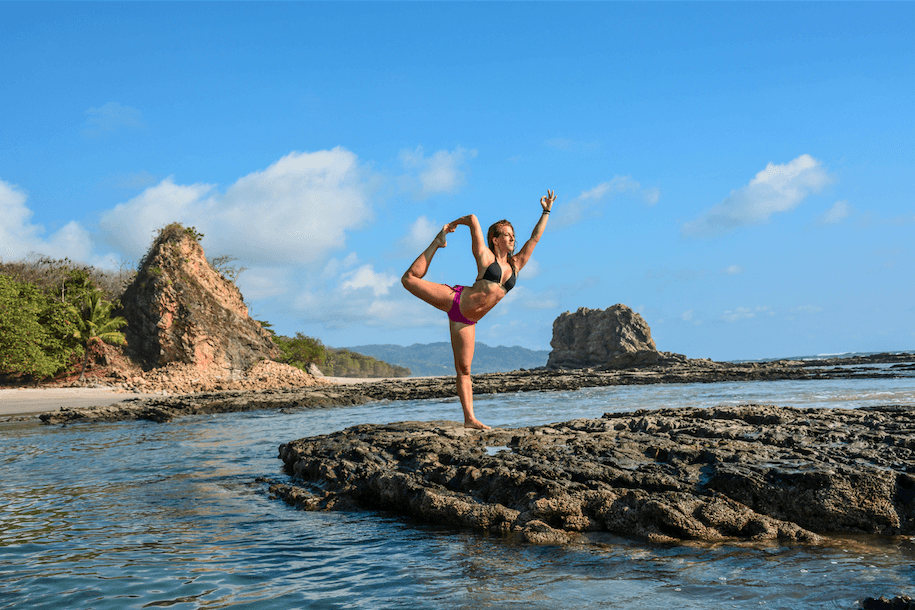 (YA) What advice do you have for a yoga newbie?
(Lauren) My advice for someone just beginning to practice yoga would be to explore it, be patient, be open-minded and to be unafraid. Shift happens.

We are honored to feature Lauren in this month's Get To Know a Yogi! For everyone who would like to learn more about Lauren, check out her website LaurenRudick.com, and follow her on Facebook and Instagram.
This article has been read 922 times. Share it and spread the love!