Black Female Festival Founder Creates Global Wellness + Social Justice Event
Talaya Thomas, a leader in the yoga community, created The Moovment virtual wellness event to merge wellness with activism that will take place January 8 – January 11, 2021.
After creating and running the popular Steamboat Movement Fest in Steamboat Springs, Colorado for several years, this year Talaya pivoted. She created a virtual, global wellness event.
The Moovment is a unifying virtual wellness event that is part soul-care, part physical movement, part education, and part important dialogue around our current societal issues, and how we can take a stand to collectively create lasting change.
"Based on my experience as a Black woman in the yoga and wellness space, I wanted to create a place where we ALL belong. This event normalizes the idea that we all have the right to be here," Talaya Thomas says of her mission and vision.
As a 501(c)(3), The Moovment's mission is to promote empathy, access, love, unity and equitable representation in the yoga and wellness industry through sharing and education rooted in movement, critical thinking, radical imagination, and open dialogue.


Learn More About Inspirational Yogi, Teacher, and Moovment Creator Talaya Thomas
We interview Talaya Thomas so you can learn all about this inspirational and beloved leader in the yoga and wellness community, along with her latest project – creating The Moovment!


1. YA: How did you first discover yoga?
Talaya Thomas: I started practicing yoga when I was a kid. It was a unit in our gym curriculum at the school I went to in Boulder, Colorado. However, I didn't realize that I was practicing yoga until many years later at Colorado Mountain College.

2. YA: When did you become a yoga instructor? What motivated you to start teaching?
Talaya Thomas: I became a yoga instructor in 2012. My love of sharing movement is what motivated me. Before officially becoming a yoga teacher, I had been teaching all kinds of movement classes: running, kickboxing, Pilates, and I was also a functional movement personal trainer.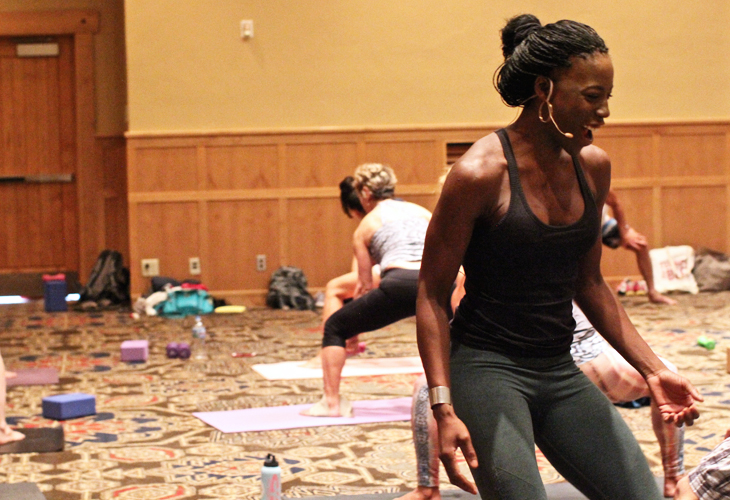 3. YA: As a teacher and leader in the community, what's your #1 piece of advice when it comes to practicing yoga?
Talaya Thomas: That yoga is a practice, and 'perfection' of the practice does not exist. The minute we think that we have achieved perfection, we have limited possibility.

4. YA: What led you to create The Moovment?
Talaya Thomas: What motivated me to create the Moovment was a desire to work on a solution to create more accessibility, equality, and equal representation in the yoga and wellness industry.
And as cheesy as it may sound, I wake up every day asking this question: Yoga, how can I serve you today?

5. YA: Please share some of your experience being a Black woman in the yoga space
Talaya Thomas: My experience today is completely different from my experience when I first started yoga.
When I first started it sucked. It sucked having people walk out of my class because I was black. It sucked taking a class and having the teacher pat me on the back because they were surprised by my practice. It sucked being talked down to. It also sucked being tokenized.
And it also was incredible. All of those experiences motivated me and lit a fire and a desire to create and write a new narrative for myself and other melanin-blessed yogis / humans that might be having the same experience.


6. YA: Please tell us about the word and meaning behind "Moov"
Talaya Thomas: The word Moov means peace, acceptance, and intimacy. It's also slang for a movie. From the digital platform, teachers, and programming – these words are deeply embedded in the creation of The Moovment event and movement!

7. YA: What can we expect from The Moovment virtual wellness event?
Talaya Thomas: Fun, movement, deep conversations – all wrapped in a feeling of love and unity. Yoga can be a practice of social justice and equality. We need each other now more than ever!
You can check out the full Moovement schedule and line-up here!

8. YA: What's next for Talaya?!
Talaya Thomas: I'm not sure what's next. I am sure that this is only the beginning for the Moovment. 🙂


More Information About The Moovment Virtual Event
Attendees can experience breathwork to guided meditation, many forms of yoga to dance and movement classes, panel discussions, live music sets, and so much more.
All facilitated by an incredible group of presenters ranging from Tyrone Beverly and Sianna Sherman to Keith Mitchell, DJ Drez and dozens of others – including our very own YA Classes teacher Youmie Jean Francois – this unique event is not to be missed!
Ticketing is intentionally accessible, ranging from $11 for a single ticket to a $55 quarantine pod pass, along with pay what you can, scholarship options, and more.
To learn more about this event, visit the Moovment website and follow Moovment on Instagram and Facebook.
A Big YouAligned Thank You to Talaya Thomas for Sharing Her Story and Inspiration With Us!
Talaya Thomas has been an inspirational leader in the yoga community for years. Her work has positively impacted the lives of many, and she continues to build community, unity and love in the yoga and wellness space and beyond.
We are so grateful for all the work that she has done, and YouAligned is a proud partner of The Moovment.

Nourish Your Mindset Wellness With Mantra Mindset
Join another incredibly inspirational woman in the yoga and wellness space, Youmie Jean Francois in her groundbreaking program Mantra Mindset on YA Classes!
Mindfulness Program
With Youmie Jean Francois
This article has been read 767 times. Share it and spread the love!