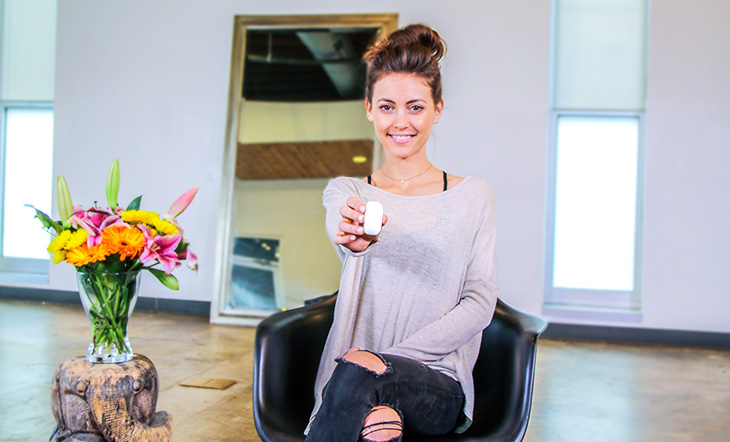 We Tested the Popular Posture Corrector the UPRIGHT GO – Here's What You Need to Know (Video)
There are a lot of posture correcting products on the market but many of them fail to deliver their promised results. Is the UPRIGHT GO posture corrector just another gadget in the sea of trendy tech or does it actually deliver results?
We tried out the UPRIGHT GO for ourselves to find out. This review highlights our results.
In our technological age, good posture is a challenge to maintain. According to a recent study, Americans spend an average of eleven hours in front of a screen per day.
Whether it's your cell phone, laptop/desktop, watching TV or even driving, you probably spend more hours sitting – and hunching – than you realize.
The problem here? These screens and steering wheels don't support great posture – in fact, we tend to hunch towards them, especially after staying in this position for hours at a time.
Add the habit that we're creating in this repeated setting and now we have a recipe for poor posture and the negative side effects that come with it like back pain, lack of focus, long-term damage and even decreased confidence . . .
Watch our review of the posture product UPRIGHT GO.
Never miss a FREE class. SUBSCRIBE HERE
The UPRIGHT GO is a posture product made by UPRIGHT that's designed to correct bad posture by helping you form a habit of good posture.
Here at YouAligned, we are all about leading a healthy yoga lifestyle, and part of that is being mindful of how we treat our bodies because we understand the importance of a healthy body for a healthy life.
That's why we were excited to check out the UPRIGHT GO. Read on for our experience and feedback after we had a chance to use it ourselves.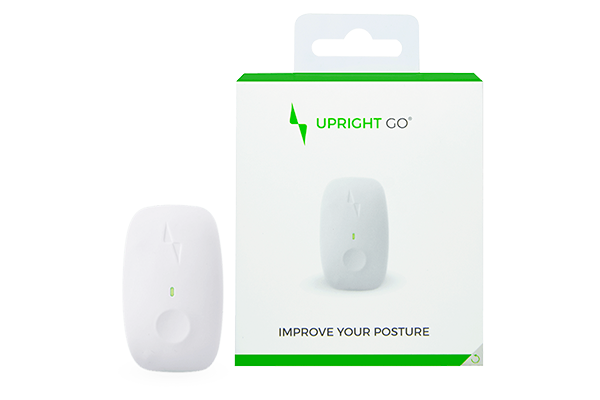 The Important Health Benefits of Good Posture
In yoga it has been said that you can measure your age by the health of your spine. Applying that to posture, the better posture you can maintain throughout your life, the better and the healthier you will feel.
Yoga places a huge emphasis on physical alignment and body awareness in general.
Posture is closely connected to our yoga practice because it requires mindfulness, and when we slouch, we close off our heart chakra. Energetically this closes us off to giving/receiving love but also decreases our energy levels, confidence and overall feeling of wellbeing.

You can measure your age by the health of your spine.

Poor posture – slouching, "tech neck," rounded shoulders and spine – puts a lot of pressure on the back muscles, spine and neck. This creates tension, tightness, strain and also bad habits that can lead to long-term problems.
Suffering from tech neck? Practice These 7 Yoga Poses to Relieve Neck Pain
Many people suffer from back pain, and much of this back pain is caused by – or intensified by- bad posture.
Good posture equates to a strong core and back muscles, positive and confident body language, and even increased lung capacity. The more openly you're able to breathe, the less stressed you feel.
Good posture is kind of like smiling – it sends the message to your brain and body that you are strong, happy and confident.
We Review the Posture Corrector UPRIGHT GO
According to the website, the UPRIGHT GO claims to help improve your posture and form a positive, lasting change by creating a habit of good posture.
We checked it out for ourselves, and the results are in.
How the UPRIGHT GO Helps You Improve Your Posture
Many posture products on the market improve your posture while you wear them. While that's certainly helpful, this approach doesn't necessarily stay with you once you take it off.

Slouching compromises and weakens your entire back body and can result in pain and even lasting damage.

The UPRIGHT GO is designed to help you form a habit of good posture. Over time, your mind replaces the need for the vibration reminder and automatically recognizes and corrects the bad posture.
So instead of becoming reliant on a product for good posture, you're using this product to develop a habit that you'll ultimately maintain when you're not using it.
How the UPRIGHT GO Posture Corrector Works
The first thing we noticed about this posture corrector is how easy it is to use. UPRIGHT GO is ready right out of the box. You'll download the free app and enter some general info about yourself like height, weight, age etc.
Then you start your training plan. Each training day has a specific goal of total 'training time' (time you wear your Upright).
You'll then be guided through a quick tutorial of how to use UPRIGHT GO. After that, you're ready to connect your Go to your app. You'll apply the Go directly to your upper back with its hypoallergenic adhesive, and you're ready to start using it.
The UPRIGHT GO Has 2 Modes:
1. Training: This mode has a vibration feedback on so you'll feel it when you start to slouch.
2. Tracking: Switch to Tracking mode anytime you know you won't be able to be engaged in your training or when you're done for the day.
What Makes the UPRIGHT GO Different From Other Posture Correctors?
Our favorite feature of this posture product is that it creates a habit – you don't become reliant on it for better posture, but instead it teaches you how to maintain proper posture.
It helps you form a lasting habit through mind/body connection as opposed to something you simply become reliant on using.


Final Details to Know About the UPRIGHT GO Posture Corrector
The UPRIGHT GO is small and lightweight, so you barely notice it's there (and also inconspicuous to wear beneath your clothing). One thing to note is that it is not meant to be worn during strenuous physical activity.
The app is simple and easy to navigate but also thorough and has helpful support drop-downs to explain each step. Once you register your UPRIGHT GO, they'll email you a short tutorial video and you're off and running.
The UPRIGHT GO comes with five reusable adhesives that attach to your upper back. According to the website, these adhesives are hypoallergenic, medical grade silicone adhesive strips that last up to ten days. You can also buy extra packs of adhesive strips on their website.
The UPRIGHT GO has a 30-day money back guarantee, a one-year warranty, and comes with free shipping in the US. It also comes with a free iOS or Android App.
The UPRIGHT GO is 100% YouAligned™.

When it comes to product reviews, we don't mess around. All of the items we review are put through the ringer of everyday use. You can trust that our reviews are completely honest.
Full-disclosure: Brands compensate us for the production of product reviews like this one. However, if a product doesn't live up to our standards, we will not review or promote it. This is our honest opinion of the product.
This article has been read 2K+ times. Feelin' the love!

YouAligned
YouAligned is an online yoga, health and wellness publication for your life on and off the mat. We are here to help you live happier, healthier, more fulfilled lives. Yoga is our passion. Your healthy lifestyle is our obsession!
You may also enjoy

A sedentary lifestyle can lead to bad posture. Improve and strengthen your posture with these 10 yoga poses for bad posture.

Teresa Adele