If You Struggle With Back Pain, Try This Yin Yoga Class to Find Relief
If you've ever experienced back pain, you know just how debilitating it can be. Whether it's a result of overexerting yourself physically or an ongoing issue, back pain can negatively impact our quality of life.
Many of us have been there. In fact, according to the American Chiropractic Association, at some point nearly 80% of the population will experience back pain – ouch! Luckily, comfort is just a few deep, relaxing stretches away . . .
A regular yoga practice – and certain yoga poses in particular – has been shown to reduce back pain and help prevent further pain or issues in the future.
While many forms of yoga can aid in pain prevention and pain relief, Yin Yoga is a popular form of yoga that's gentle, restorative, and feels as good as the good it does in your body.
Interested in learning more about Yin Yoga? Read: What Is Yin Yoga and What Are the Main Benefits?


Relax Into This 31-Minute Yin Yoga Class for Back Pain Relief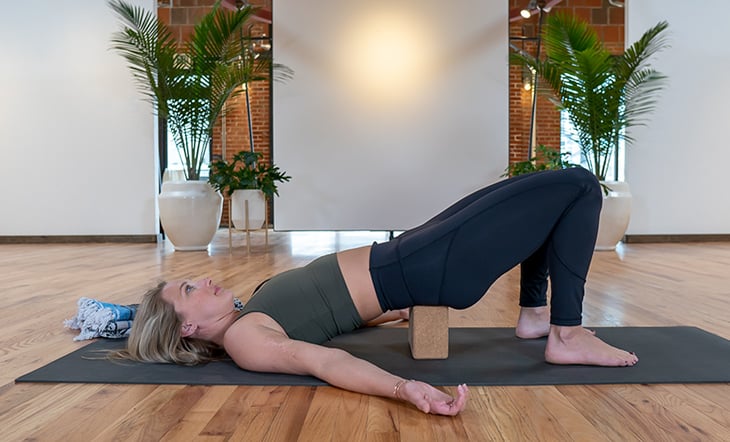 Prevent future back pain and experience back pain relief with this restorative 31-minute online yoga class led by YA Classes teacher Allie Geer.
This all-levels Yin Yoga class invites you to hold stretches for two to five minutes, and combines the yummy restorative stretches with self-myofascial release. Self-myofascial relief, or SMR, is a pain-relieving massage technique in which you apply pressure to a localized area such as a knot or trigger point to help circulate blood flow.
Want to learn more about this deep-tissue technique? Learn How to Use a Massage Ball to Relieve Back Pain (Video Tutorial)!


What You Will Need and What to Expect for This Online Yoga Class
For this yoga class, you'll need a yoga blanket, a yoga block and two myofascial release balls. If the myofascial release balls aren't available to you, tennis balls serve as an excellent substitute.
This yoga practice will leave you feeling restored and at ease by loosening tension in your muscles and creating better mobility within your body.
Begin by acquainting your body with myofascial release by gently placing one foot at a time on the ball, taking steady, deep belly breaths as you stimulate blood flow from the ball of your foot to your heel. The massage balls help bring awareness to pressure points in your foot, and you're encouraged to explore each subtle feeling you find.

A regular yoga practice – and certain yoga poses in particular – has been shown to reduce back pain and help prevent further pain or issues in the future.

You'll slowly make your way to the top of your mat, exploring gentle movements to release stress and tension in your lower back, then move into several supported yoga poses as you settle into the stillness and your breath, before connecting with your mat for your last few breaths in Savasana.
Looking for more support to ease your back pain? Practice These 12 Yoga Poses for Back Pain for Real Relief
By the end of this Yin Yoga class for back pain, you may notice relief in your lower back, neck and shoulders. But the benefits of this gentle and restorative yoga practice are best experienced over time.
Take this online yoga class for back pain regularly, and be sure to check out our extensive library of on-demand yoga classes!
Have you tried YA Classes by YouAligned yet? Did you know that we plant a tree for every class our members complete? We've planted over 100,000 trees and counting!! Explore our vast selection of hundreds of online yoga, fitness, and meditation classes. We add new classes every week!
If you're already a YA Classes member, thank you for practicing with us! If you haven't tried us yet, you can start your free 14-day trial to see what makes our classes so special.
Watch a preview of Better Back with Allie Geer.
This article has been read 1K+ times. Feelin' the love!

YouAligned
YouAligned is an online yoga, health and wellness publication for your life on and off the mat. We are here to help you live happier, healthier, more fulfilled lives. Yoga is our passion. Your healthy lifestyle is our obsession!
You may also enjoy

In this 34-minute online yoga class for stress relief, you will unwind and de-stress to leave the tensions of the day behind you. Try it now on YA Classes!

YouAligned