35-Minute Advanced Vinyasa Yoga Flow With Alba Avella (Free Class)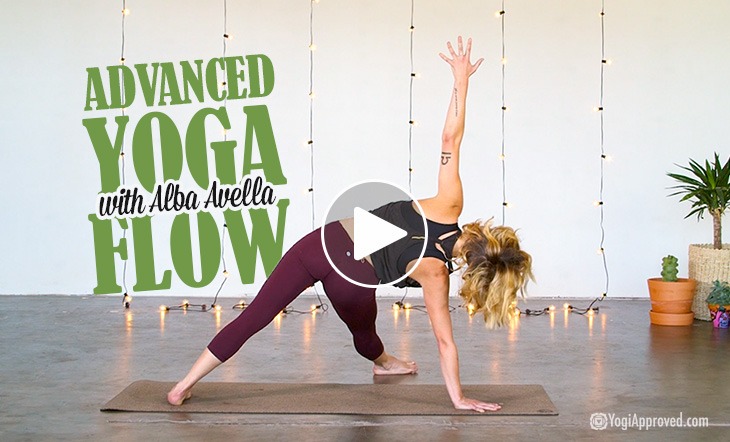 If you're a seasoned yoga practitioner who loves a good power flow, then this advanced Vinyasa class is for you!
Expect a challenging yoga flow, complete with creative transitions, fun variations, and plenty of opportunities to strengthen your full body.
YouAligned is home to thousands of informative articles on all things yoga and wellness, and we are also the home of YA Classes, our online yoga app. YA Classes offers hundreds of online yoga classes and full programs (in addition to other formats like fitness, meditation, breath work, Pilates, dance, barre, and more!
We also have a YouTube channel with tons of top quality free content, which is where you'll find this 35-minute advanced Vinyasa Yoga class.


Press Play on This Advanced Vinyasa Yoga Flow
Get ready to flow, breathe, and sweat it out in this advanced Vinyasa yoga flow class. Join beloved YA Classes teacher Alba Avella as she guides you through a 35-minute Vinyasa flow class that's all levels friendly (Alba offers some variations and modifications), but geared towards the intermediate and advanced practitioner.
Never miss a FREE class. SUBSCRIBE HERE
All you need for this advanced Vinyasa flow class is your yoga mat and your water bottle. So press play on this video and jump right in!
Begin by setting an intention for your practice. The theme of this challenging yoga class is finding strength and courage on the mat so we can apply it to the challenges we face off the mat.
In this advanced Vinyasa flow, you will warm-up with an abs sequence to activate and bring awareness to your core. Then you'll move into a plank series before incorporating balance challenges and strengthening exercises, woven throughout a dynamic Sun Salutation flow.
This advanced Vinyasa flow sequence includes creative and fun transitions and unique pose variations to get your body moving in different ways and your mind thinking in new ways.


The True Definition of an Advanced Yoga Practice
While many assume that being "advanced" means being able to do the most challenging yoga poses, the truth is that being advanced in your yoga practice means being able to harness the mind and honor the body.
Becoming strong in the body creates strength in the mind. When we make a mind and body connection, we disconnect from the outside chatter and distractions of daily life. We truly step into the present moment and into a state of connection between mind and body. Here, we can achieve a single-pointed focus and practice meditation in motion.
Especially in today's modern world, it can be difficult to stay present. This is challenging! And a more challenging physical asana (yoga pose) practice helps push us mentally and physically, which in turns helps keep us more anchored in the here and now.
Another key ingredient in this practice is the breath. Conscious, controlled breathing regardless of how challenging the yoga pose is, is the first mark of an "advanced" practice. This deliberate breath work practice is at the root of yoga, meditation, and mindfulness. It is that powerful.

The truth is that being advanced in your yoga practice means being able to harness the mind and honor the body.

Conscious breathwork (often called Pranayama in yoga) can be challenging, especially when you're first starting off. Incorporating pranayama into your physical yoga practice is powerful. If you find it challenging, stick with it! Know that it becomes more accessible with practice, and that it is also a valuable tool for your yoga and meditation practice.
An advanced Vinyasa Yoga practice is meant to be challenging, physically and mentally! By doing something that challenges and pushes you, you learn to be brave on the mat. When we can first become brave and do new things on the mat, we then become more brave and inclined to try new things off the mat.
Just remember to keep it safe, make adjustments that fit your individual needs, listen to your body, and always take breaks if you need them. Enjoy!


Enjoy This Advanced Vinyasa Flow Class and Much More on Our YouTube Channel
There is no shortage of yoga channels on YouTube, but there is no comparison to the top-notch videos that YouAligned puts out!
You can spend hours scrolling through countless yoga YouTube channels, or you can save yourself time and press play on one of our classes.
With down-to-earth instructors that have extensive experience and are passionate to share it with you, we have something for everyone. And our videos are beautifully produced with high-quality audio so you can avoid distraction and focus on what matters most: getting the most out of your time practicing with us!
This article has been read 20K+ times. Bada bing!