Product Review: Buddhibox – A Subscription Box For Yogis
Now in its second month, Buddhibox is a new monthly subscription box that features four to six curated items to enhance your yoga practice and lifestyle. Featured items come from businesses that follow ethical and conscious standards in production, so we know that all items are good for your body and mother earth.
Additionally, Buddhibox donates a part of its proceeds each month to a different charity. The December charity is Eat Breathe Thrive, a charity that helps individuals recover from eating disorders and negative body image by offering a program that integrates yoga, mindfulness, and community support.
Cost:
$11.95/month for 2-3 samples
$30.95/month for a box of 4-6 products
$27.95/month for 6-month box prepay of 4-6 products
$25.95/month for 12-month prepay of 4-6 products
Shipping: Buddhibox ships on the 10th of each month through the US Postal Service and it arrives in two to three days for deliveries to the United States. Buddhibox comes in a small box within a larger box, and this month I was excited to see that the box was overflowing with yogi goodies! Each month, Buddhibox comes with an information card that describes each item in the box and provides a retail value, this month the back of the card showcased Bob Marley's lyrics, "One love, one heart… Let' get together and feel all right."
This month's box included the following:
A recipe for H20 Nutrition Holiday Detox Salad
A business-card size instruction card for the Marichi's Pose.
Barefoot Yoga Co. Elastic Mat Strap (Retail: $3.75)
This Barefoot Yoga Co. Stretchy Mat Strap will come in handy when I travel to yoga or barre class at my local studio or Athleta store. The simple black and white strap features the Barefoot Yoga Co. footprint and secures around your yoga mat easily with its Velcro closure.
HASinspiration Savasana Eye Pillow (Retail: $14)
The HASinspiration Savasana Eye Pillow is an ideal tool for when you are in savasana. The eye pillow is scented with one of my favorite scents – lavender. The combination of the light pressure from the pillow and the sweet smell of lavender is perfect for relaxation on the mat or in bed. My eye pillow came in a pretty pale blue color with a paisley and floral print. My favorite aspect of this eye pillow is that the sleeve is separate from the insert and is washable.
Muuyu Live Interactive Yoga – 2 Free Online Classes (Retail: $20)
Probably my favorite item from the box is a coupon code from Muuyu for two free live interactive yoga classes online. I practice yoga by watching DVDs and streaming videos, but this has the benefit of receiving feedback and encouragement from the teacher in real time.
I signed up for Muuyu in under a minute and connected my Muuyu account to my personal Facebook page. To find classes that meet your schedule and needs you have two options. At the top of the page, you can click on the Classes to see what classes are scheduled, or you can go to the Teachers tab and select a yoga type and generate a list of teachers that specialize in that type to set up a one-on-one class. I enjoy both power and restorative yoga, and I found a teacher that would fit my yoga style so I sent her a message so that we can set up a time for a class. I told her my availability and injuries and limitations, and she is going to set up some times in January after the holidays. In my account, before I entered the coupon code, was a "free spot" credit that can be used toward a free class. When I added in the coupon code, one spot was added to my account, so I will still get my two free yoga classes.
AmaZing Grass Shaker Cup & Amazing Meal (Retail: $12)
Now that it's cold and flu season, I regularly drink green and protein powder drinks. Typically, my drinks require frequent stirring and the powder seems to go everywhere, so I was very excited to receive the AmaZing Grass Shaker Cup & Amazing Meal in my box. The spill-proof shaker cup came with two single-serving packets of the Amazing Meal powders in Chocolate Infusion and Café Mocha. The supplements contain 10 grams of protein and six grams of fiber each, all while only having 110 calories and two grams of fat.
Yummi Yogi Cookie Cutters (Retail: $8.50)
The Yummi Yogi Cookie Cutter I received was in the Warrior 2 pose. Subscribers received one of five poses, including downward facing dog, tree, warrior 2, warrior 3 and crescent lunge. Instead of gingerbread men for the holidays, this cookie cutter will be great for yogi-inspired cookies. If you don't bake, this would make a great stocking stuffer or gift!
BONUS ITEMS
Handmayde Happiness Lip Balm (Retail: $3)
The Handmayde Happiness' Loco Coco Organic Unscented Coconut Oil Lip Balm is 100% natural, raw, organic, handmade and nutrient rich.
I am a self-proclaimed lip balm addict, with a tube of a natural/organic balm tucked away in every purse, pocket and drawer within my reach. I always appreciate a new balm. This one is unscented and glides on smoothly. I love that this balm is made with coconut oil, which is a staple in my pantry and beauty regimen.
Bear's Beauty Handmade Deodorant (Retail: $1)
Offered in a handy lip balm tube, Bear's Beauty Handmade Deodorant is a natural vegan deodorant sold by the small business on Etsy. The chemical free deodorant, formulated without antiperspirants or other harmful chemicals, came in a Lavender & Grapefruit scent. Right now, I'm using another natural deodorant that comes in a jar, but this one is convenient and lightweight enough to carry in my purse, just in case I need some refreshing throughout the day. I told smell the grapefruit scent, but this does smell like lavender. The retail value of this is $10 for a full size (2 oz.) container, so I'm estimating that this tube about be equivalent to the average lip balm tube at .15 oz value.
Do you want the box?
The retail value of this box comes to more than $60, so even if you pay the full price of $34.94 with shipping, you are still getting an excellent value. If you did not subscribe yet, but you would like to receive the December box without committing to a subscription, you can purchase it for $34.94 with shipping.
Are you thinking about joining Buddhibox? You can save $3 off your monthly subscription price by entering the code "yogiapproved".
BuddhiBox is #YouAligned!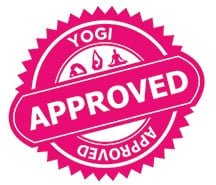 This article has been read 2K+ times. Feelin' the love!