7 Healthy Vegan Summer Dinner Ideas
We're ready to celebrate summer with all the refreshing, fresh, healthy dishes we crave this time of year. Just like we update our wardrobes and skincare for the warm weather, it's time to give our menus a refresh too, and these vegan summer dinner ideas are just the thing for warmer days ahead.
You don't have to be a full-fledged vegan to enjoy these light summer dinners. In fact, they'll hit the spot for all palates (and for various health, environmental and ethical reasons, many of us are inching toward a more plant-based way of eating these days, anyway.)
You Don't Have to Go Vegan to Be On a Plant Based Diet – Here's Why
When it's too hot to think or you don't feel like spending much time in the kitchen, consider these vegan summer dinner ideas your go-to answers to the question, "what's for dinner?" this summer.


7 Delicious, Healthy Vegan Summer Dinner Ideas:
1. Caesar Pasta Salad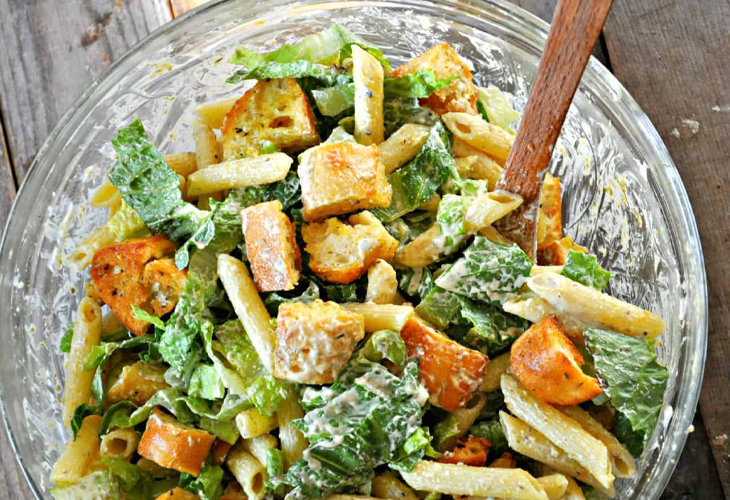 Arguably one of the most perfect vegan summer dinner ideas – it's hard to go wrong with a salad that also contains pasta! This light, fresh plant-based caesar pasta salad comes together in a snap, is cold, bursting with tangy flavor, and endlessly customizable.
For the ultimate time saving hack, use a pre-made plant-based caesar dressing like Trader Joe's. And make extras of this dish – you'll want it.

2. Vegan Potato Salad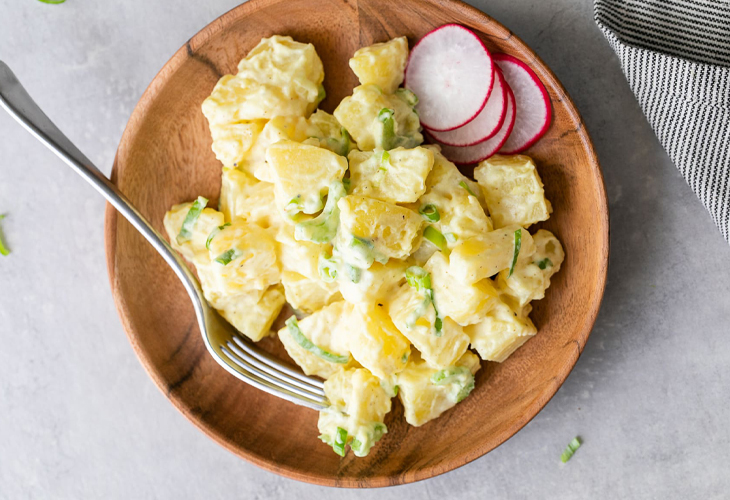 Is it really summer without the darling side dish of potlucks and cookouts – potato salad? Absolutely not.
This fresh, simple plant-based potato salad hits just like the classic version you had as a kid but is made vegan by simply swapping out traditional mayo (easy to find in the mayo section of most all grocery stores nowadays. Hellmann's, Follow Your Heart, and others make a vegan version.)

You don't have to be a full-fledged vegan to enjoy these light summer dinners.

Round out the potato salad with corn on the cob, baked beans and/or cold slices of watermelon, and you've got yourself a meal to celebrate summer with.

3. Tropical Salad with Mango Dressing

One of those easy light summer dinners you'll want to have on repeat, regular salad gets a summertime glow-up with this bold, refreshing, tropical mango salad.
It's perfect as a main dish and great for leftover lunches too. And of course, customize with any veggies or toppings like crunchy nuts or extra protein – if desired, or enjoy just as it is.
(Pstt..still making boring salads? Don't! Check out these tips to add pizzazz to any salad.)


4. Vegan Tofu BBQ Burgers

Even sworn tofu skeptics will enjoy this vegan BBQ tofu sandwich, piled high with lettuce, tomato, and dripping in BBQ sauce. If you're serving plant-based folks or attending a cookout or potluck, this is one of those vegan summer dinner ideas to keep on hand.
If you're avoiding fried foods or want a lighter option, skip the fried onions or serve on gluten-free bread, if desired. Not all light summer dinners have to be salads though, so when you're craving something a little heartier and "meaty," give this one a go!

5. Protein Monster Vegan Enchiladas

"But where do you get your prot-" wait, we're not still saying that right? If you're still worried about the old myth that vegans struggle to get ample protein, first off – check this out.
Secondly, look no further than recipes like these simple vegan enchiladas, packed with a whopping 20 grams of protein per serving.

6. Easy Summer Watermelon Salad

Ok, sometimes it's simply too hot to crank up the oven. Sometimes you want to take a dunk into the pool and sip frozen drinks for dinner…but you're an adult and need some nutrition.
For those times, this easy summer watermelon salad, easily made plant-based by using a vegan feta cheese, really hits the spot. It's salty, sweet, tangy, bright, and probably about to be your new summer dish of choice.

7. Vegan Pesto Pasta Salad

You can't let summer pass you by without a classic pesto dish – it's just a rule. This vegan pesto pasta salad dinner packs in extra veggies with added peas, tomatoes and arugula and serves up healthy fats from the olive oil and walnuts.
Serve with a side of baked tempeh or a simple green salad for a substantial but still light plant-based dinner.


Here's to Pool Days, Tan Lines and Light Vegan Summer Dinners!
Wishing you a happy, healthy, and super well-fed summer ahead – with the least possible amount of turning on the oven!
Whether you're feeding a crowd, making these meals at a campsite or for a pool party or enjoying the lazy days of summer solo, these light vegan summer dinners capture some of the best flavors of summer and you'll never even know they were totally plant-based.
Hungry for more? Get ready to fall in love and bookmark these sites that'll keep you inspired in the kitchen all year 'round – here is our guide to the best healthy food blogs of 2022
This article has been read 1K+ times. Feelin' the love!